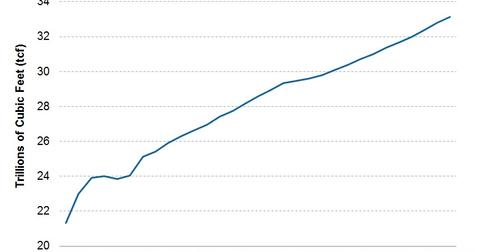 Why more natural gas use helps producers and midstream companies
By Ingrid Pan

Updated
Encouraging growth
The increase of natural gas for use in electricity generation puts in a demand floor for the commodity, and encourages growth of natural gas production into the future.
The EIA projects that dry natural gas production is expected to increase roughly 1.30% per annum until 2040, and while it doesn't represent astoundingly huge growth numbers, natural gas production had actually been in slight decline until 2005. The projected growth in natural gas demand and production is a positive for natural gas producers and midstream companies.
Natural gas producers
Article continues below advertisement
Natural gas producers benefit from increased demand for the commodity from power generation. The long-term outlook for natural gas prices remains relatively low (with the EIA's base case projections for the natural gas growing ~2.4% per annum on average up to 2040). However, those natural gas producers that have low costs stand to benefit from higher natural gas demand, even without significant upside to natural gas prices. Producers that were early entrants into successful natural gas shale plays, such as Range Resources (RRC) in the Marcellus Shale and Southwestern Energy (SWN) in the Fayetteville Shale, were generally able to gain access to mineral rights at lower costs than later entrants, and tend to have lower cost curves. Plus, producers of natural gas in basins that are also rich in liquids, such as certain areas of the Marcellus Shale, can economically produce natural gas even at very low prices.
Midstream companies
With increased natural gas production, there comes the demand for an increase in natural gas infrastructure. Services such as natural gas gathering and compression, treating, transportation, and storage are all needed with an increase in natural gas production. Companies such as MarkWest Energy (MWE) have an extensive gathering and treating footprint. The Kinder Morgan (KMI/KMP/EPB) family owns a large network of interstate natural gas transportation pipelines that could benefit from increased production.