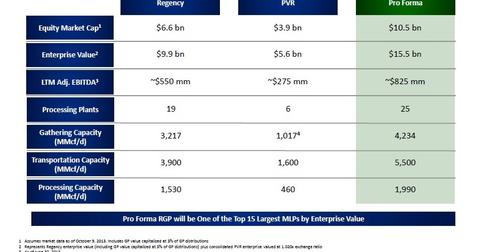 Overview: Regency Energy's Acquisition of PVR Partners
By Ingrid Pan

Updated
Regency Energy acquires PVR Partners
Before market opened on October 10, Regency Energy Partners (RGP) and PVR Partners (PVR) announced that Regency would acquire PVR for approximately $5.6 billion, including the assumption of $1.8 billion of net debt.
The acquisition will be paid for substantially in a stock (save for a $40 million cash payment from Regency to PVR unitholders), meaning PVR unitholders will receive units of Regency. PVR unitholders are to receive 1.02 units of Regency stock for every unit of PVR stock. PVR closed at $22.81 per unit and RGP closed at $27.83 per unit the day prior to the announcement. Based on these prices, RGP paid about a 26% premium for PVR's stock. Analysts expect the transaction to close in the first quarter of 2014.
Article continues below advertisement
The combined company will have a market cap of ~$10.5 billion and an enterprise value of ~$15.5 billion. The total LTM EBITDA (earnings before interest, taxes, depreciation, and amortization for the last twelve months) of the combined entity would be ~$825 million, resulting in EV/LTM EBITDA of nearly 19x.
Management expects that the transaction will be "slightly dilutive" to 2014 distributable cash flow, but wouldn't affect anticipated cash distribution growth in 2014.
The pro forma entity will have leverage of ~4.5x (ratio of debt to EBITDA), though on a call discussing the acquisition, Regency management noted that it expects leverage will trend down towards 4.0x or perhaps below as EBITDA grows from projects coming online. Regency also expects synergies from the acquisition of ~$30 million a year.
A presentation discussing the acquisition notes that both entities have significant planned capex projects, with Regency having $470 million of planned growth capex over the next three years and PVR with ~$1 billion of planned growth capex through 2019.