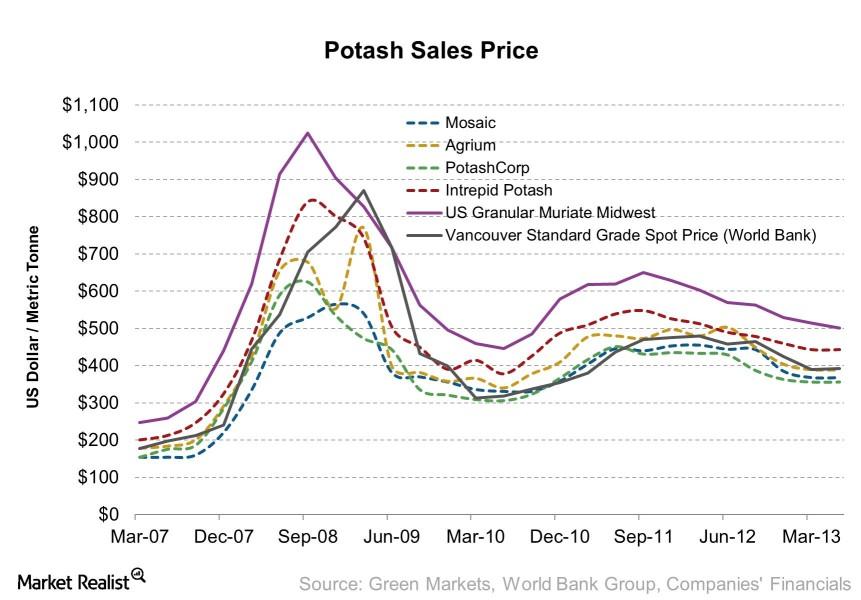 Why India's potash price discount won't affect share prices
The significance of potash price
Wholesale potash price is one of two factors (the other being sales volume) that influence potash producers' revenues. When prices rise, so does revenue, which will translate to higher profitability (margins), earnings, and share prices. However, when prices fall, they will have a negative impact on fundamentals and share prices.
India Potash Ltd. receives discount
India Potash Ltd. said on September 30 that it has renegotiated an annual contract for imported fertilizer by a discount of ~12.2% following the breakup between Uralkali and Belaruski, according to a publication on WSJ. While prices were originally contracted at $427 per mt (metric tonne), they have now fallen to $375 per mt.
Article continues below advertisement
Some buyers still expect prices to fall to $350. RG Rajan, chairman and managing director of RCF, India's biggest public sector fertilizer company, expects the price for Indian imports to come down to $300 per mt—a level that Uralkali's CEO previously said it would break if it switched its strategy to focus on volume rather than price.
Wholesale prices in the United States have fallen more already
Although the recent negotiation may look negative for fertilizer manufacturers, wholesale potash prices in the United States were recently quoted at slightly above $300 per mt. Compared to prices in the United States, $375 per mt remains positive for fertilizer producers (unless the $375 also covers transportation costs). As the share prices of potash companies like Potash Corp. (POT), Mosaic Co. (MOS), and Intrepid Potash Inc. (IPI) were trading at or slightly above mid-2009 to 2010 support, share prices have more or less priced in the expectation that potash prices will drop to $300 per mt. So anything above that is positive.
Uralkali doesn't see potash price below $300 per mt
The head of sales of Uralkali, Oleg Petrov, told analysts, "Price may touch $300 but this level is not sustainable," following the firm's announcement that demand would keep the price from sinking too low, according to Reuter's report published on September 10. This comment likely suggests Uralkali itself won't want prices to fall below $300 per mt.
Share prices aren't affected unless price falls below $300
Any news that says potash prices will fall further is unlikely to have a significant effect on share prices for fertilizer stocks like Potash Corp. (POT), Intrepid Potash Inc. (IPI), Mosaic Co. (MOS), and Agrium Inc. (AGU) because the market is looking at a price of ~$300 per mt at the moment. A significant downside will only arrive via potash prices that break the $300-per-mt point and stay below it. This also applies to the VanEck Vectors Agribusiness ETF (MOO).