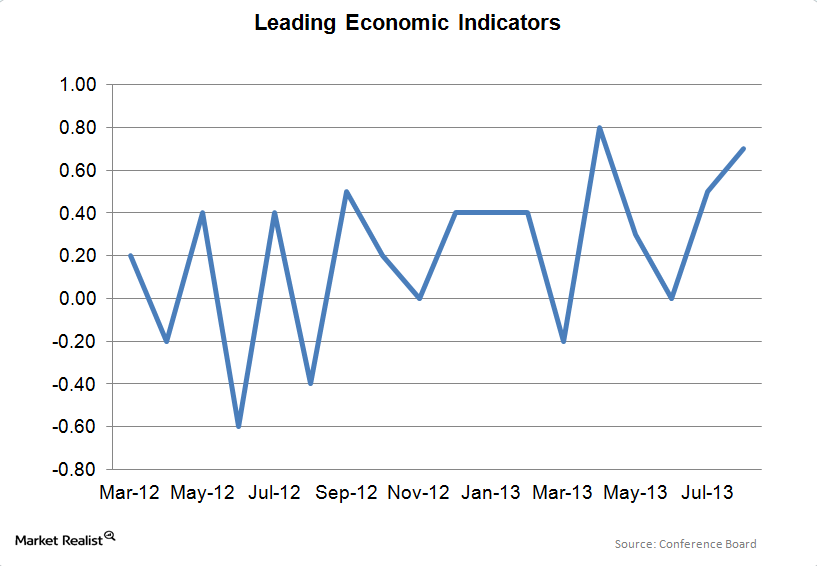 Jump in leading economic indicators shows an improving economy
The Conference Board Leading Economic Index is a forward-looking index mainly used to identify turning points in the economy
The index of Leading Economic Indicators (LEI) is a business cycle indicator. It's based on 11 different economic statistics: average workweek, initial jobless claims, new orders, building permits, unfilled durable goods, commodity prices, consumer expectations, stock prices, and money supply. Since it's a combination of previously released indices, it isn't really a market-moving release. This index can be volatile, so analysts tend to identify three-month trends as an indication that the economy is moving into another part of the business cycle.
The Index of Leading Economic Indicators jumps in August
After increasing by 0.5 in July, the Index of Leading Economic Indicators rose by 0.2 to end at +0.7. Overall, the index indicates an economy that's slowly mending. Asset prices and interest rates were positive, offset by weakness in consumer expectations about the economy.
Article continues below advertisement
"The latest reading points to more pep in the pace of economic activity in the near term," said Ken Goldstein, Economist at The Conference Board. "One unknown is how resilient confidence will remain, both consumer and business, given the mixed signals from the housing and labor markets." He went on to mention the debt ceiling kabuki dance in Washington as a potential hit to confidence
Implications for homebuilders
Overall, the report shows the economy is still expanding moderately, and that the labor market should start improving. While sentiment is generally improving, the overall economy is one of slow growth, which is worrisome for increasing employment. Jobs are the most important economic statistic for homebuilders, and they need to see an increase in job growth to get some activity from the first-time homebuyer. Overall increases in consumer sentiment, however modest, are starting to drive more business for homebuilders like Lennar (LEN), KB Home (KBH), Toll Brothers (TOL), Standard Pacific (SPF), and NVR (NVR). Housing starts have been so low for so long that there's some real pent-up demand that will unleash as the economy improves. The shortage of skilled workers could negatively affect margins as business expands. Homebuilder second quarter earnings were generally good, which supports the reading from the Conference Board.