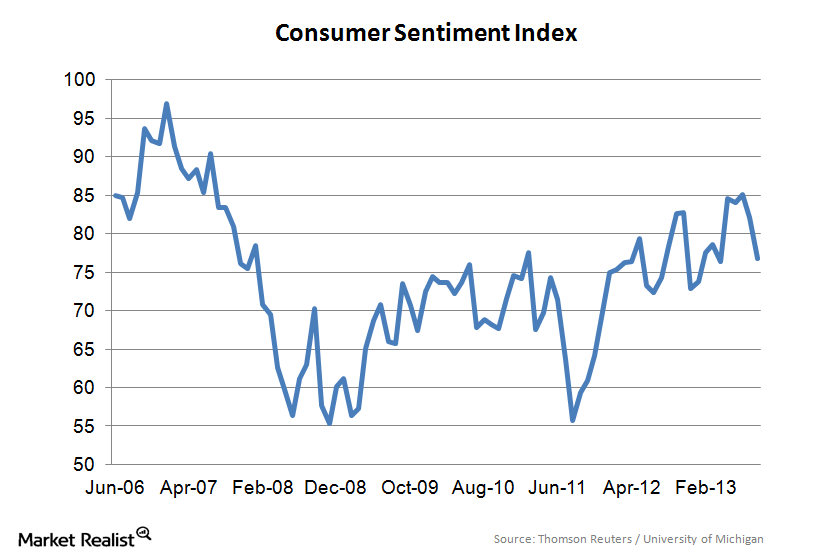 Consumer sentiment falls, another warning about the economy?
By Brent Nyitray, CFA, MBA

Dec. 4 2020, Updated 10:53 a.m. ET
The Thomson Reuters/University of Michigan Consumer Confidence Index is a leading indicator for the U.S. economy
The Thomson Reuters/University of Michigan Consumer Confidence Index is an important indicator of the consumer's perception of the U.S. economy. Similar to other consumer confidence measures, it asks consumers about their views on the current economic conditions and their expectations for six months out. It's one of the oldest consumer surveys, originally started in 1964.
Article continues below advertisement
Consumption is the major driver of the U.S. economy and it accounts for 70% of GDP (gross domestic product). Consumption has been relatively subdued since the recession began, as Americans have boosted their savings rate and spent only on essentials. The real estate bubble drove consumption in the mid '00s, since people took out cash refinances and spent the extracted home equity. This increased the cost basis for many people's homes and left them vulnerable when house prices collapsed. As a result, they've focused more on paying down debt than on spending.
Highlights from the report
The Consumer Sentiment Index fell to 76.8 in September, down considerably from its post-crisis record of 85.1 in July. (Consumer confidence in 1964 = 100.) This is the preliminary September report, so it's subject to revision at the end of the month. The Bloomberg survey consensus was 82. The Current Conditions Index fell to 91.8 from 95.2, and the Expectations Index fell as well, to 67.2 from 73.7 last month. Given that an index value of 90 has been more or less the average over the past 50 years, consumer confidence is still on the weak side. The index can vary widely: in January of 2000, it was 112, and in November of 2008, it bottomed at 55.3.
Article continues below advertisement
One theory that has been thrown out is that consumers are starting to pick up on the improvement in the real estate market and that's driving consumer confidence. As we've seen from the real estate indices, unless you live in San Francisco, Phoenix, Las Vegas, or a few other places, you haven't really been experiencing a major increase in home prices. It may be that the headline numbers are enough to make people feel better even if prices aren't rising that dramatically where they live. That said, the increase in interest rates might be starting to show up in the economic data. A number of investment banks have been trimming their Q3 GDP estimates. The Fed has been consistently over-optimistic in its economic forecasts—which makes you wonder why they're so keen to begin tapering.
Implications for homebuilders
KB Home CEO Jeffrey Metzger said on the company's earnings conference call that consumer confidence was more important to its business than the level of interest rates. Buying a new home is such a commitment that buyers require certainty about their job prospects and the economy before they entertain such a purchase.
That said, PulteGroup (PHM) experienced a drop in orders last quarter, which it attributed to higher interest rates. So while consumer confidence may be the most important variable to KB or Lennar, it isn't necessarily the case across the board. The high-end buyer has been doing well, so a luxury builder like Toll Brothers (TOL) should be less affected than the builders that focus on the first-time buyer.
KB and Lennar both noted that the first-time homebuyer was returning to the market and that household formation appeared to be increasing again. There's a lot of pent-up demand from young adults, and once that unleashes, it should drive business for homebuilders at lower price points like Lennar (LEN), KB Home (KBH), Ryland (RYL), and Meritage (MTH).