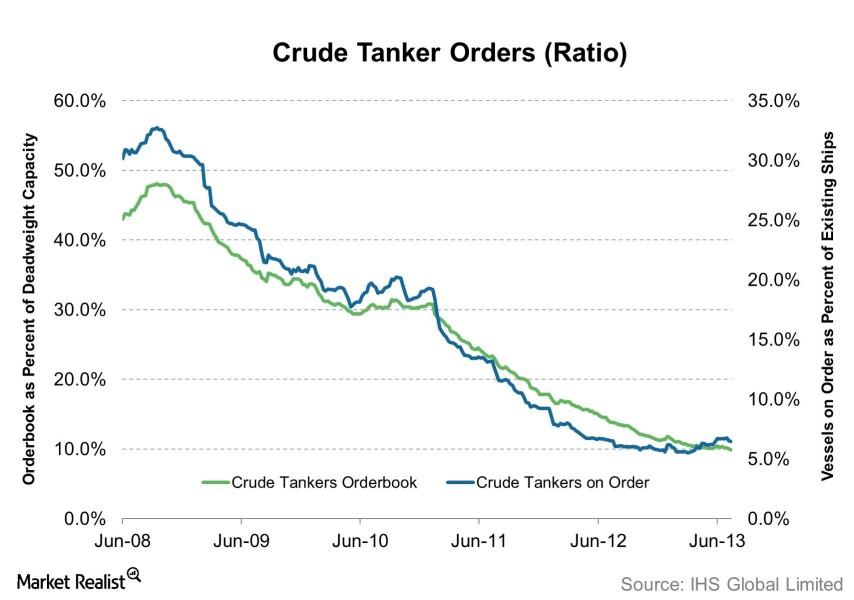 Weekly tanker digest: Have fundamentals changed? (Part 2)
Continued from Part 1
The significance of ship orders
One measure that reflects managers' assessment of future supply and demand differences is the number of ships on order. When managers expect future demand to increase more than supply, if they also expect to generate profits with the investment, they will often place new ship orders. But when managers expect excess capacity to continue or grow, they will refrain from placing more orders—sometimes even delaying them for a price. So, the number of ships on order rising is a positive sign that shipping rates will likely rise in the future. Since tankers generally take more than two years to construct (sometimes up to five years), the metric is often more relevant to long-term investment horizons.
Early sign of recovery
Article continues below advertisement
For the week ending July 19, the number of crude tankers on order fell by 4 basis points (0.04%) as a percentage of existing ships to 6.45%, as published by IHS Global Limited last Friday.[1. Analysts often common-size order figures as a percentage of existing capacity or existing ships to factor in growth of ships over time.] The decrease suggests that construction firms began to work on more ships than there were new orders. The fall is normal in a recovering market because companies will often venture out slowly when ordering new ships so that they don't over-purchase and harm industry profitability in the future. But the drop continues to suggest that managers aren't quite optimistic regarding long-term prospects.
Drawn inference

Nonetheless, the expectation of a shipping recovery (higher future demand growth relative to supply growth) has halted the decline in the number of ships on order since a year ago. As we've seen ship orders fall below 6.0%, which supports the theory of a shipping recovery, tanker companies such as Scorpio Tankers Inc. (STNG), Nordic American Tanker Ltd. (NAT), Ship Finance International Ltd. (SFL), and Tsakos Energy Navigation Ltd. (TNP), as well as the Guggenheim Shipping ETF (SEA), should perform well in the future.
Learn more about indicators that reflect tanker fundamentals
Continue on to Construction activity (Part 3) or go back to see the List of indicators (Part 1).