Will Donald Trump Be Indicted After Jan. 6 Hearings?
Though former President Donald Trump remains the presumptive Republican nominee for the 2024 U.S. presidential election, people on the other side of the political divide wonder whether he will be indicted and go to jail for crimes for which the Jan. 6 committee seems to be attempting to mount a case.
Article continues below advertisement
Article continues below advertisement
There's of course some debate over whether Trump even committed any crimes associated with the Capitol riots, much less whether the 45th president would ever be indicted and prosecuted. But here's what legal experts have to say on the matter of potential illegalities Trump committed.
What charges could Trump face associated with January 6?
Many legal experts feel the Senate committee investigating the events is laying out a strong case for several federal charges against Donald Trump. Under federal law, it's illegal to "incite, organize, encourage, or promote a riot" such as the one that occurred at the Capitol on January 6, 2021. Several witnesses' testimony supports the argument that Trump knew the mob was armed and violent but nevertheless egged them on.
That said, the burden of proof is quite high. So far, many of the actions and words witnesses have testified about could be argued by defense lawyers as vague impassioned pleas rather than specific calls to incite a violent riot at the U.S. Capitol Building.
Article continues below advertisement
There's a stronger legal argument, however, for charges associated with attempting to defraud the American people. The testimony of several witnesses so far supports the conclusion that President Trump was aware there was no factual basis for his claims the election results were invalid.
Article continues below advertisement
Article continues below advertisement
Testimony from former aide Cassidy Hutchinson strengthens the possibility of future indictments.
Much attention has recently been focused on the testimony of former White House aide Cassidy Hutchinson, who claims the president was aware many of the rioters were armed and, despite this knowledge, Trump encouraged them to march to the Capitol. Hutchinson also claimed she heard from another Trump administration official that Trump had tried to take control of the steering wheel of his limo when a Secret Service agent told him he couldn't join his supporters at the Capitol.
Hutchinson further testified that Trump wanted to have metal detectors removed from the rally because the supporters there wouldn't want to hurt him. This testimony seems to support an argument that Trump was aware the mob had the potential to turn violent and that he even wished to make it easier for supporters to arm themselves against Capitol Police and members of Congress.
Article continues below advertisement
The most incendiary claim in Hutchinson's testimony, however, revealed that Trump not only knew the mob was threatening to hang Vice President Mike Pence for refusing to throw out the votes, but seemed to join in the sentiment. Hutchinson recalls a conversation between White House counsel Pat Cipollone and WH Chief of Staff Mark Meadows in which she claims Meadows told Cipollone, "'[Trump] thinks Mike deserves it. He doesn't think they're doing anything wrong.'"
Article continues below advertisement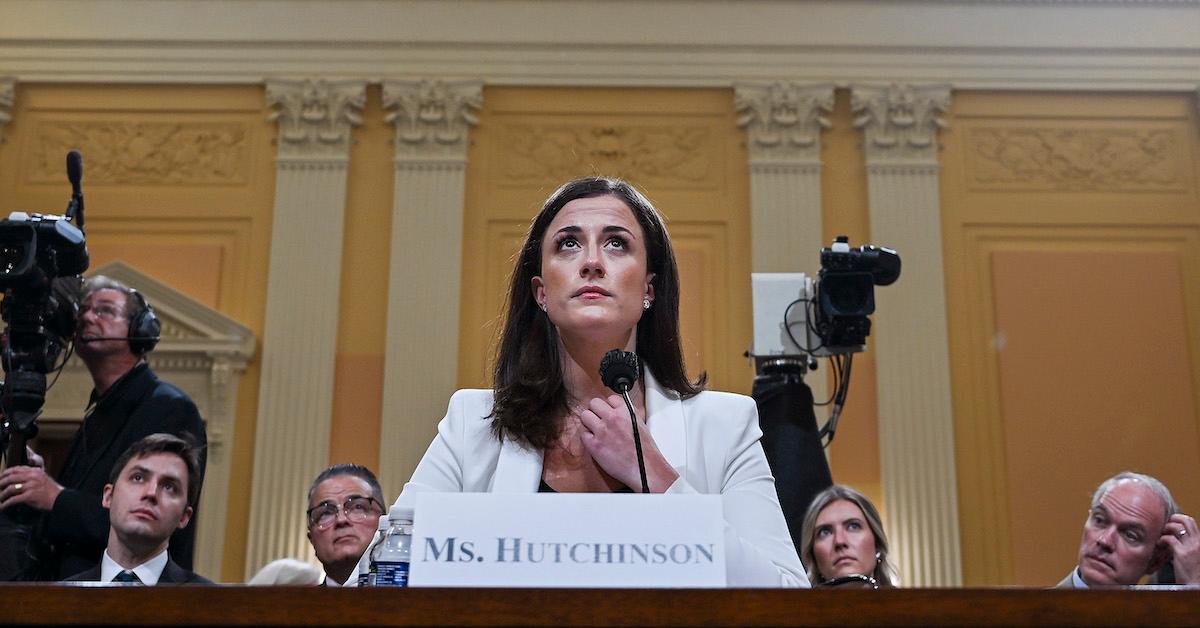 Article continues below advertisement
Trump continues to publicly hold that the 2020 U.S. presidential election was rigged and has even called those who stormed Capitol Hill "patriots." However, testimony during the Jan. 6 hearings suggests that Trump's claims have never had a foundation based on fact and that the former president made several calls for his allies to find or fabricate support for election fraud claims.
Will Trump ever be indicted?
Though many remain skeptical that Trump will ever face any charges, several legal experts feel the pendulum swinging toward possible federal indictments. While acknowledging that there's still a lot of "uncertainty" in the matter of criminal intent on the part of President Trump, Alan Rozenshtein, a former Justice Department official and law professor told The New York Times, "I have gone from Trump is less than likely to be charged to he is more than likely to be charged."
Article continues below advertisement
Article continues below advertisement
Will Trump ever go to jail?
While it seems increasingly likely the DOJ may eventually indict the former president, there's still a long, slow walk from being charged with a crime to being convicted or sentenced to prison time. The burden of proof will be quite high and the conviction of a former or sitting president would be unprecedented.
Many have questioned whether facing a federal indictment would prevent the former president from mounting a 2024 bid. From a legal standpoint, pending charges wouldn't exclude him from eligibility, but it could make his run more difficult.
An indictment over the Capitol Hill violence might not deter Trump's hardcore supporters, but it would likely deter more moderate conservatives.
Overall, there are plenty of people who want to see Trump behind bars, while just as many people want him back in the White House. The legal troubles notwithstanding, the numbers on both sides could determine who sits in the White House after the 2024 election.