Will Paysafe Stock Go Back Up? PSFE'S Forecast and Valuation, Explained
Paysafe (PSFE), which went public through a reverse merger with a SPAC sponsored by Wall Street veteran Bill Foley, released its Q3 2021 earnings on Nov. 11. The payment processing company's stock cratered after the release, leaving investors asking if the stock will go back up. What's the company's long-term forecast?
Article continues below advertisement
Despite having a strong management team and credible sponsor, Paysafe is on the dubious list of companies that trade below their SPAC IPO price of $10. Most other companies on the list have either failed to execute or have been accused of wrongdoing by short-sellers.
What happened to Paysafe stock?
Paysafe released its third-quarter earnings on Nov. 11, disappointing investors. PSFE's revenue and adjusted EBITDA were below estimates. Its revenue fell year-over-year and its loss swelled to $147.2 million due to an impairment charge from lowering the carrying value of its digital wallet segment.
Article continues below advertisement
And as if the earnings miss weren't enough, PSFE also lowered its full-year guidance. It now expects revenue of up to $1.48 billion, which is lower than its previous guidance of $1.55 billion. It downgraded its adjusted EBITDA guidance to $425 million–$435 million from $480 million–$495 million.
Article continues below advertisement
Given the earnings miss, falling growth, and toned-down guidance, you would expect the stock to fall after the earnings release. However, is the stock's 41 percent decline fair, or are markets mispricing the earnings miss?
Article continues below advertisement
PSFE's stock forecast
While the near-term forecast for PSFE stock looks weak, we should look at the long-term picture. The company is expanding its partnerships in the iGaming market, which should add long-term value. The company is also expanding outside the U.S. and is the leading open banking solutions provider in Latin America.
Wall Street analysts are bullish on Paysafe stock, and on average, forecast an upside of 230 percent over the next 12 months. However, the earnings release may prompt them to downgrade their price targets—RBC has already lowered its target from $15 to $9 (which still implies that PSFE stock could double).
Article continues below advertisement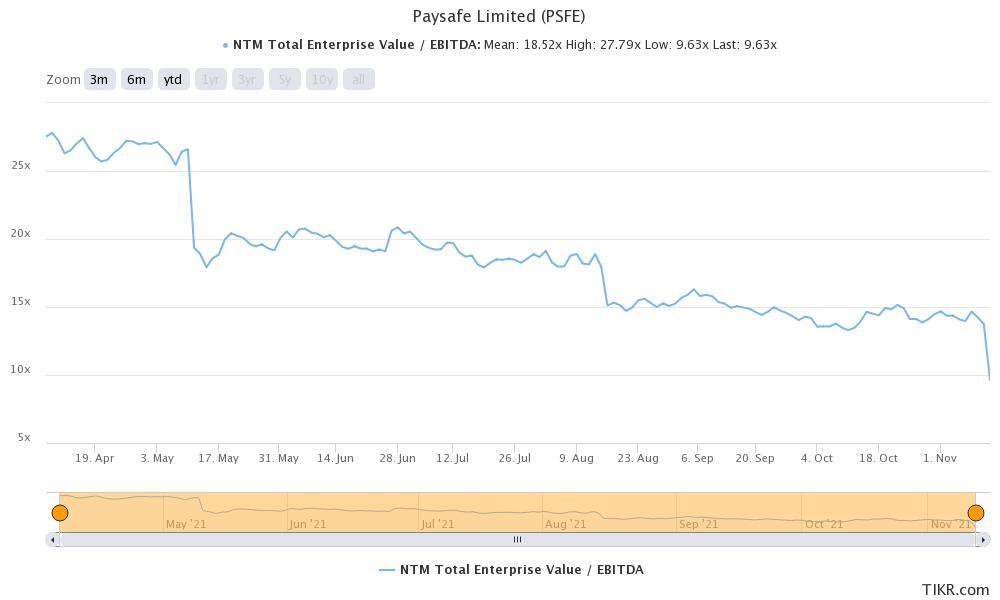 Paysafe stock looks attractively valued
Paysafe's market cap has tumbled to just about $3 billion, giving it a next-12-month EV-to-EBITDA multiple of around 9.6x. That valuation is attractive and way below other that of other fintech companies, despite Paysafe not growing as quickly as competitors.
Article continues below advertisement
Will PSFE stock go back up?
Paysafe's price action after the earnings miss looks like an overreaction from markets. While the stock deserved to fall, the 42 percent slide is a bit much. Eventually, it should recoup some of the losses and rise.
Should you buy the dip in Paysafe stock?
If you're willing to be patient and hold Paysafe stock for the long term, it would make sense to buy the dip. The stock could be a winner, especially if you buy it at its current price.