Will Beachbody (BODY) Stock Go Up Amid Reddit Short Squeeze?
By Mohit Oberoi, CFA

Sep. 27 2021, Published 9:10 a.m. ET
Beachbody (BODY) went public earlier in 2021 through a reverse merger with Forest Road Acquisition Corp. (FRX). Like many other companies that listed through a SPAC merger, BODY stock trades well below the $10 price level. What's the forecast for Beachbody stock and will it go back up as Reddit traders take interest in the beaten-down digital fitness company?
Article continues below advertisement
Beachbody listed through a three-way merger with FRX and MYX Fitness. The stock made a 52-week high of $18.20 before the merger. However, around the merger date in June, it fell below $10. Like a typical SPAC merger, the stock rose after the merger date but soon tumbled. Currently, BODY stock trades very near its 52-week lows.
BODY stock has been falling.
There has been a sell-off in home fitness names and Peloton stock has also fallen. Beachbody's second-quarter earnings, which were released in August, also failed to buoy sentiments. The company reported revenues of $449.3 million in the first half of 2021, which was 16 percent higher than the same period in 2020. However, the second-quarter revenues only increased 2 percent.
Article continues below advertisement
Beachbody stock forecast
Analysts have a bullish forecast for Beachbody stock and it has three buys and one hold rating. Its median target price of $11.25 is a premium of almost 81 percent. The stock trades 45 percent below the street low target price of $9.
Article continues below advertisement
BODY stock forecast on Reddit
BODY stock has been a popular name on Reddit group WallStreetBets. Previously, the stock gained traction amid the chatter of a Reddit-led short squeeze. However, it soon pared gains.
Article continues below advertisement
Is a short squeeze coming in BODY stock?
According to the data from Fintel, the FINRA short volume ratio in BODY stock was 57 percent on Sept. 24, while the short borrow fee was 8.65 percent. Both the short interest and the short borrow fee look high enough to trigger a squeeze. While short squeezes can be short-term price drivers, it's always prudent to look at the fundamentals and valuations to gauge the margin of safety.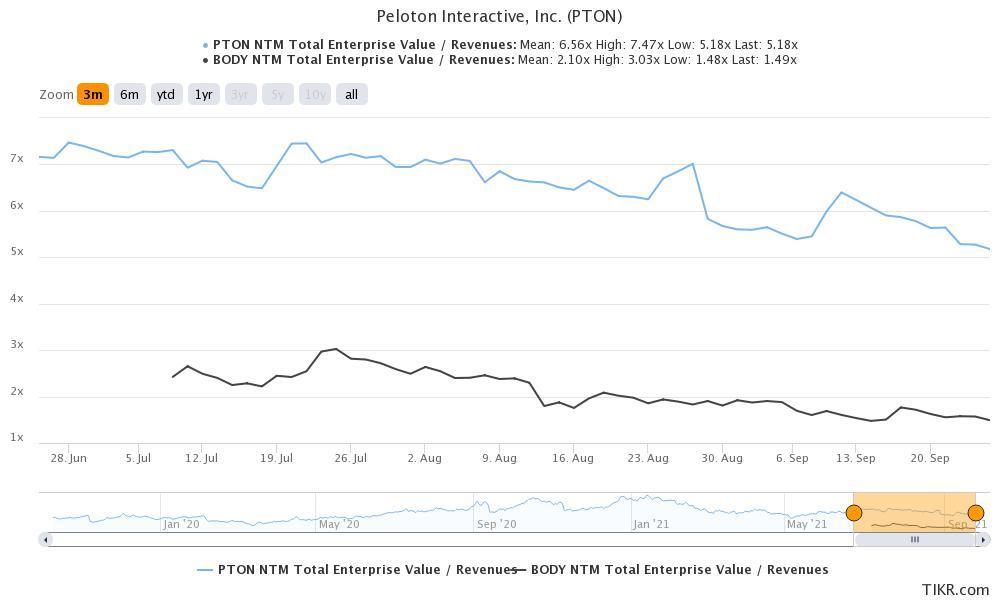 Article continues below advertisement
Is Beachbody stock undervalued?
Beachbody expects to post revenues between $930 million and $960 million in 2021. The company has a market cap of just above $1.9 billion, which gives it a 2021 price-to-sales multiple of around 2x. Peloton trades at a 2021 price-to-sales multiple of around 5x.
The market for home fitness is expected to rise significantly even though the gyms have reopened. During the merger, Beachbody forecast revenues rising at a CAGR of 30 percent between 2020 and 2025. The company pointed to 150 million obese and overweight people in North America to highlight its massive target market.
Article continues below advertisement
Beachbody CEO Carl Daikeler thinks that the company has "barely scratched the surface" in North America. Also, after the merger, Beachbody has enough cash to chase growth not only in North America but also internationally.
Should you buy BODY stock?
BODY stock looks attractive at these prices. The stock has been out of favor with the markets amid the general sell-off in stay-at-home stocks. However, given the tepid valuations and strong growth outlook, Beachbody stock looks like a buy at these prices.