Buy Beachbody Stock Before WallStreetBets Makes a Move
By Mohit Oberoi, CFA

Jul. 6 2021, Published 9:10 a.m. ET
Beachbody (BODY) went public through a reverse merger with Forest Road Acquisition Corp. (FRX). It was a three-way merger with Beachbody and MYX Fitness. Although the stock spiked after the merger, it has pared the gains and now trades below $10. Is BODY stock a good buy now after the crash or is there more downside in the stock?
Article continues below advertisement
We have seen something similar with other companies that have gone public through a reverse merger. SoFi, which merged with Chamath Palihapitiya's Social Capital Hedosophia Holdings (IPOE), rose sharply after the merger but has fallen. SOFI is also popular on Reddit group WallStreetBets. While BODY stock isn't popular among Reddit traders right now, it could be soon since it meets most of the "attributes" that WallStreetBets traders look for.
BODY stock faces post-merger fatigue
In typical SPAC lingo, the fall in BODY stock is known as "post-merger fatigue." Before the merger announcement, investors bet on the sponsor's reputation. However, after the merger is announced, markets evaluate the implied valuation of the stock.
Article continues below advertisement
After the merger, markets start evaluating the stock even more closely. The pre-merger excitement dies down and SPACs face the proverbial moment of truth. This has happened with most other SPACs post-merger, and Beachbody stock isn't an exception.
Article continues below advertisement
What makes BODY stock interesting is that it has plunged below the SPAC IPO price of $10. There are some other names like Lightening Emotors (ZEV) that trade below the $10 price level.
Beachbody stock target price
According to the data compiled by TipRanks, two analysts are covering Beachbody stock. The stock has one buy rating and one hold rating. The stock's average target price of $12.75 is a 28 percent premium over the current prices. BODY stock's lowest target price is $11, while its highest target price is $14.5. Currently, the stock trades even below the lowest target price.
Article continues below advertisement
Why BODY stock has fallen
Along with the post-merger blues, blame the recent investor apathy towards "stay-at-home" stocks and the crash in Peloton stock for the fall in BODY stock. Peloton stock has been weak after reports of a fatal accident involving its equipment and the subsequent recall.
Article continues below advertisement
Beachbody's earnings
Beachbody has provided its proforma results for the first quarter of 2021. The company had 3.2 million subscribers at the end of March, which was 39 percent higher than the same period in 2020. Its revenues increased 43 percent YoY in the quarter to $243.3 million.
Article continues below advertisement
The SPAC merger valued the combined company at a pro forma EV (enterprise value) of $2.9 billion. Looking at the estimates provided by Beachbody, this implies a 2022 EV-to-sales multiple of 2.2x. Beachbody expects its revenues to increase at a CAGR of 30 percent between 2020 and 2025.
The company gets most of its revenues from North America. However, Beachbody CEO Carl Daikeler thinks that they "have barely scratched the surface in terms of who we can reach in North America." He also said that it isn't "a zero-sum game" between Beachbody and Peloton. He pointed to the massive market opportunity considering that there are 150 million obese or overweight people in North America.
Article continues below advertisement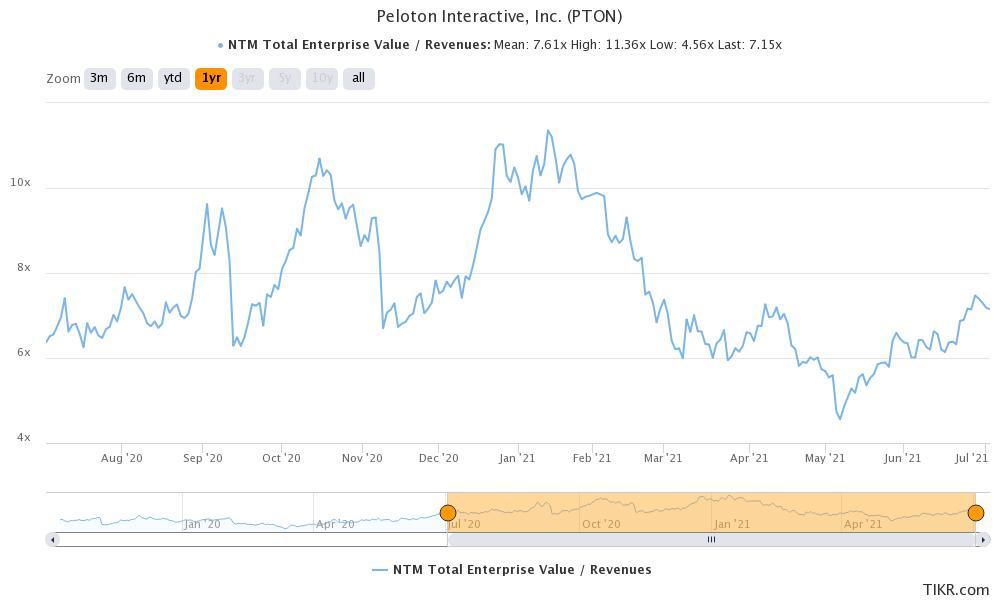 PTON versus BODY
Both PTON and BODY are targeting a similar market. However, from a valuation perspective, PTON trades at 2022 EV-to-sales multiples of 5.7x, which is way above that of BODY. From a growth perspective, Beachbody should be able to aggressively pursue growth both in North America and globally after the merger with FRX.
The company has enough cash after the merger transaction. Fidelity Investments and Fertitta Capital participated in the PIPE (private investment in public equity) transaction at $10. The current slump in BODY stock is an attractive opportunity to enter this home fitness stock at levels where the "smart money" is invested.