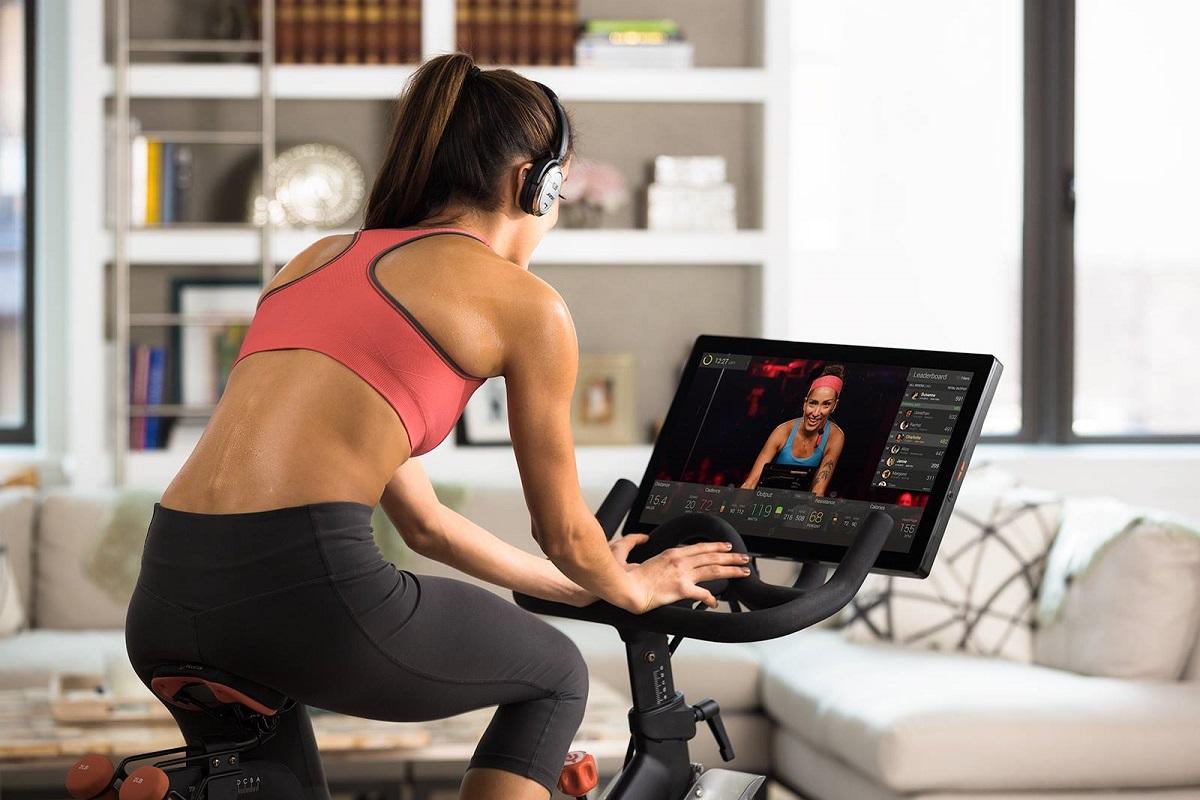 Why Peloton Stock Could Build Even More Muscle in 2021
Peloton Interactive (PTON) is a "stay-at-home" company that's benefited from people's limited movements in the COVID-19 pandemic. Its stock gained more than 440 percent in 2020, delivering juicy returns for investors. What's Peloton's stock forecast, and how should you play it in 2021?
Article continues below advertisement
Peloton sells interactive exercise products in the home fitness market. Demand for its products soared as people turned to them to stay fit while gyms were closed, and the company reported blowout earnings for the quarter ended Dec. 2020.
Why is Peloton stock falling?
Peloton stock has fallen 20 percent in the past month and 17 percent year-to-date. However, PTON's decline can't be attributed to stay-at-home stocks falling out of favor with investors—many have continued to rise. DocuSign (DOCU), Zoom Video (ZM), and Teladoc (TDOC) are up 10, 17, and 34 percent this year, respectively.
Article continues below advertisement

Therefore, the pullback in Peloton stock doesn't seem to be a result of investors losing confidence. Instead, it seems some investors are moving to book profits after the stock's big run in 2020, pressuring PTON temporarily.
Article continues below advertisement
Peloton stock forecast
Analysts' average price target for Peloton stock of $167 implies a 32 percent upside from its current price. Their highest target of $200 implies a 60 percent upside, while their lowest target of $45 implies a 64 percent downside. Of the 28 analysts covering PTON stock, 23 recommend "buy."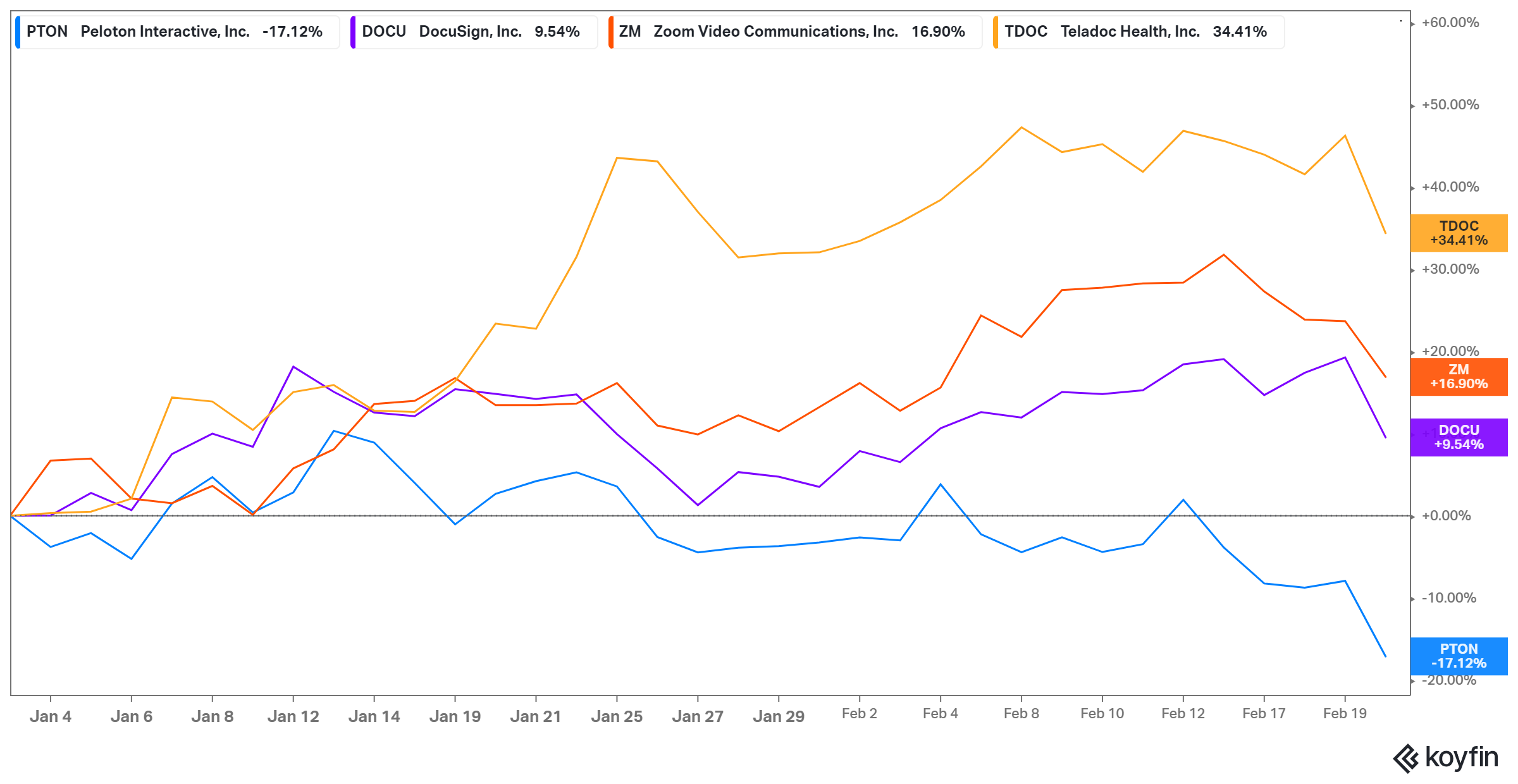 Article continues below advertisement
What's the outlook for PTON stock?
Some investors are wondering if stay-at-home companies will maintain their sales after the pandemic, especially as vaccine distribution expands and the end of the pandemic seems to be nearing. However, while some businesses may see a drop in demand after the pandemic, Peloton's business model should be prosperous for a long time. Management, exuding confidence that bright days are ahead, has raised its revenue outlook for fiscal 2021 to more than $4 billion from $3.9 billion.
There are several catalysts for PTON stock. First of all, the pandemic has permanently changed consumer behavior. Those who have turned to shopping online seem to have embraced its benefits over mall shopping. Similarly, exercising at home offers plenty of benefits over the gym, boosting demand for products like Peloton's.
Article continues below advertisement
To meet its stellar demand, Peloton is investing $100 million to make its chain more efficient and speed up deliveries. The company is also acquiring Precor to boost its manufacturing capacity.
Secondly, fitness awareness is growing. As a result, the global home fitness equipment market is on course to exceed $8.6 billion in 2023 from $6.8 billion in 2019.
Article continues below advertisement
Article continues below advertisement
A look at Pelton stock's numbers after its fall
Peloton has a market cap of $37 billion. Its stock now trades at a 26 percent discount to its 52-week high, and at 12 times its 2021 revenue estimate. PTON's valuation looks better than that of other stay-at-home stocks—DocuSign (DOCU) stock trades at 34 times its 2021 revenue estimate, and Zoom Video (ZM) trades at 60 times.
Will PTON stock rise or fall in 2021?
The home fitness market has bright prospects, and as Peloton is moving to expand its production capacity, it should be set to make the most of its market opportunity. The company's subscription business also allows it to generate recurring revenue. Moreover, Peloton has blocked Icon Health's bid to stop the sale of its Bike+ product.
These factors should grow Peloton's revenue even more in 2021. Whereas PTON stock has soared in the pandemic, it still has room to run in 2021. Many investors will take advantage of any pullback in Peloton's stock price to buy more shares.