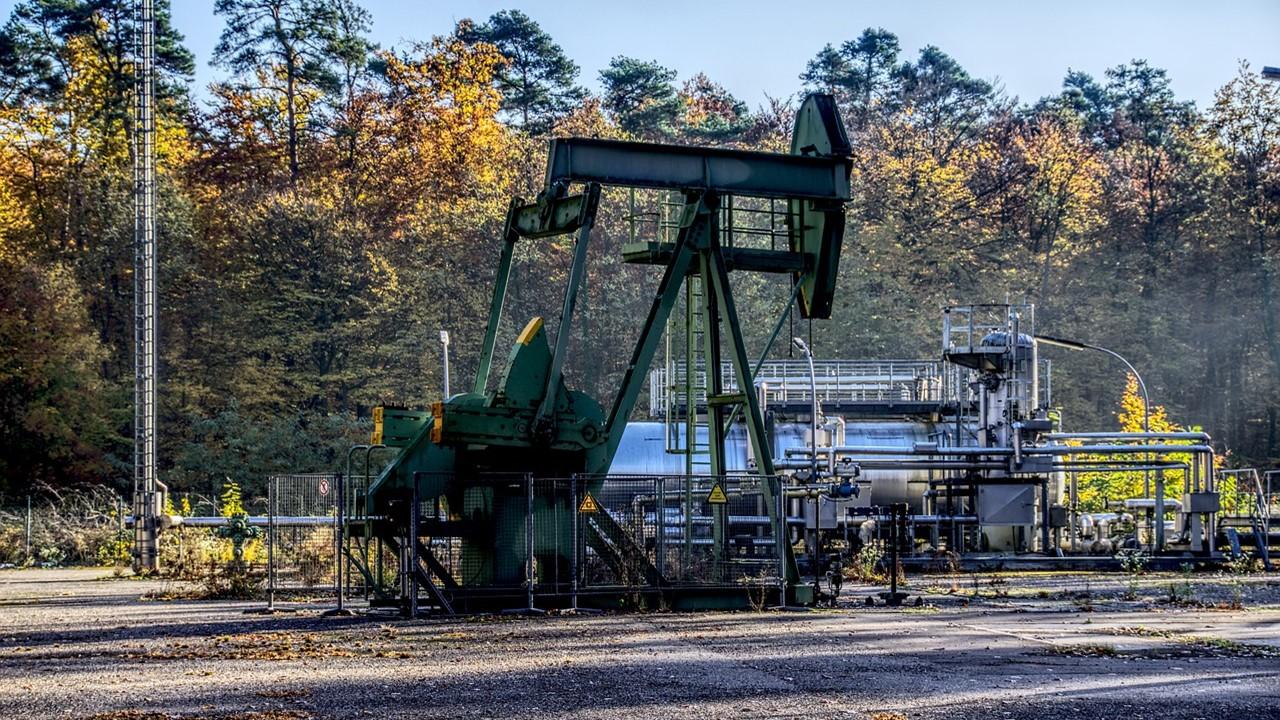 Oil Stocks Are Going Down, Lower Prices Could Help Markets
The energy subsector was the worst-performing S&P 500 sector in 2020. While the sector bounced back in 2021, oil and gas stocks have looked weak over the last week. Why are oil stocks down and could things get worse for the sector?
Article continues below advertisement
Overall, 2020 was among the worst years for the oil and gas sector. The COVID-19 pandemic destroyed the demand and WTI futures momentarily turned negative. It was the first time in history that oil futures turned negative and showed the pain that the sector went through in 2020.
Oil stocks bounced back in 2021.
After a tough 2020, where most energy companies had to either lower or suspend their dividends, the sector bounced back in 2021. Oil companies' fortunes are closely intertwined with crude oil prices.
Article continues below advertisement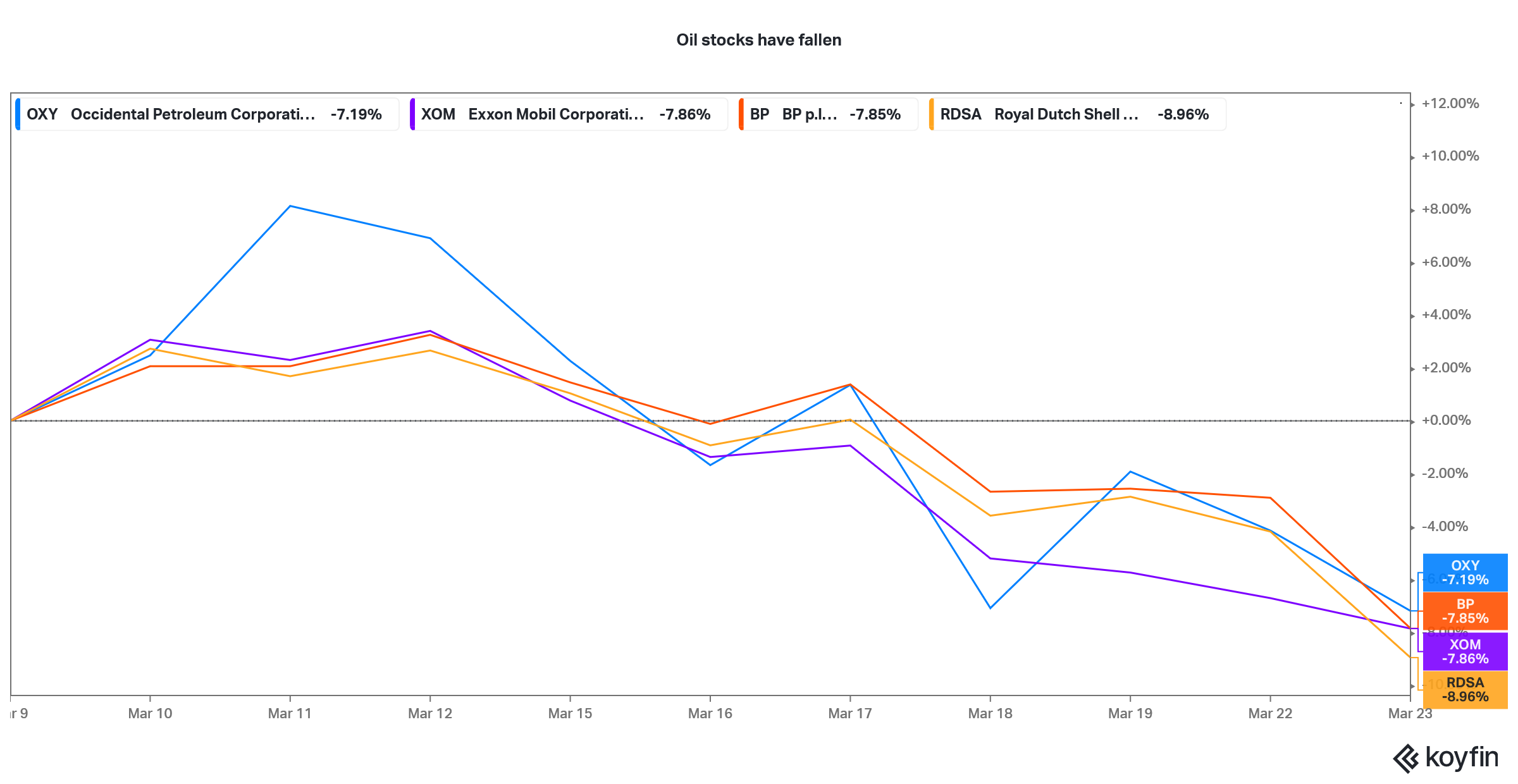 You don't need to be a finance wizard and track the daily movement in crude oil prices. The prices that you pay at gas stations give you a good enough picture of where the oil markets are headed.
Article continues below advertisement
Crude oil hit a two-year high
Earlier in March, crude oil prices hit a two-year high. There were multiple reasons for the spike in oil prices. Saudi Arabia unilaterally announced production cuts, while OPEC+ extended its production cut. From a demand perspective, a booming global economy lifted the demand for crude oil.
Article continues below advertisement
When it comes to oil, geopolitics, especially in the Middle East, also plays a crucial role. Oil prices surged earlier in March after an attack on a Saudi refinery. The demand-supply fundamentals haven't been this good for oil in years.
Why oil stocks are falling.
Meanwhile, oil stocks have pared some of their 2021 gains. The fall in oil stocks isn't difficult to comprehend as oil prices have fallen. WTI prices have fallen below $60 per barrel now. So, why are oil prices falling?
Article continues below advertisement
A month ago, it looked like the world had put the COVID-19 pandemic behind it. The global coronavirus cases were falling, while vaccinations were gaining pace. However, there's a third wave in some European countries and India is going through what looks like a second wave. There are concerns about crude oil demand with lockdowns back in many cities globally.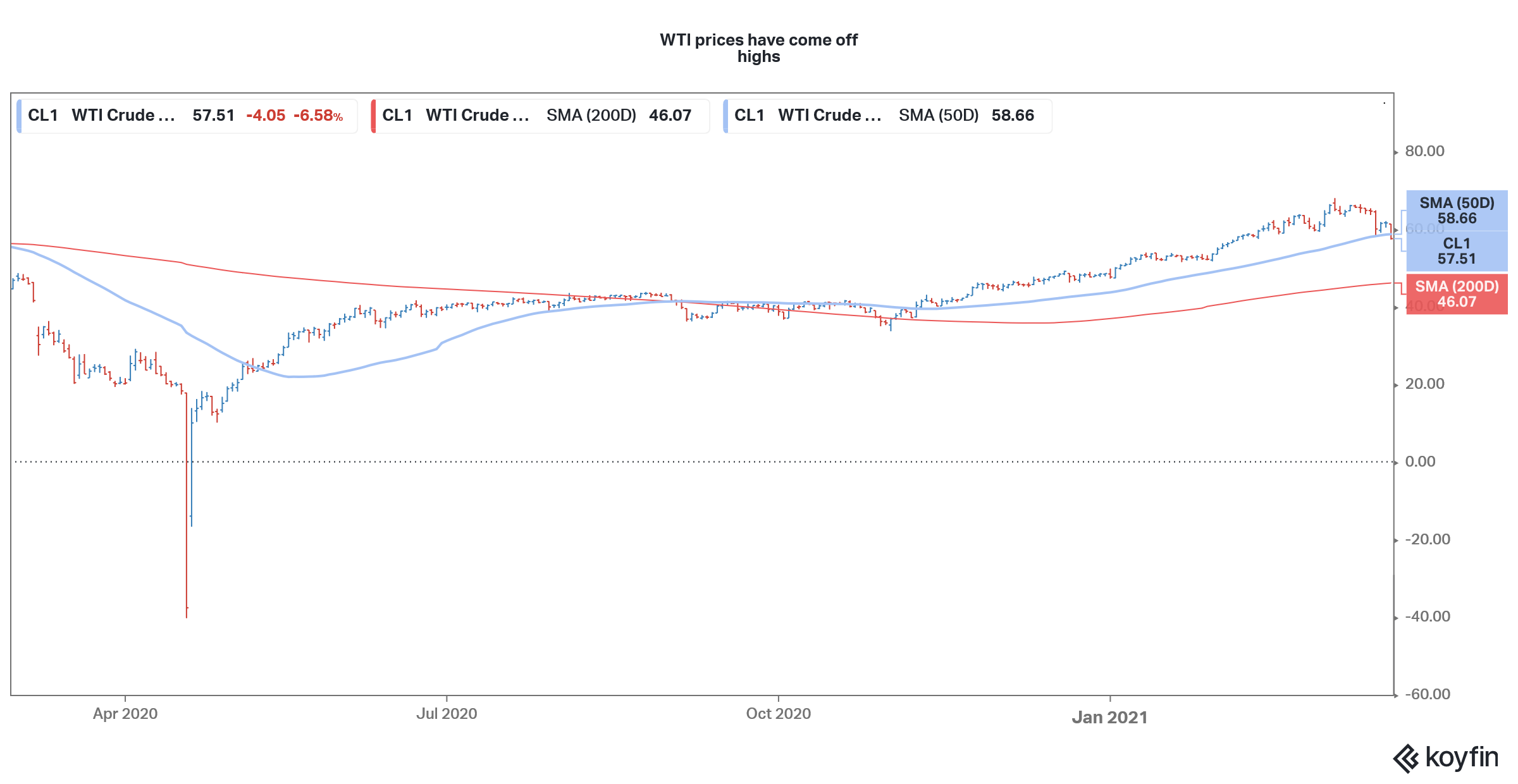 Article continues below advertisement
Also, there are concerns about the efficacy as well as side effects of AstraZeneca's COVID-19 vaccine. Many European countries banned the vaccine after reports of blood clots. Later, the European Medicines Agency said that the vaccine is safe and the benefits outweigh the possible risks associated with the jab.
Where are oil prices headed?
There are concerns about the oil markets getting oversupplied. However, many bullish factors could support oil prices in the near term. First, investors might find solace in real assets like oil amid strengthening bond yields. Oil is among the best commodities in an inflationary environment. That said, higher oil prices also have an inflationary impact.
Article continues below advertisement
Falling oil stocks might not be a bad thing.
Unless you are an investor in oil companies, the fall in oil stocks isn't a bad thing at all. Inflation is among the major risks for the markets. In fact, the March Bank of America Global Fund Manager survey showed that most fund managers see inflation as the biggest tail risk.
Rising inflation would tie up the hands of central banks globally and they might even be forced to take a hard look at rate hikes. A rate hike is the last thing that the global economy needs right now.
A fall in oil prices would help ease inflation concerns and could help keep other sectors in the market buoyant. To keep the dopamine of easy money and loose fiscal policy flowing in, oil prices need to stay lower.