Many people describe inflation as the worst form of taxation because it impacts the rich and the poor. When it comes to investments, inflation reduces the real rate of return, which is simply the total returns minus inflation. There isn't a simple answer to whether inflation is good or bad for stocks. First, it's important to divide inflation into "good inflation" and "bad inflation."
Article continues below advertisement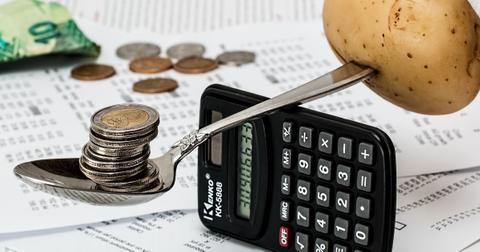 How does inflation impact stocks?
Usually, good inflation is accompanied by strong economic growth. Good inflation is due to higher demand for goods and services and reflects a strong economy. In contrast, bad inflation isn't accompanied by commensurate economic growth. Bad inflation could be due to a supply-side shock instead of demand-pull inflation.
Article continues below advertisement
Even good inflation is good as long as it's moderate. Stocks tend to do well in periods of moderate inflation and high economic growth. If inflation rises above the comfort levels, central banks pitch in and increase interest rates. While bad inflation isn't good for the economy, in the worst form it can be stagflation where very high inflation is accompanied by growth stagnation.
In other words, when Treasuries and bank accounts pay you a solid yield above inflation, that tends to be a good environment for savers.

When Treasuries and bank accounts don't keep up with inflation, historically it's better to shift to scarce assets to preserve buying power.

— Lyn Alden (@LynAldenContact) August 6, 2020
Article continues below advertisement
Usually, very low inflation isn't good for stocks because it reflects low economic growth. In the worst form, if an economy faces deflation, consumers would hold back on their purchases, which would dampen the economic activity.
Is inflation good for stocks?
Looking at the economy and the stock markets, good moderate inflation is positive. The scenario is positive for most of the sectors. Globally, central banks strive for moderate inflation. In August, the Federal Reserve changed its inflation targeting approach. Now, the Fed targets an average inflation rate of 2 percent.
Article continues below advertisement
The U.S. bubble economy rests on the foundation of the myth that inflation is too low. Once CPI increases far exceed the Fed 2% target, the party is over. Without the pretense of low inflation, the Fed will have to choose between crashing the economy or destroying the dollar.

— Peter Schiff (@PeterSchiff) April 29, 2020
Which stocks benefit from high inflation?
If the inflation rates are higher than what the central banks are comfortable with, they would resort to rate hikes. Generally, higher interest rates are positive for the banking sector. In a rising rate environment, banks can charge more on loans that can improve their net interest margin.
Article continues below advertisement
Gold mining companies' stock prices also benefit from high inflation. As an inflation hedge, gold can do well during periods of high inflation. Since gold mining companies' earnings depend on gold prices, their stocks can do well in a high inflation environment.
Money is always either growing in stocks and bonds or dying through inflation. Money never quits moving.

— Steve Burns (@SJosephBurns) January 1, 2020
Article continues below advertisement
Energy stocks can also do well in an inflationary environment. If energy prices rise, it lifts oil and gas producers' earnings. Incidentally, oil and gas stocks have fallen sharply in 2020 as oil prices have plunged. Oil stocks could be a good medium-term investment at these levels.
Stocks of companies in the basic materials space like steel, aluminum, and copper can also do well in an inflationary environment. Since the prices for these goods rise during inflation, their earnings and stock prices rise. Their raw material costs also increase. So, it would be prudent to look for companies that have a high degree of backward integration and produce a large part of their raw material needs. Many steel companies mine their coal and iron ore.
Overall, there isn't a set answer to what stocks do well in high inflation. It would depend on the nature and the key drivers of inflation. As a rule, companies that can raise their prices more than the increase in their input costs during inflation tend to benefit from inflation.