Will U.S. Stocks Recover in 2022 as Recessions Fears Increase?
U.S. stocks have crashed in 2022 and are in a bear market, having fallen over 20 percent from their recent highs. After the fall in May, there hasn't been any respite for investors. Stocks have continued to plummet in June as well. When will U.S. stocks recover?
Article continues below advertisement
The crash isn't limited to the U.S. markets alone and stocks have fallen globally. Some of the macroeconomic headwinds that are spooking investors in the U.S. are visible globally also.
Why are U.S. stocks falling?
The U.S. economy is battling the worst inflation in decades and the Federal Reserve has responded with aggressive rate hikes, raising rates by 75 basis points at its June meeting. The Fed's rate hikes would dampen the already slowing U.S. economy. We have started to see signs of stress in many industries like housing, retail, consumer discretionary goods, and materials.
Article continues below advertisement
You don't have to be Elon Musk to have "super bad feelings" about the U.S. economy. While the U.S. economy is expected to expand in the second quarter after the contraction in the first quarter, the overall mood is pessimistic. There have been layoffs at many companies, which is only adding to the gloom.
Article continues below advertisement
Since stock markets are a reflection of the economy, the pessimism toward the U.S. economy is reflected in stock markets as well. The geopolitical situation has also led to the derating of all risk assets, including stocks.
Article continues below advertisement
Here's the stock market forecast for the next six months.
The stock market forecast for the next six months looks volatile. Markets still don't seem to be pricing a recession in the U.S. President Joe Biden and other administration officials including Treasury Secretary Janet Yellen don't see a recession as inevitable. However, by and large, most economists believe that it will be hard to fend off a recession as the Fed raises rates to bring down the multi-decade high inflation.
Article continues below advertisement
Most brokerages have been lowering their 2022 S&P 500 targets. Deutsche Bank believes that if a recession hits the U.S, the S&P 500 would fall to 3,000. Citing historical data, Michael Hartnett of Bank of America said that the S&P 500 could bottom at 3,000 and the bear market would end on October 19, 2022. Incidentally, that day happens to be the 35th anniversary of Black Monday.
Don't expect miracles from stocks in 2022.
There are a lot of macro headwinds that will continue to put pressure on U.S. stocks in 2022. Inflation has been sticky and the Fed will need to tighten the rates a lot more to bring down prices. Also, the Russia-Ukraine war and the West's response to the situation remain a wild card for markets in the second half of 2022.
Article continues below advertisement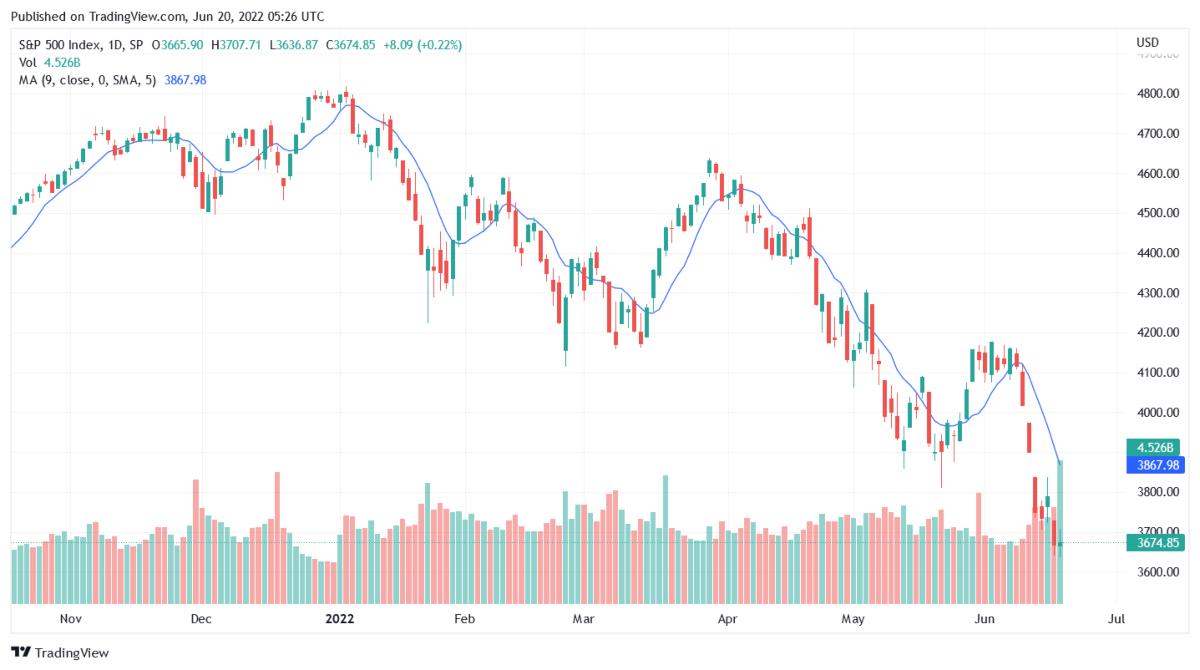 The spread of COVID-19 is another wild card for the markets as it would be a negative for stocks. Investors need to be sanguine about the kind of returns that they expect from the markets in the short term.
Article continues below advertisement
If we see signs of inflation coming down, it would provide relief for markets. Also, visible de-escalation between Russia and Ukraine would help improve market sentiments. Finally, from a valuation perspective, stocks aren't looking too pricey right now and if they fall more, we should see value buying.
Overall, U.S. stocks could recover towards the end of 2022 as unless energy prices rise, we should see a fall in inflation by then. If the Fed can still pull off a soft landing for the U.S. economy and prevent a recession that many now see as "inevitable," it could also support a recovery in stocks.