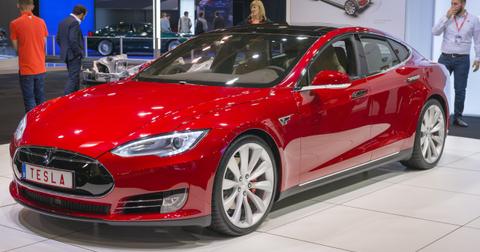 When Is the Tesla Stock Split? Will It Be Cheaper for You?
By Ambrish Shah

Updated
On Tuesday, Tesla announced a plan to split its stock. The company announced a 5-for-1 stock split, which will take effect on Aug. 31. What does Tesla want to achieve by splitting its stock?
What is a stock split?
Usually, companies split their stocks when the share price gets too high. A stock split helps generate more liquidity in the stock. A higher number of individual investors can consider purchasing the stock.
According to a Reuters report, "Stock splits have become rare on Wall Street in recent years, with just three S&P 500 components announcing splits in 2020, compared with an average of 10 a year over the past decade, according to S&P Dow Jones Indices."
What is Tesla's stock price?
Tesla stock was trading more than 6 percent higher at about $1,460.87 in the pre-market session today. The stock fell 3.1 percent yesterday and closed at $1,374.39 with a market capitalization of $256.1 billion. Tesla stock has fallen by 7.6 percent in the last five days, while it has risen by 484.8 percent in the trailing 12-month period.
Tesla stock is trading 23.4 percent below its 52-week high of $1,794.99 and 551.4 percent above its 52-week low of $211.00. Year-to-date, the stock had risen by 228.5 percent as of Tuesday.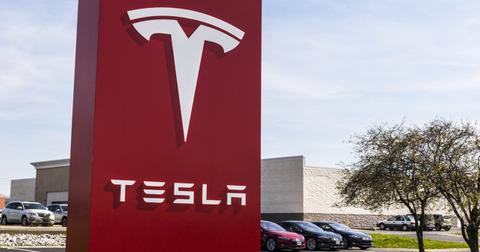 Among the 33 analysts covering Tesla stock, eight recommend a buy, 13 recommend a hold, and 12 recommend a sell. Their 12-month mean target price for Tesla stock is $1,244.46, which is 9.5 percent lower than its price yesterday. Analysts' target price for the stock has risen from $766.47 in July—a growth of 62.4 percent.
Tesla's 5-for-1 stock split
Tesla stock has risen today on reports that the company has plans for a 5-for-1 stock split. The company announced a stock split to make its shares more affordable for investors and employees.
The 5-for-1 Tesla stock split means that Tesla shareholders of record on Aug. 21 would receive four additional shares for each share they currently hold. The stock split would take place after the close of trading on Aug. 28. The split shares would start trading on Aug. 31. Tesla stock closed at $1,374.39 in the normal trading session yesterday.
At the last closing price, the announced stock split for Tesla means that its share price would come down to nearly $275. As a result, Tesla stock could become more accessible to individual investors.
In the second quarter, Tesla reported an adjusted EPS of $2.18 compared to -$1.12 in the second quarter of 2019. The adjusted EPS beat analysts' consensus estimate of $0.03. Tesla generated sales of $6.04 billion in the second quarter, which was 4.9 percent lower than the second quarter of 2019. The company beat analysts' consensus sales estimate of $5.37 billion.