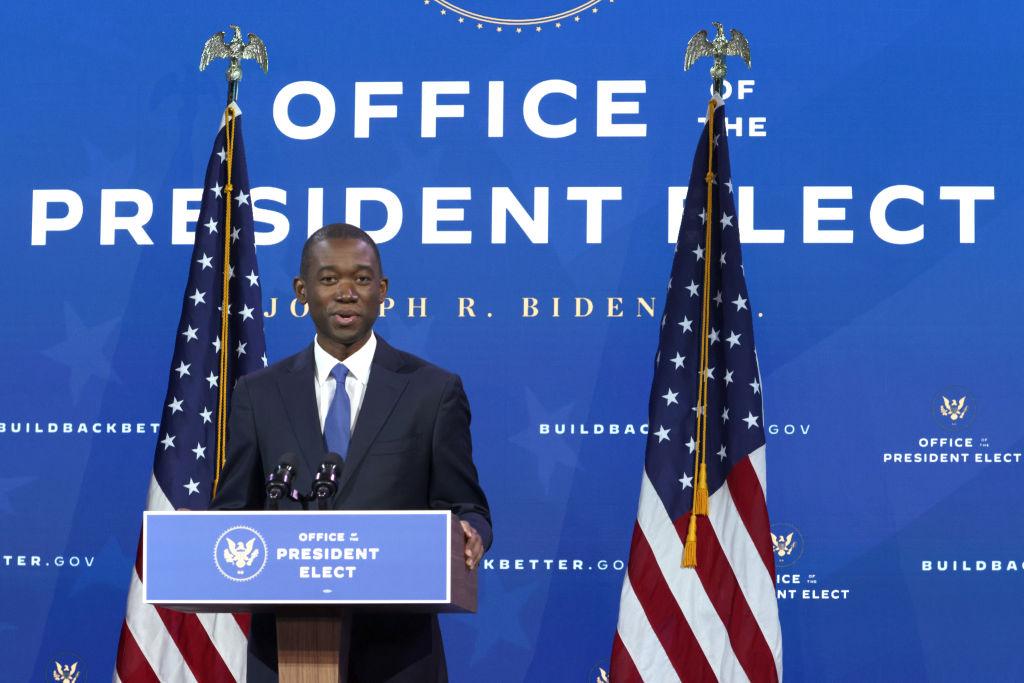 Wally Adeyemo, Former BlackRock Executive, Makes Biden's Team
BlackRock is poised to replace Goldman Sachs inside the White House. President-elect Joe Biden picked two executives who have worked at BlackRock for top positions on his economic team. Biden picked Wally Adeyemo as the deputy secretary of the Treasury. Adeyemo, a Hyde Park resident, would be second in the Treasury Department after Secretary-designate Janet Yellen.
Article continues below advertisement
Article continues below advertisement
Biden also picked Brian Deese, a current BlackRock executive, to lead the National Economic Council. However, all of the candidates need to be confirmed by the Senate to assume the positions. A former Goldman Sachs executive held the Treasury secretary post in three of the last four administrations.
Article continues below advertisement
Wally Adeyemo's expertise
Wally Adeyemo is a Nigerian-American economic and political adviser. In November, President-elect Joe Biden nominated Adeyemo for the role of U.S. Deputy Secretary of the Treasury. Currently, Adeyemo is the president of the Obama Foundation.
Adeyemo was a senior adviser at BlackRock from 2017 to 2019. He worked as the interim chief of staff to BlackRock CEO Larry Fink. During his tenure at the investment management company, Adeyemo offered macroeconomic and geopolitical advice to BlackRock portfolio managers and clients.
Article continues below advertisement
Article continues below advertisement
In 2015, Wally Adeyemo was appointed by President Barack Obama as his senior international economics adviser. In this capacity, Adeyemo was deputy director of the National Economic Council and Deputy National Security Advisor for International Affairs. He represented the U.S. and former President Obama at the G7 and G20 summits. Adeyemo also worked as the first chief of staff at the Consumer Financial Protection Bureau and the deputy chief of staff at the U.S. Department of the Treasury. He was the chief negotiator on crucial international trade deals.
Article continues below advertisement
Prior to government service, Adeyemo served as an editor at the Hamilton Project at the Brookings Institution. He serves on the board of various organizations focused on community empowerment and addressing inequality.
Article continues below advertisement
Wally Adeyemo's early life, education, and personal life
Although Wally Adeyemo was born in 1981 in Nigeria, he was raised in Los Angeles. He holds a B.A. from the University of California, Berkeley and a Juris Doctor from Yale Law School. Adeyemo has kept his personal life private. He hasn't mentioned whether he is married, in a relationship, or single.
Article continues below advertisement
Wally Adeyemo is the president of Obama Foundation
The Barack Obama Foundation is a non-profit organization. The Chicago-based foundation was founded in 2014. The Obama Foundation named Wally Adeyemo as its president in August 2019. He manages the day-to-day operations and works under Board Chairman Martin Nesbitt and CEO David Simas. Adeyemo helps implement the foundation's overall strategic goals and vision.
In a press release, Nesbitt said, "Wally is the ideal person to help lead the Foundation team as we continue to grow the impact of our global civic engagement programs and advance the Obama Presidential Center." Nesbitt also said, "Given his executive experience in both the public and private sectors and previous service with President Obama, Wally is well positioned to help us continue to translate our sky-high ambitions into operational reality through daily leadership of our talented staff."
Who are Wally Adeyemo's parents?
Wally Adeyemo is the son of Nigerian immigrants who migrated to the U.S. seeking to give their children a chance at a better life. His mother was a nurse and his father worked as an elementary school principal.