UCH Coin Spikes, Attracting More Than Just Universidad De Chile Soccer Fans
The Universidad de Chile Fan token (UCH) surged to a new high of $154 early on Sep. 17, catching the attention of investors seeking the next cryptocurrency to explode. The token later pulled back to just under $5. What's the UCH coin's price prediction, and where can you buy the crypto?
Article continues below advertisement
Investors are now watching UCH closely, wondering whether it will rebound or if it's a good long-term investment.
What's the UCH crypto project about?
While some cryptocurrencies have been hits for investors, many have disappointed and turned out to be scams. Therefore, it helps to know what you're investing in.
Article continues below advertisement
UCH is the official fan token of the Universidad de Chile professional soccer club. The club, started in 1920s, is one of the most popular and successful in Chilean professional soccer. It has won Chile's top-flight soccer league title 18 times, with six wins in the last 10 years.
The team's fans can use the token to influence club decisions and purchase club merchandise. Many other soccer clubs, such as Barcelona, Inter Millan, Manchester City, and PSG, also have fan tokens.
Article continues below advertisement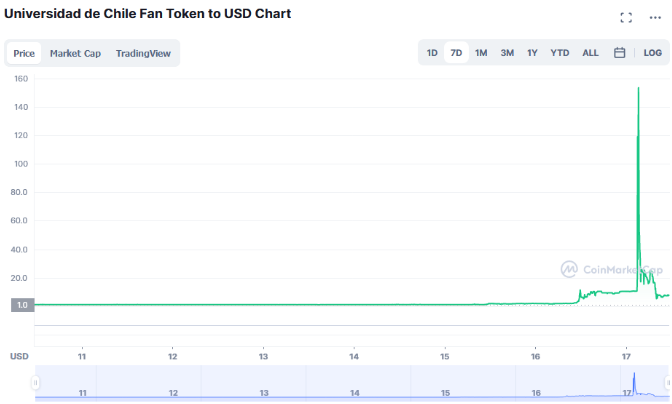 Why is UCH going up?
UCH spiked following its listing on Crypto.com, one of the top platforms for trading cryptocurrencies. Although UCH is far below its all-time high, it's rebounding.
Article continues below advertisement
Is UCH on Coinbase?
Article continues below advertisement
Is UCH a good investment?
UCH's supply is capped at 5 million tokens, and some 375 million tokens are circulating. Cryptocurrencies with a maximum supply can eliminate inflation for investors. The coin is poised to appreciate as it becomes available on more exchanges, especially Coinbase.
Article continues below advertisement
UCH vs. the PSG fan token
The PSG token surged as the France-based soccer club neared signing Argentinian soccer star Lionel Messi. PSG has attained an all-time high of $61, compared with $154 for UCH. While UCH's supply is fixed at 5 million tokens, PSG's is capped at 20 million.
UCH's price prediction for 2021
UCH has room to keep climbing, especially as its exchange support grows. The increase in media coverage following its recent spike also bodes well for the crypto, and its pullback could attract investors keen to buy the dip. Therefore, it wouldn't come as a surprise if UCH rebounds to $154 before the end of 2021.
Article continues below advertisement
Where to buy UCH coins
If you like UCH's outlook or are a Universidad de Chile soccer fan, you might want to add the crypto to your portfolio. You can buy UCH on Crypto.com or Chiliz. To buy it on the latter, you'll have to use the exchange's native CHZ token.