Dan Loeb and Wells Fargo Bought BFT Stock: Should You?
There has been a wave of fintech-SPA transactions over the last year. Chamath Palihapitiya's Social Capital Hedosophia Holdings (IPOE) is merging with SoFi, while Bill Foley's Foley Trasimene Acquisition Corp II (BFT) is merging with Paysafe. Many institutional investors including Dan Loeb and Wells Fargo bought BFT stock. Should you buy the stock too?
Article continues below advertisement
Fintech startups are a hot target for SPACs. These companies are giving traditional banks a tough fight with their innovative offerings. From loans to bank accounts and insurance, fintech companies have come up with differentiated offerings that are attracting Millennials.
Why BFT stock is falling.
BFT SPAC stock is down over 20 percent from its 52-week highs and is in the bear market territory. IPOE is down 35 percent as Hindenburg Research's allegations against Palihapitiya took a toll on all of his SPACs.
Article continues below advertisement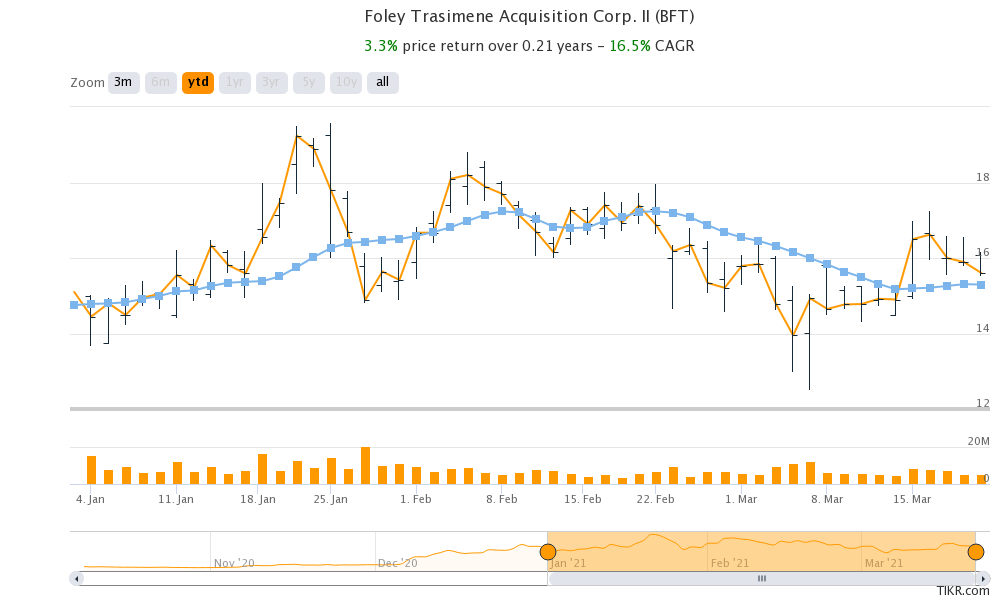 Currently, FTAC Olympus Acquisition Corp. (FTOC), which announced a merger with Payoneer, is down almost 25 percent from its 52-week highs. FTOC is trading at a premium of only about 10 percent from its IPO price.
Article continues below advertisement
While banking stocks have done well in 2021 amid rising rates and a tilt towards value stocks, fintech stocks have looked weak. Since fintech companies are classified as "tech," they have come under pressure amid the sell-off in tech and growth stocks.
Institutional investors are buying BFT stock.
Institutional investors and mutual funds hold over 35 percent of BFT SPAC. Third Point Capital, which is led by Loeb, holds 5 million shares of BFT and is the largest institutional investor with a 3.4 percent stake. Wells Capital Management and Millennium Management are the other two top institutional investors in BFT.
Article continues below advertisement
Dan Loeb bought BFT stock.
In the fourth quarter of 2020, Loeb bought BFT stock. All of the shareholdings in BFT are based on that period only since it's the most recent 13F filings. The filing for the first quarter of 2021 would be filed only by May. Meanwhile, BFT is among the top 40 holdings for Third Point Capital now.
Article continues below advertisement
Should I buy BFT stock now?
BFT and other fintech companies have come under pressure. The outlook for BFT stock looks positive despite the recent sell-off. The fall in BFT is among the lowest that we've seen in the fintech SPAC space. However, it's in line with listed fintech companies. For example, PayPal has lost 22 percent from its peaks, while Square is down 20 percent.
Article continues below advertisement
The fall in BFT stock makes its valuations attractive. Paysafe has an asset-light model, which helps it post higher margins. It expects to post an EBITDA margin of 33 percent in 2021, which looks healthy and is higher than what PayPal is expected to post. BFT stock looks like a good buy at the current prices. It's a bet on the fintech story and Foley's expertise.
BFT is a good long-term investment.
From an industry perspective, fintech is among the most promising themes for the next decade. JPMorgan Chase called fintech the "real COVID-19 story" and pointed to "the rise of online start-ups and expansion of digital platforms into credit and payments."
Article continues below advertisement
Even tech giants like Alphabet, Apple, and Facebook are looking at the fintech space. Paysafe's focus on the online gaming and betting market makes it attractive.
From a company standpoint, Paysafe is a good company to have in your portfolio for the long term. With asset managers like Loeb putting their weight behind BFT before the Paysafe merger, it also shows the positive sentiments on Wall Street and among hedge funds.