Bill Foley's SPAC Experience Makes BFT Stock a Buy Before Paysafe Merger
The rush towards SPACs (special purpose acquisition companies) has continued in 2021. William P. Foley, Chamath Palihapitiya, and Bill Ackman are among those who launched their SPACs last year. Foley Trasimene Acquisition Corp II (BFT) stock has been on an uptrend over the last few days. Should you buy BFT stock before its merger with Paysafe?
Article continues below advertisement
BFT SPAC stock rose 4.1 percent in regular trading on Jan. 20 and was up 4.8 percent in pre-market trading on Jan. 21. The stock has risen over 75 percent from its listing and currently has a market capitalization of $3.2 billion.
Article continues below advertisement
Paysafe continues to expand
Paysafe is an online payments company with international operations. It handles annual payments of over $100 billion. Due to the company's asset-light model, it has EBITDA margins of over 30 percent that look healthy.
Paysafe is growing very fast and expects double-digit revenue growth between 2020 and 2023. The company expects revenues of $1.5 billion in fiscal 2021, which brings its 2021 price-to-sales multiple to 4.5x based on the implied valuation of $9 billion.
Article continues below advertisement
Bill Foley owns the BFT SPAC
Foley started BFT. He's the chairman and CEO of Fidelity National Financial Inc. and the vice-chairman of Fidelity National Information Services. His net worth is estimated to be well above $500 million. BTC raised $1.47 billion in an IPO in August. The SPAC is expected to raise another $1 billion in fresh equity.
Article continues below advertisement
BFT and Paysafe merger timeline
The BFT and Paysafe merger is expected in the first half of 2021. Cannae Holdings has invested $500 million in the BFT-Paysafe merger. While Cannae Holdings has invested $350 million as part of a private placement, the remaining $150 million would be invested when the two companies merge.
Buying BFT stock before the merger with Paysafe
Buying a SPAC before the merger is like signing a blank check. SPACs are known as "blank-check companies" for a reason. The credibility of those launching the SPAC is very important.
Article continues below advertisement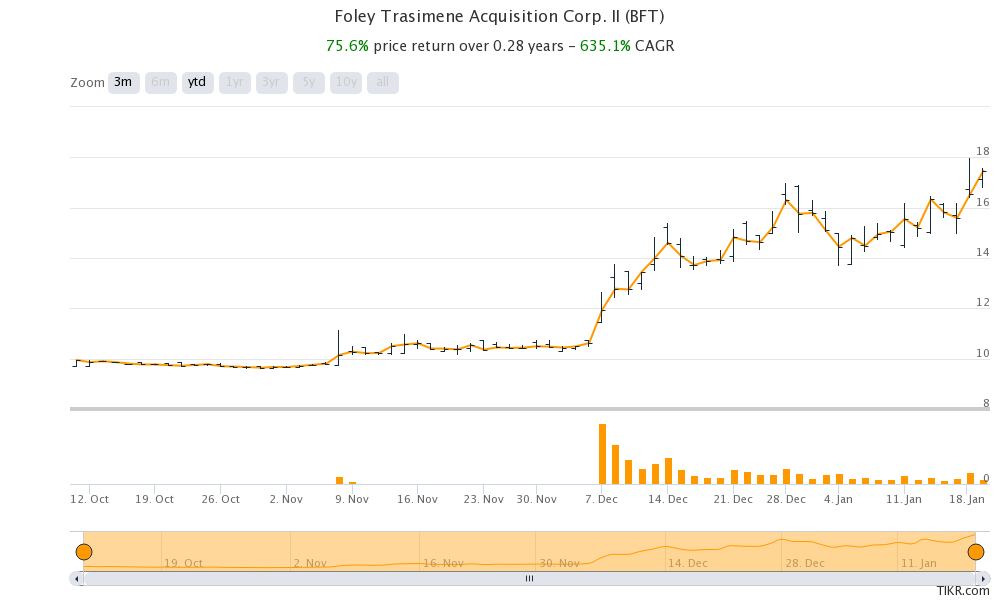 Given Foley's experience in financial services and managing SPACs, it would be worthwhile to invest in BFT stock ahead of the merger. Also, the valuation that Paysafe is seeking as part of the SPAC deal is attractive.
Article continues below advertisement
Paysafe was valued at $3.9 billion in 2017 when CVC Capital Partners and BlackRock took it private. The valuation Paysafe is seeking now is over 2.3x its 2017 valuation. Some of the other companies, including fintech startup Affirm, are much higher than their values a year ago.
Investors' appetite for fintech stocks is also strong, which is reflected by Affirm and Root Insurance IPOs' solid performance. Ant Financial was about to create history before Chinese authorities stalled its IPO. The $3 trillion worth of bids that Ant Financial attracted shows investors' strong demand for fintech stocks.