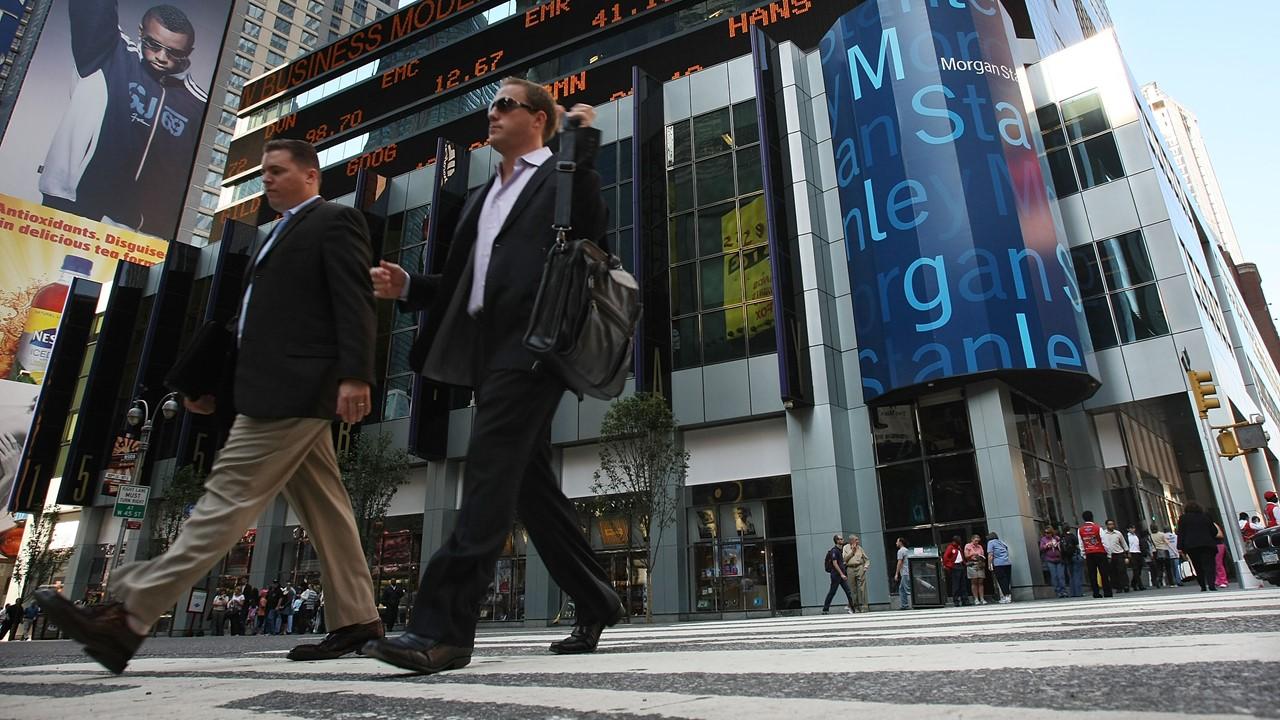 Morgan Stanley's (MS) Stock Forecast Before Q1 Earnings
The first-quarter earnings season is in a full swing. Morgan Stanley (MS) will release its earnings for the first quarter of 2021 on April 16 before the markets open. What's the forecast for Morgan Stanley stock before its first-quarter earnings?
Article continues below advertisement
Morgan Stanley stock gained 38 percent in 2020 and is up 18 percent YTD. Financial stocks have been strong in 2021 amid the shift from growth to value stocks.
Morgan Stanley Q1 2021 earnings estimates
Analysts polled by TIKR expect Morgan Stanley's revenues to rise 49.6 percent YoY to $14.1 billion in the first quarter of 2021. The company's revenues increased 15.6 percent and 16.2 percent, respectively, in the fourth quarter of 2020 and the third quarter of 2020. Its adjusted EPS is expected to increase 74.3 percent to $1.73 in the first quarter of 2021.
Article continues below advertisement
MS stock news
Earlier this week, Morgan Stanley announced its commitment to mobilize $1 trillion by 2030 to support sustainability solutions. The company has already committed to net-zero financed emissions by 2050. Companies are committing to a green future more. General Motors, the largest U.S.-based automaker, plans to sell only zero-emission vehicles by 2035.
Article continues below advertisement
Morgan Stanley pays dividends
Morgan Stanley pays a dividend quarterly. The dividend is announced during the quarterly earnings release and is paid within a month. Its current quarterly dividend of $0.25 is a yield of 1.23 percent, which is below the S&P 500's dividend yield.
Article continues below advertisement
In 2020, the U.S. Federal Reserve barred banks from increasing the dividends. However, banks will be able to lift their dividends in the second half of 2021. Morgan Stanley expects to increase the dividends after that.
Morgan Stanley stock price forecast
According to the estimates compiled by CNN Business, MS stock has a median target price of $88.50, which is a premium of 9.6 percent over its April 14 closing prices. Its highest target price of $112 is 38.7 percent over the current prices, while its lowest target price of $67 is 17 percent below the current prices.
Article continues below advertisement
Among the 28 analysts covering MS stock, 20 rate it as a buy, while eight rate it as a hold. None of the analysts has a sell rating on the stock.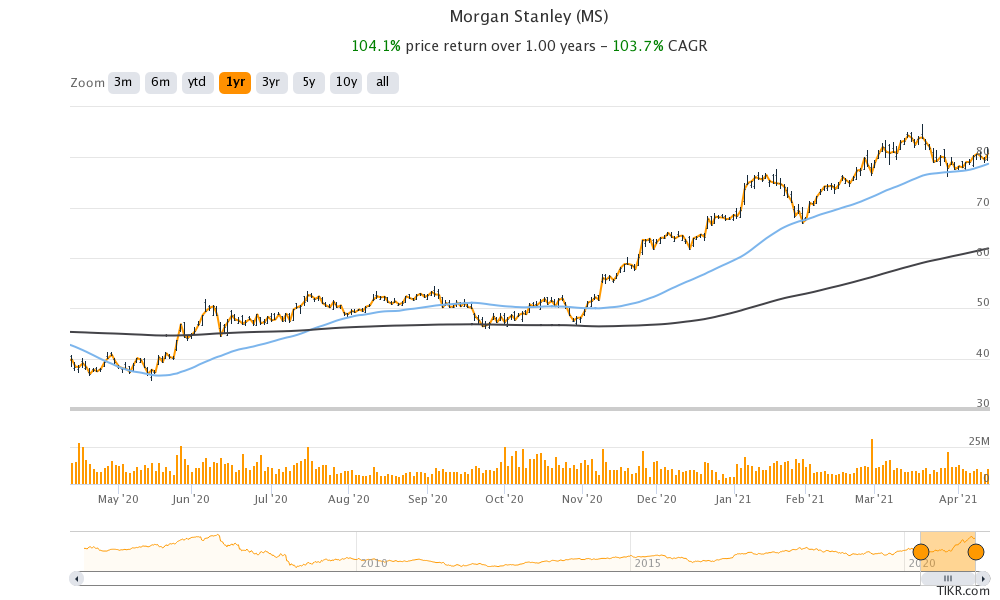 Article continues below advertisement
In April, Barclays, Deutsche, and UBS Group increased their target price on Morgan Stanley stock to $98, $79, and $92, respectively. While Barclays and UBS maintained their ratings on MS stock at overweight and buy, respectively, Deutsche changed its rating from positive to hold.
However, in March, Daiwa upgraded MS stock from neutral to outperform and assigned a target price of $86
Article continues below advertisement
Morgan Stanley stock is a buy.
The earnings season for the U.S. financial sector has been going well. JPMorgan Chase and Goldman Sachs reported an earnings beat. Talking of Morgan Stanley, in 2020, it completed the acquisition of the online trading platform E-Trade. It also acquired Eaton Vance. The merger would boost Morgan Stanley's asset management business.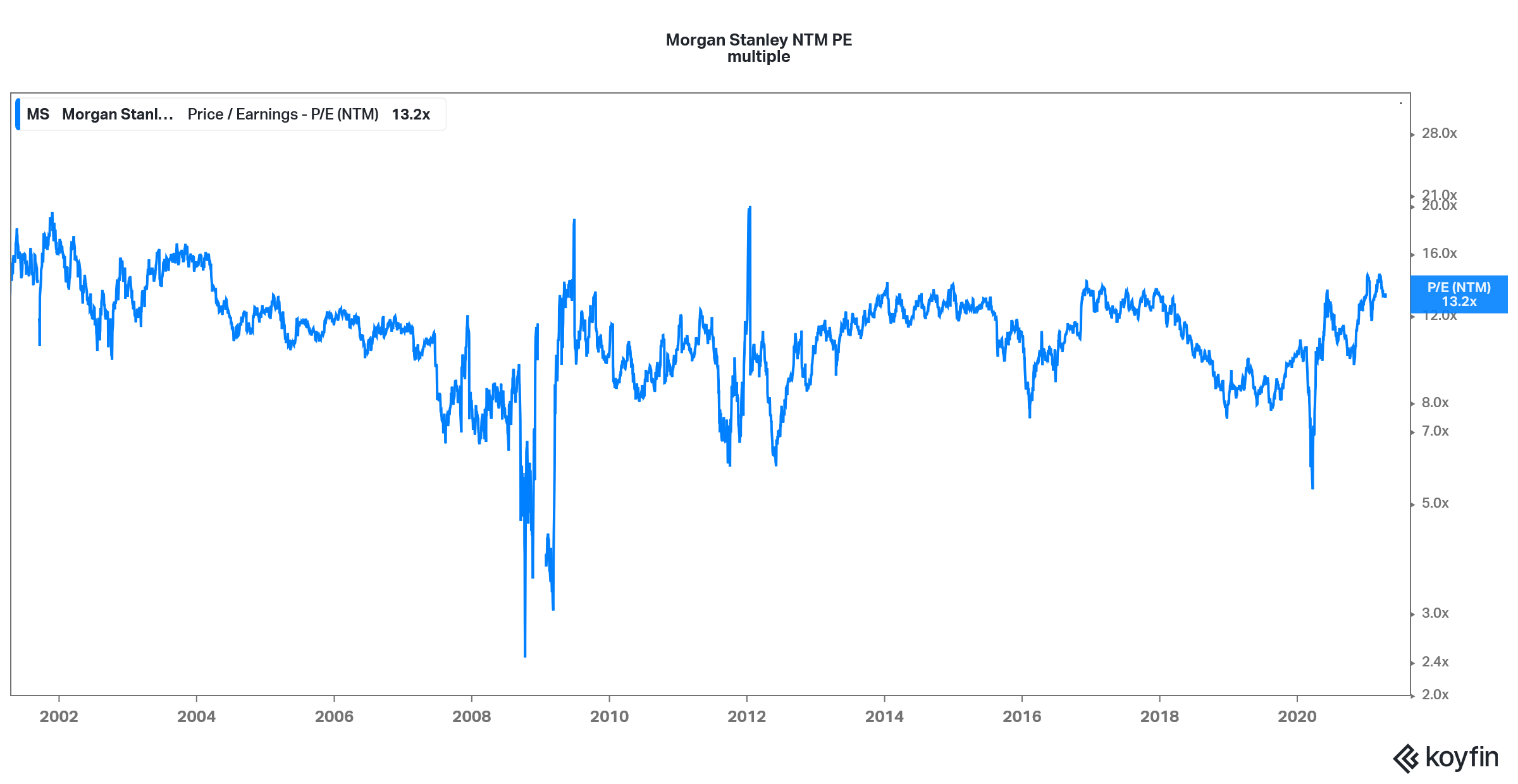 Article continues below advertisement
These strategic acquisitions will likely drive value in the medium to long term. Looking at the valuations, Morgan Stanley trades at an LTM price-to-book value ratio of 1.6x, which looks reasonable.
MS stock trades at an NTM PE multiple of 13.2x, which is higher than its average multiples over the last 10 years. However, given the strategic acquisitions that it completed in 2020 and the current uptrend in business, markets have rerated the stock. Overall, MS stock looks like a buy ahead of its first-quarter earnings release.
MS options
You can also trade in MS stock using options. However, it's worth noting that options are leveraged trades on the underlying asset. The profit, as well as the losses, are magnified in an option trade.