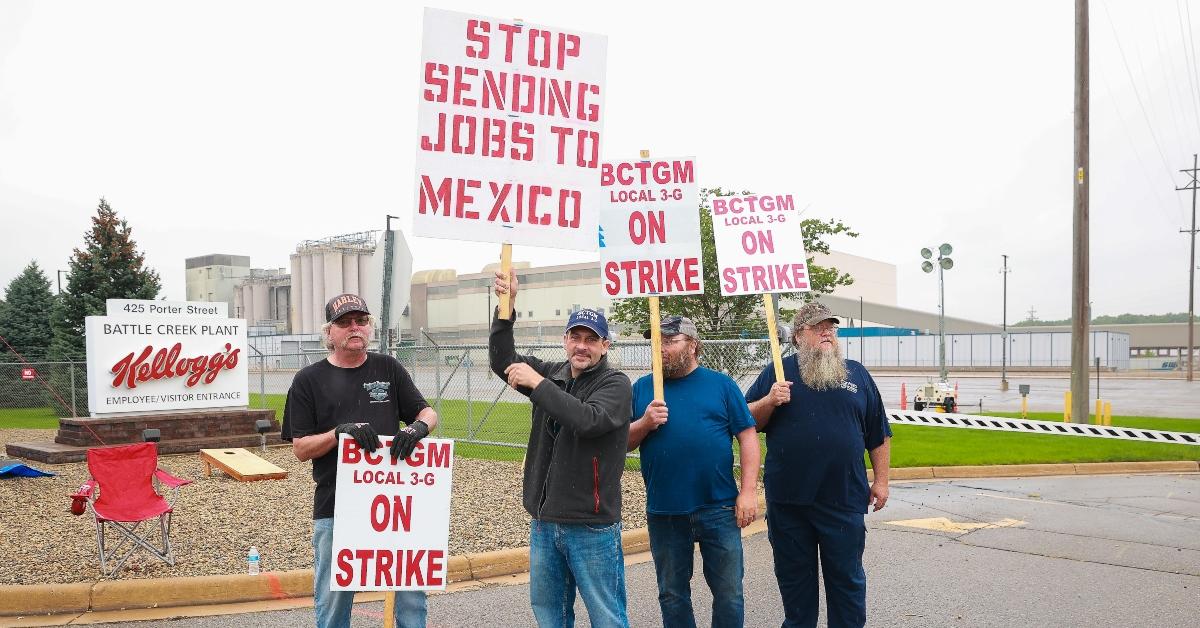 Kellogg Will Replace Workers Involved in Boycott and Strike
Workers involved with Kellogg's boycott and strike will be replaced, the company said in a statement on Dec. 7. The decision came after the union for the striking workers rejected a tentative agreement for a new five-year contract.
Article continues below advertisement
"After 19 negotiation sessions in 2021, and still no deal reached, we will continue to focus on moving forward to operate our business," said Chris Hood, the president of Kellogg North America. "The prolonged work stoppage has left us no choice but to continue executing the next phase of our contingency plan including hiring replacement employees in positions vacated by striking workers."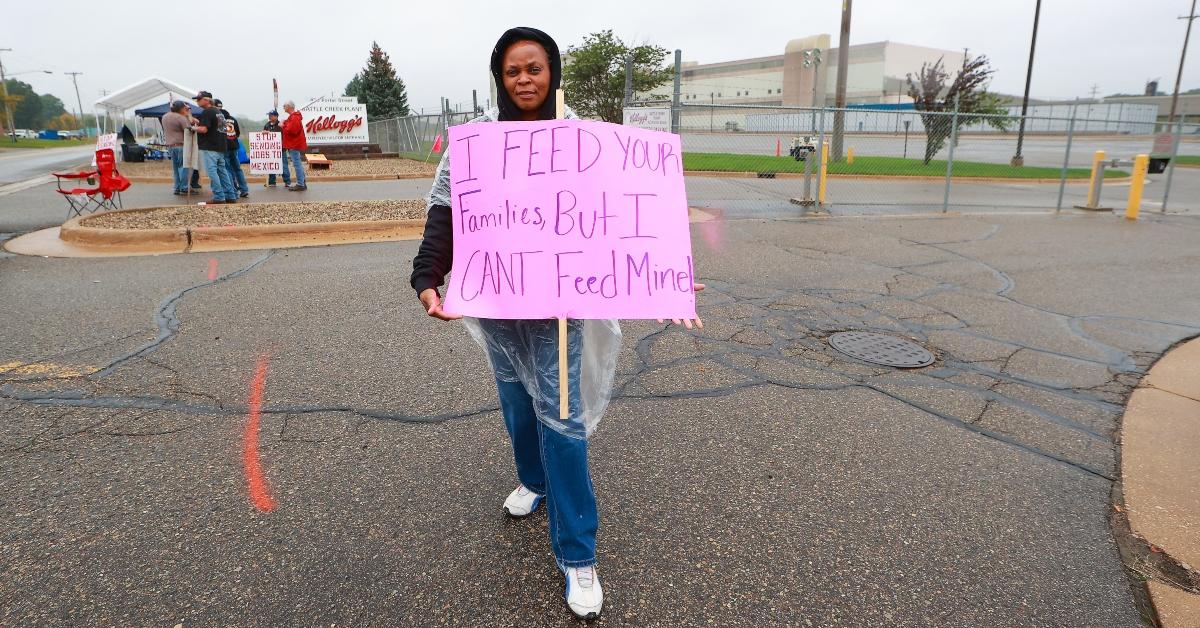 Article continues below advertisement
Temporary employees have already been in place at the four Kellogg's locations in Battle Creek, Mich., Lancaster, Pa., Memphis, Tenn., and Omaha, Neb. Kellogg spokesperson Kris Bahner told Reuters that new hires are expected to start soon.
"While certainly not the result we had hoped for, we must take the necessary steps to ensure business continuity," Hood said.
Article continues below advertisement
About 1,400 Kellogg employees are on strike.
Kellogg Company employees at four U.S. locations walked off the job on Oct. 5 after the contract between the BCTGM (Bakery, Confectionery, Tobacco Workers and Grain Millers) International Union and the company expired.
The striking workers were looking for a fair contract that provides a living wage and good benefits. Company and union officials negotiated on a new contract for weeks before the strike but couldn't come up with a compromise.
Article continues below advertisement
When negotiations broke down, union officials said they were concerned that Kellogg wanted to create a permanent two-tier system that doesn't offer a path to full benefits and pension, get rid of 100 percent healthcare and cost-of-living adjustments, and move production to Mexico, Canada, or South America.
Kellogg officials dispute the union's claims.
Article continues below advertisement
"We have not proposed moving any cereal volume or jobs outside of the U.S. as part of these negotiations," the presentation states.
The company also rejected the claim that employees don't make a living wage. The average earnings in 2020 for most of the hourly cereal employees was $120,000 with more than a third of employees making between $120,000 and $200,000, Kellogg officials state in the presentation.
Article continues below advertisement
The union rejected several offers.
Union representatives have reportedly rejected six offers by the company. Changes included in the five-year agreement the union rejected this week were a 3 percent increase in wages for long-time legacy employees and "substantial" increases based on years of service for transitional workers and new hires. The rejected agreement also included benefits for all employees.
Article continues below advertisement
Kellogg said that there won't be more negotiations.
Kellogg officials say that no more bargaining is scheduled with union representatives, Reuters reports.
Union officials pledged to continue to provide full support for the striking Kellogg workers.
"The BCTGM is grateful for the outpouring of fraternal support we received from across the labor movement for our striking members at Kellogg's. Solidarity is critical to this fight," said BCTGM International President Anthony Shelton in a statement.