Can SDC Stock Make You 'Smile' Amid Evergrande Slump?
U.S. stock markets opened sharply lower on Sept. 20. The Evergrande crisis created ripples in the markets. While most of the stocks opened lower, SmileDirectClub (SDC) is bucking the trend and was trading higher. SDC is currently among the popular stocks on Reddit group WallStreetBets. Is SDC a good stock to buy now?
Article continues below advertisement
SDC is a teledentistry company. Previously, Zomedica and Senseonics were among the popular healthcare stocks on WallStreetBets. Both of them rose sharply and then tumbled in typical meme stock fashion.
SDC stock forecast
Usually, Wall Street analysts don't have a bullish view of Reddit stocks. Among the 13 analysts polled by CNN Business, only two have a buy rating on SDC, while seven analysts rate it as a hold. Four analysts have a sell rating on the stock. Its median target price of $6.6 is a 10 percent discount over current prices. However, its street-high target price is $11, which represents an upside potential of over 50 percent.
Article continues below advertisement
In August, SDC stock fell sharply after its earnings. Several brokerages including Wolfe Research, Craig Hallum, JPMorgan Chase, and William Blair downgraded the stock after the dismal earnings report.
Article continues below advertisement
Lately, Reddit traders have had a flair for stocks that have tumbled after the earnings release. ContextLogic (WISH) also gained popularity on WallStreetBets after its earnings spooked markets. So did Root Insurance, which fell to a new all-time low after the earnings in August.
Is a short squeeze coming in SDC stock?
According to the data from Fintel, SDC had a FINRA short volume ratio of over 40 percent on Sept. 17. The short interest looks juicy enough to attract Reddit traders. The WallStreetBets rulebook has been to pump heavily shorted stocks and trigger a short squeeze. GameStop and AMC Entertainment will go down as among the iconic short squeezes in history. Retail traders squeezed out big Wall Street hedge funds.
Article continues below advertisement
SDC stock Reddit
WallStreetBets members are discussing the high short interest in SDC stock and some traders are floating the target prices as high as $20, which is roughly about three times the current stock price. However, a member who goes by the username beardshachioso and has over 23,000 "comment karmas" advised not to buy the stock above $7.
Article continues below advertisement
Meanwhile, after opening sharply higher on Sept. 20, SDC stock pared some of the gains. The short squeeze in SDC stock seems to have run its course after the sharp rise over the last month.
Should I buy SDC stock now?
SDC has been struggling with perennial losses and stagnant growth. For example, in the second quarter, the revenues came in at $174 million. While they were higher than the same quarter in 2020 due to the lower base, they were 10 percent lower than the second quarter of 2019.
Article continues below advertisement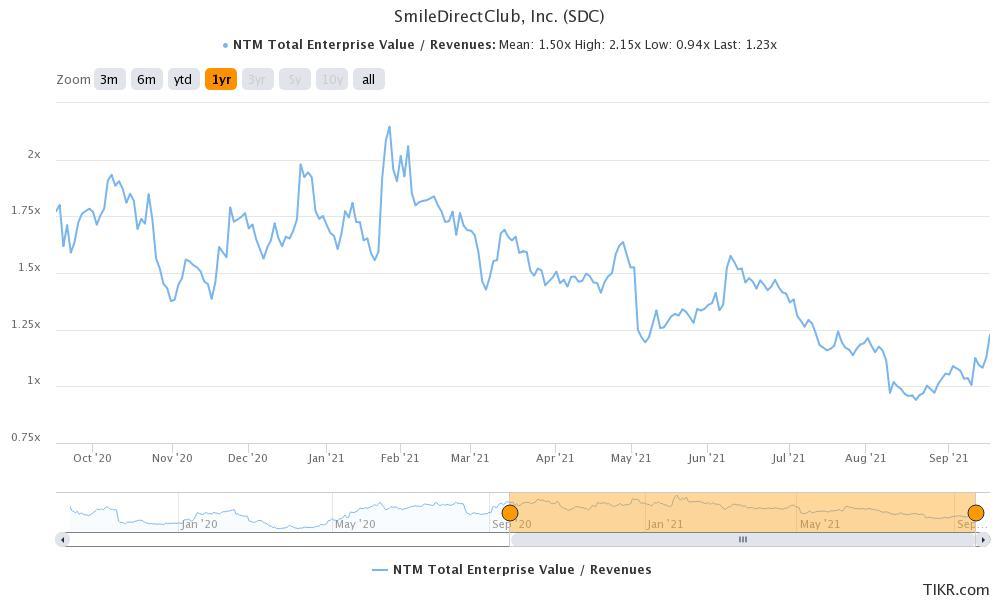 Looking at the valuations, SDC stock trades at an NTM EV-to-revenue multiple of 1.23x. The valuations might appear on the lower side, but they should be read in conjunction with the poor financials. Overall, after the steep rise in SDC stock over the last month, the stock looks somewhat stretched at these prices.