Is FTX Publicly Traded? Ownership and IPO Plans, Explained
Cryptocurrency exchange FTX has been in the news for bailing out smaller crypto firms amid the crypto meltdown. There were rumors that FTX was going to buy Robinhood, but it denied the reports. Who owns FTX and is it publicly traded?
Article continues below advertisement
FTX is among the newest crypto exchanges and was set up in May 2019. The company is incorporated in Antigua and Barbuda and has its headquarters in The Bahamas. U.S. residents aren't allowed to trade on the platform. The company has an affiliate FTX.US where U.S. residents can trade but the offerings there are limited.
FTX isn't publicly traded yet.
FTX is a privately held company and isn't publicly traded. Most of the crypto exchanges including market leader Binance aren't publicly traded. In 2021, Coinbase became the first major pure-play crypto exchange to go public. The company opted for the direct listing route and kept the reference price at $200.
Article continues below advertisement
Tiger Global, SoftBank, and Temasek are among the FTX investors.
Despite being a relatively new entrant in the crypto space, FTX has attracted interest from several marquee investors. It counts Singapore's sovereign wealth fund Temasek, Tiger Global, and Sequoia Capital as its investors. Coinbase and Paul Tudor Jones' family have also invested in FTX.
Article continues below advertisement
FTX was founded by Sam Bankman-Fried.
FTX was founded by Sam Bankman-Fried, who's also known by his initials SBF. He has earned himself the title of being the richest person in crypto with his multi-billion-dollar net worth. Despite the fall in his net worth, he's still among the richest people under 30 after having transitioned from an MIT graduate to a billionaire in a quick span of four years.
Article continues below advertisement
FTX valuations have soared but will need to pass the market test.
In July 2021, FTX announced a $900 million Series B funding, which valued the company at a mouth-watering $18 billion. The funding came shortly after Coinbase was listed in the U.S. FTX's valuation surged to $25 billion in the October 2021 funding round.
In January 2022, the company raised another $400 million and its valuation surged to $32 billion. In the same month, its U.S. affiliate raised $400 million at a valuation of $8 billion. The funding came just at the right moment for the company as both the cryptocurrency as well as stock markets have since plunged.
Article continues below advertisement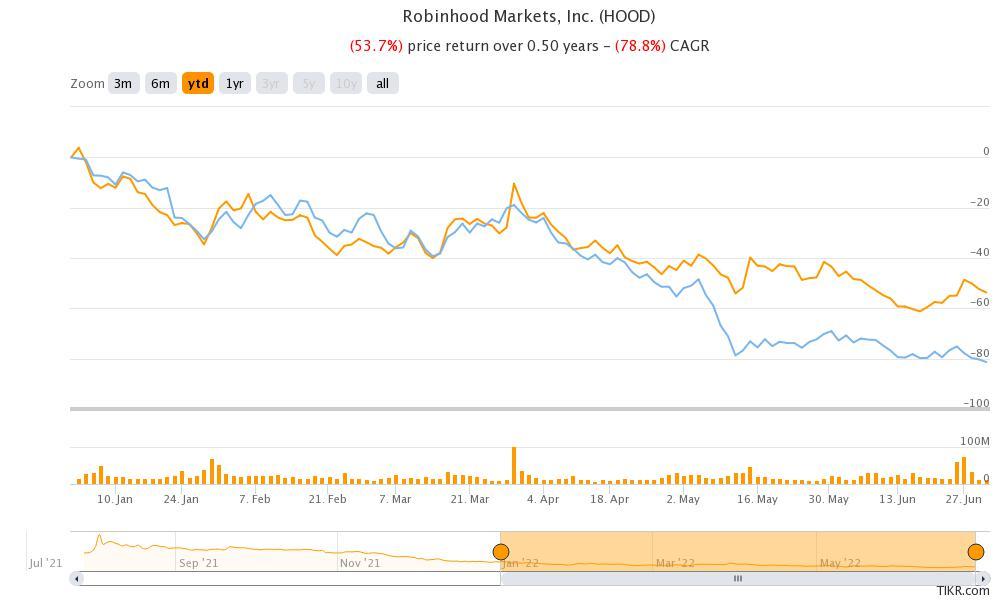 Valuations of cryptocurrency exchanges have plummeted in 2022.
To put things in perspective, Coinbase stock has lost 81 percent in the first half of 2022 and now has a market cap of just above $10 billion. Robinhood has also lost 54 percent and its market cap is just above $7 billion. The company held $6.2 billion in cash on its balance sheet at the end of March.
Article continues below advertisement
In June, Robinhood's market cap fell below the cash on its balance sheet, which effectively meant that markets were valuing the business at zero. Even now, Robinhood's enterprise value is below $1 billion. Along with stock trading, Robinhood also lets users trade in select cryptos.
Article continues below advertisement
FTX might not IPO anytime soon.
FTX has raised $2 billion in private financing and has a healthy cash position. Looking at the carnage in digital assets, which looks far from over, FTX might not IPO anytime soon. The market sentiments towards digital assets have to significantly improve for FTX to list. If the company were to go public now, it might not be able to seek valuations anywhere near what it commanded in the latest private funding round.
FTX has been using its war chest to bail out struggling crypto exchanges and is now reportedly looking to buy BlockFi for $25 million in a fire sale.