Is FTX Buying Robinhood? Stock Soars Amid Rumors
Robinhood (NYSE: HOOD), which went public in 2021 in a hyped IPO, now trades at a fraction of its all-time high prices. Given the fall in its stock price, there have been intermittent rumors of it being acquired by another company. On June 27, HOOD stock soared on reports that crypto exchange FTX is buying the company. Is FTX buying Robinhood?
Article continues below advertisement
While most analysts have been bearish on Robinhood, some funds have been buying the stock. Cathie Wood, whose flagship ARK Innovation ETF has cratered in 2022, has added more Robinhood shares in 2022. ARK is now among the top 10 Robinhood stockholders.
Sam Bankman-Fried bought Robinhood shares in May.
FTX founder Sam Bankman-Fried, who's also known by his initials SBF, took a 7.6 percent stake in Robinhood in May for $748 million. The news provided some respite for HOOD investors and the stock soared.
Article continues below advertisement
The stake was taken by Emergent Fidelity Technologies, where SBF is the majority owner and the sole director. The company is now the third-largest stockholder of Robinhood. In the SEC filing, it said, "The Reporting Persons acquired the Shares in the belief that the Shares represent an attractive investment."
Article continues below advertisement
The filing also added that the Controlling Persons "do not currently have any intention of taking any action toward changing or influencing the control of the Issuer." However, the filing said that they "may from time to time engage in discussions as a stockholder with representatives of the Issuer, other stockholders of the Issuer or third parties regarding the performance of the Issuer and its business and investment returns."
Article continues below advertisement
SBF has denied that FTX is buying Robinhood.
SBF has denied reports that FTX is buying Robinhood. In the response to multiple news outlets, he said, "We are excited about Robinhood's business prospects and potential ways we could partner with them, and I have always been impressed by the business that Vlad and his team have built." He also explained, "That being said there are no active M&A conversations with Robinhood."
The news of FTX acquiring Robinhood looked credible because FTX has been bailing out small crypto players amid the crash in cryptocurrencies. Also, SBF's stake in Robinhood has led many to believe that he may ultimately buy the company.
Article continues below advertisement
Even Elon Musk started with a small stake in Twitter before making an offer to acquire the microblogging site. While Twitter's board approved the deal, Musk is now having second thoughts amid uncertainty over fake Twitter accounts.
Article continues below advertisement
HOOD stock looks attractive for a buyer.
Earlier in June, Robinhood stock fell to its all-time lows and its market cap even fell below the cash on its balance sheet. Effectively, markets were valuing the company's business at zero. While Robinhood has seen a fall in revenues and is posting losses, it remains quite popular among users. The steep fall in HOOD stock makes it attractive for someone looking to acquire the company.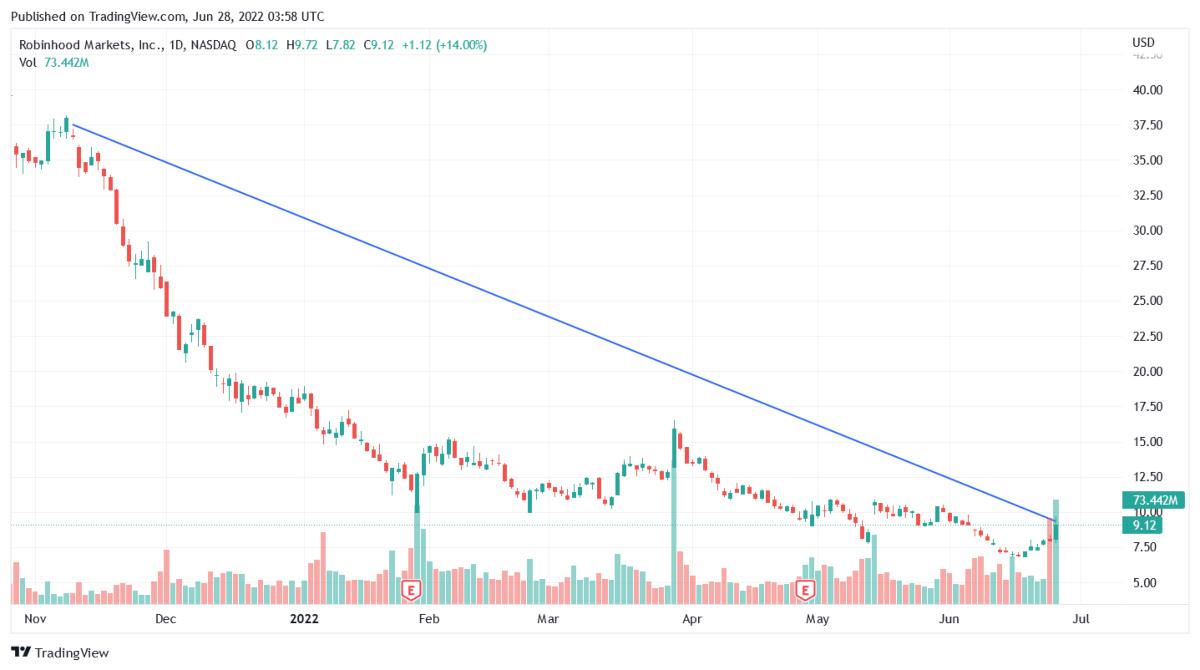 Article continues below advertisement
Robinhood founders hold over half of the voting rights.
Like many other tech companies, Robinhood also has a dual-class share structure. Under the structure, Robinhood's founders, Vladimir Tenev and Baiju Bhatt hold the class B shares which are entitled to 10 votes per share. As a result, the founders hold over half of the voting rights.
While the dual share structure might seem contrary to Robinhood's goal of "democratizing," it ensures that there can't be a hostile takeover of the company. If FTX or any other entity intends to buy Robinhood they would need to take the founders on board.