EV SPACs Look Like a Good Bet for Investors in 2021
Overall, 2020 was the year of SPACs (special purpose acquisition companies). For the first time in history, SPACs rivaled the amount raised through traditional IPOs. SPACs were the preferred listing route for companies in the EV ecosystem. On Jan. 22, Climate Change Crisis Real Impact I Acquisition Corp. (CLII) SPAC stock rose sharply after announcing a merger with EVgo. What are the best EV SPAC stocks that can create wealth for investors in 2021?
Article continues below advertisement
First, SPACs are blank check companies that are created to merge with a private company and take it public. The popularity of SPACs has been rising among sponsors, investors, and companies looking to go public.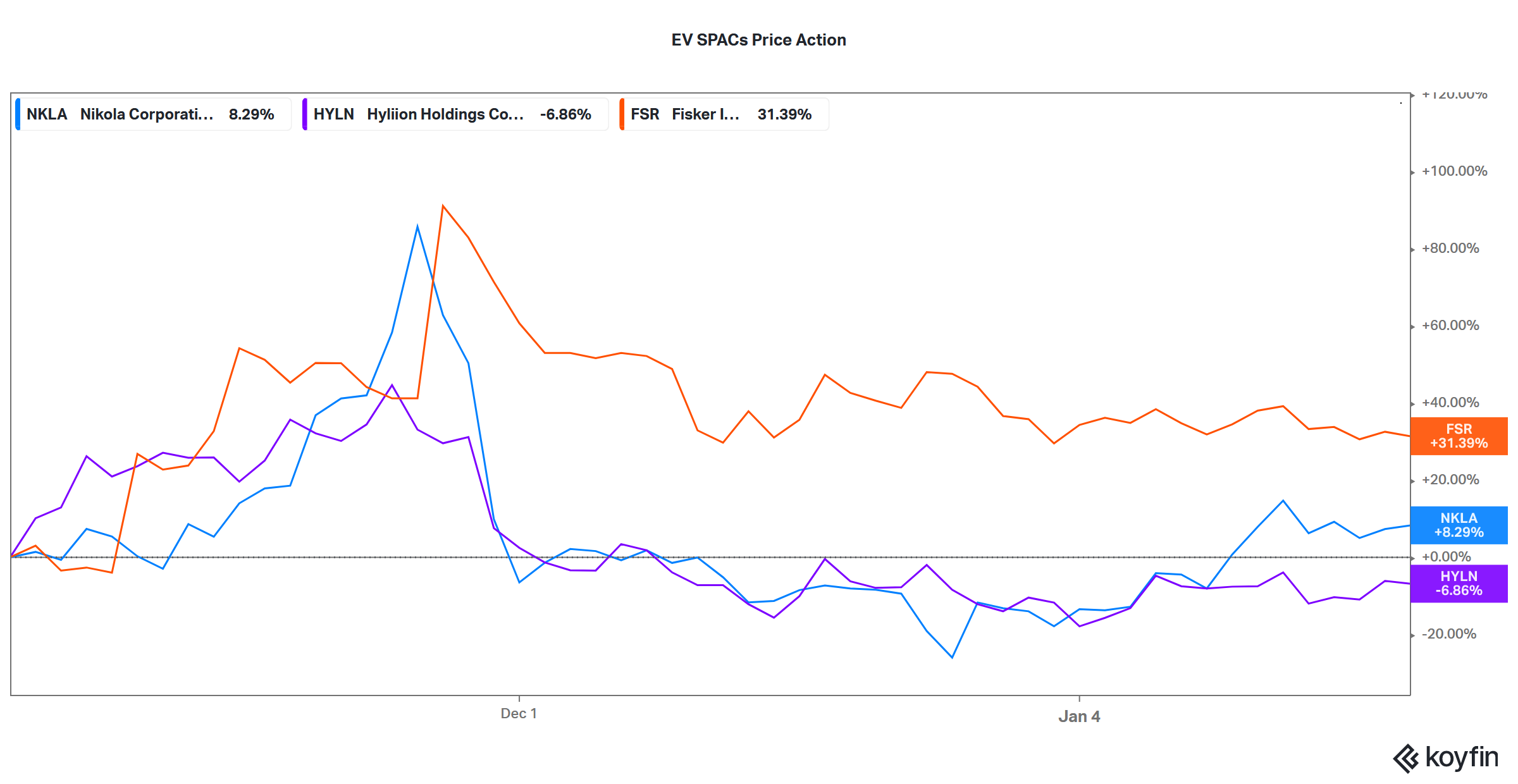 Article continues below advertisement
EV SPACs in 2020
Many companies in the EV ecosystem went public through the SPAC route in 2020 including Nikola, Lordstown, and Fisker. Hyliion and XL Fleet also listed through the SPAC route. Battery maker QuantumScape listed through the SPAC route and at its peak had a market capitalization more than Ford. Even Nikola's market capitalization briefly soared above Ford's.
List of EV SPACs that are due for a merger
The above-mentioned companies have already merged with the target companies. However, some SPACs haven't merged with their targets yet, including:
Climate Change Crisis Real Impact I Acquisition Corp. (CLII) announced a merger with charging infrastructure company EVgo.
Newborn Acquisition Corporation (NBAC) intends to acquire Nuvee, which is a differentiated play on the EV charging industry.
CIIG Merger Corporation (CIIG) announced a merger with electric bus startup Arrival.
Switchback Energy SPAC (SBE) announced a reverse merger with ChargePoint.
Churchill Capital IV (CCIV) SPAC is in talks to take Lucid Motors public through a merger.
Article continues below advertisement
Best EV SPACs to buy in 2021
There has been a frenzied rally in all of the stocks in the EV ecosystem including SPACs, newly listed EV and green energy companies, as well as established companies. The valuations of all the companies in the clean energy industry have soared. However, that's because of a once in a lifetime opportunity that markets see in this industry. As the world moves forward to address climate change, companies in that ecosystem have a positive outlook.
Article continues below advertisement
Nikola is one EV SPAC name that you should watch in 2021. The stock had a mixed 2020 and it fell sharply after the initial surge. Accusations made by short-seller Hindenburg Research weighed on the stock in 2020, which eventually led to the exit of its founder Trevor Milton. General Motors also scaled down its partnership with the company after the accusations. As the company starts producing and delivering vehicles, investors will focus more on the execution part and put the controversies behind them.
Article continues below advertisement
Fisker is another SPAC that looks relatively undervalued. The company has a market capitalization of only about $4 billion. If Fisker's models impress the markets, it could be a wealth creator.
If you are looking at a differentiated EV play, Hyliion could be a good alternative. Hyliion expects to post revenues of $2 billion by 2024 and hit an EBITDA of $600 million. Its market capitalization is only about $2.7 billion, which would mean a 2024 price-to-sales multiple of 1.35x, which is quite reasonable looking at the valuation of other companies in the green energy ecosystem.