Stars are Aligned Nicely for Climate Change Stocks Under Biden
On Jan. 20 Joe Biden was inaugurated as the 46th U.S. president. Since his election, there has been a sharp rally in stocks of companies that can help address the global climate change crisis. These so-called climate change stocks rallied further after Democrats took control of the Senate with 50 Democrat senators and Vice President Kamala Harris for the tie-breaking vote.
Article continues below advertisement
Along with the global push towards addressing climate change, the growing popularity of SRI (socially responsible investing) would also help climate change stocks. Many investors and institutions are either exiting companies producing fossil fuels or pressuring their management to exit the fossil fuel business.
Article continues below advertisement
What are climate change stocks?
Climate change stocks are spread across many industries. Among them are EV (electric vehicle) producers and ancillary industries, renewable energy companies, fuel cell companies, as well as biofuel companies. These sectors form part of the ecosystem that can help address climate change.
What would Biden's policies mean for climate change stocks?
Former president Donald Trump was a known climate change denier. His administration's policies were favorable to the fossil fuel energy sector—including coal, which is among the most polluting source of energy. He had even mocked teenage climate change activist Greta Thunberg and had pulled the U.S. out of the Paris Climate Agreement.
Article continues below advertisement
Among the first actions Biden has taken after assuming office is sign an executive order rejoining the Paris Climate Agreement. His administration is expected to push policies that would help address the climate crisis and increase the adoption of renewable energy.
Biden has also revoked permission for the Keystone XL pipeline and called for a review of all of Trump's executive actions that were "damaging to the environment, [or] unsupported by the best available science."
Article continues below advertisement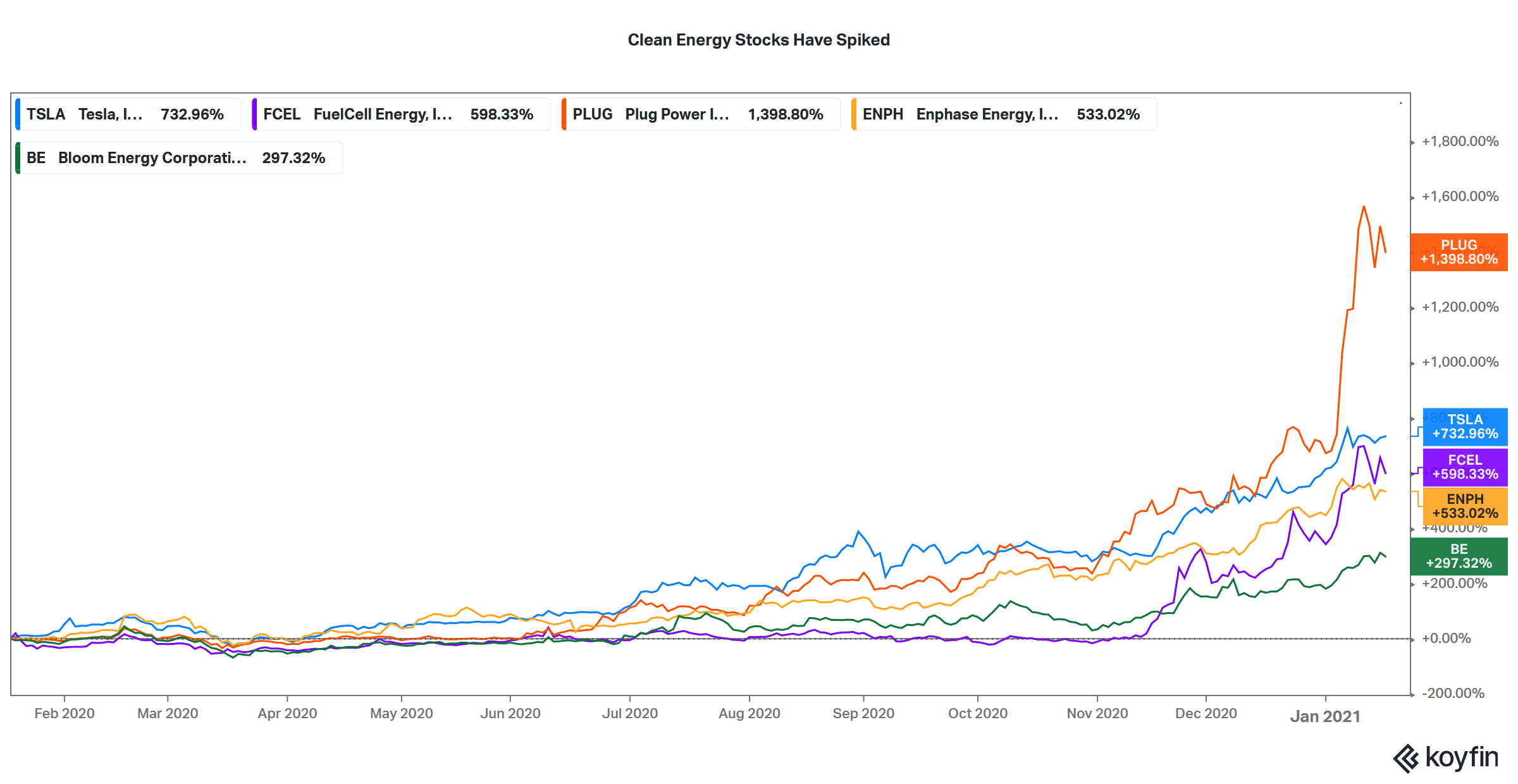 Best climate change stocks to buy in 2021
Climate change stocks rallied sharply last year. However, there are still some of them that you can buy in 2021. These include:
Tesla
FuelCell Energy
Bloom Energy
Enphase Energy
Ormat Technologies
TPI Composites
Article continues below advertisement
Tesla: The ultimate climate change stock
If all automakers today see an all-electric future for the automotive industry, it is largely because of Tesla and its CEO Elon Musk. Tesla is a diversified play on the renewable energy and EV space. Along with producing electric cars, Tesla produces solar and energy storage products that make it a full-fledged climate change stock.
Article continues below advertisement
Fuel cell energy stocks
Fuel cell companies like FuelCell Energy, Plug Power, and Bloom Energy are also good climate change stocks. While Musk is a critic of hydrogen fuel cell technology, the sector has a good outlook and fuel cells can help address climate change. There is ample investor interest in the sector. South Korea-based SK Group announced a $1.5 billion investment in Plug Power earlier in January. Plug Power and Renault have also formed a joint venture for European markets.
Niche and ancillary industries are also good ways to invest in stocks addressing climate change. Examples include Ormat Technologies, which produces geothermal energy technologies, and TPI Composites, which makes blades for wind farms. As demand for renewable energy increases, so too does demand for equipment that facilitates solar, wind, and geothermal power.
Article continues below advertisement
Are climate change stocks overvalued?
If we look at one year forward multiples, all climate change stocks would look overvalued. However, looking at the strong growth a global push for reducing carbon emissions will bring, these companies will report high growth for the foreseeable future. Climate change stocks could remain the most prominent investing theme at least over the next decade