Ethereum Classic Mystique Upgrade: Will It Lift ETC's Price?
Following the recent Ethereum Classic "Mystique" upgrade, many investors are eager to know the ETC price prediction. The ETC coin is the native cryptocurrency of the Ethereum Classic blockchain and it performs many roles on the network.
Article continues below advertisement
Ethereum Classic is a different blockchain from the Vitalik Buterin-led Ethereum, whose native cryptocurrency is Ether. However, they have a common origin and many similarities, which mostly explain the shared name.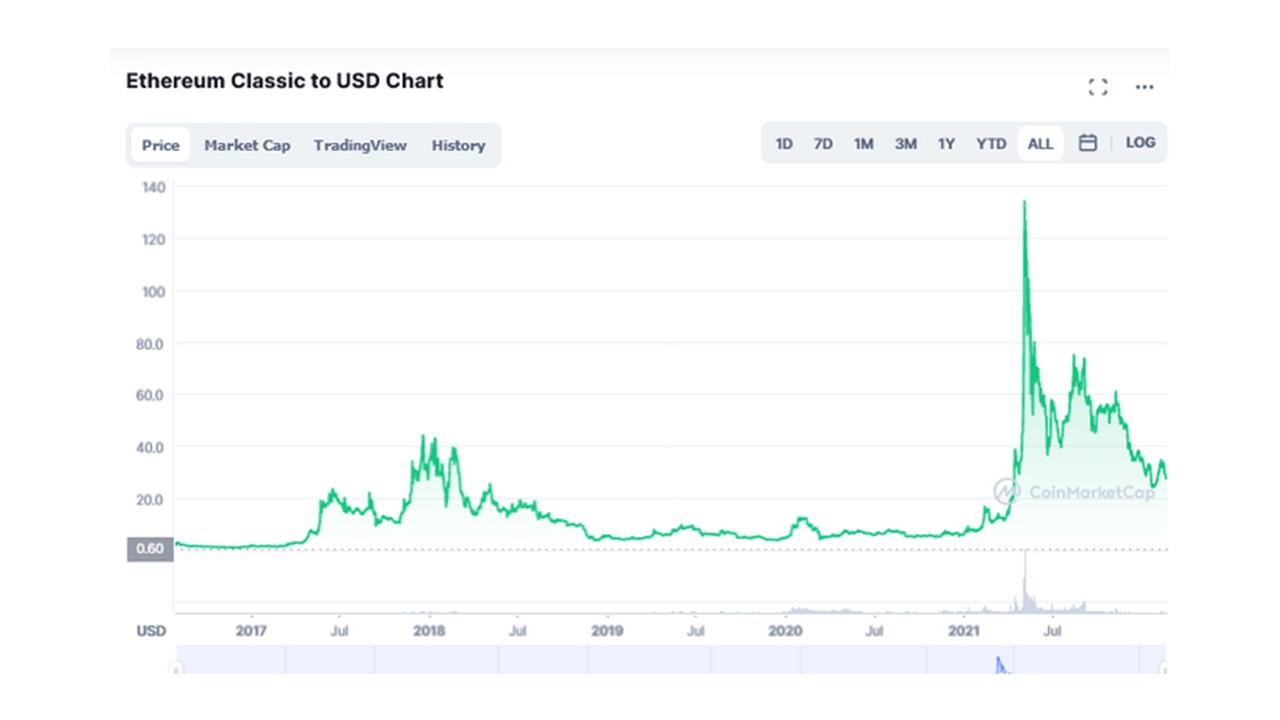 Article continues below advertisement
What happened to Ethereum Classic?
Originally, there was a blockchain called Ethereum. At some point, the blockchain was hacked and funds worth more than $50 million were stolen. Following the incident, a disagreement emerged among Ethereum developers. The majority group led by Buterin supported a hard fork to reverse the theft, but others objected. In the end, Ethereum split.
The Buterin-led group went ahead with the fork while the dissenting group renamed their project Ethereum Classic. Although they now operate as distinct networks, Ethereum and Ethereum Classic have many similarities. For example, they're both programmable blockchains that allow decentralized apps to be built on them.
Article continues below advertisement
What's the Ethereum Classic "Mystique" upgrade?
Ethereum and Ethereum Classic have evolved over the years, adding new features or improving other aspects of the networks to better serve their communities. Usually, they introduce the changes at different times and there might be a need for the other to somewhat catch up.
Article continues below advertisement
In February 2022, Ethereum Classic went through an upgrade dubbed "Mystique." The upgrade mainly focused on maintaining compatibility with Ethereum. It implemented the changes that had gone into Ethereum following the London upgrade in 2021.
The Ethereum London upgrade not only brought a number of improvements to the network, but also set the blockchain on course to shift from the PoW (proof-of-work) to the PoS (proof-of-stake) mechanism. Ethereum Classic's "Mystique" upgrade aligned it with Ethereum were applicable and introduced some improvements for the community.
Article continues below advertisement
What's the difference between Ethereum Classic and Ethereum?
Although Ethereum Classic and Ethereum have strived to maintain compatibility, their differences have persisted and clearly set them apart. For example, while ETC crypto's maximum supply is capped at 210 million coins, Ether's supply is unlimited. The cryptocurrencies also differ in value. While Ether is currently worth about $3,000, ETC is worth about $30.
Another major difference can be seen in the blockchains' plans. While Ethereum plans to shift to the PoS mechanism, Ethereum Classic plans to continue with the PoW system that Bitcoin also uses. The PoS model is what Solana and Cardano also use. It consumes significantly less energy than the PoW model. As a result, PoS blockchains like Cardano are considered to be eco-friendly. In fact, Tesla stopped accepting Bitcoin payments because it felt that the flagship crypto's use of the PoW system has a negative impact on the environment.
Article continues below advertisement
When Ethereum makes the shift, crypto mining on its network would become obsolete while Ethereum Classic mining will continue. It means that Ethereum miners would need to find other ways to make money on the blockchain.
What's Ethereum Classic (ETC) price prediction?
Although the highest level ETC crypto has attained is $176, Ethereum Classic fan Donald McIntyre of Etherplan sees huge potential for the altcoin. For example, McIntyre sees ETC crypto's next milestone as $1,000 and believes that it could be worth more than $30,000 by 2030. ETC fans hope the "Mystique" upgrade will be a catalyst for the crypto's rise.