Dogecoin Price Prediction: Will Dogefather Elon Musk Rescue DOGE?
Cryptocurrencies have been volatile over the last month. While the market hit a new all-time high after the launch of the bitcoin ETF, it has come down from its peak. Despite the massive volatility in cryptos, especially in meme cryptocurrencies, Dogecoin has been trading in the $0.20s over the last few weeks. What's the prediction for DOGE? Will self-proclaimed dogefather Elon Musk lift the meme cryptocurrency?
Article continues below advertisement
Dogecoin was the seventh-largest cryptocurrency by market cap in September. However, Solana passed it and became the seventh-largest crypto that month. Later, rival meme coin Shiba Inu's market cap also soared above DOGE. Currently, Dogecoin and Avalanche are in a neck-to-neck race for the position as the 10th largest cryptocurrency.
Dogecoin's price prediction points to a possible rebound.
Dogecoin is reaching its support zone near the $0.21 price level. If prices found support near the level, which they have done over the last month, we could see a rebound in DOGE.
Article continues below advertisement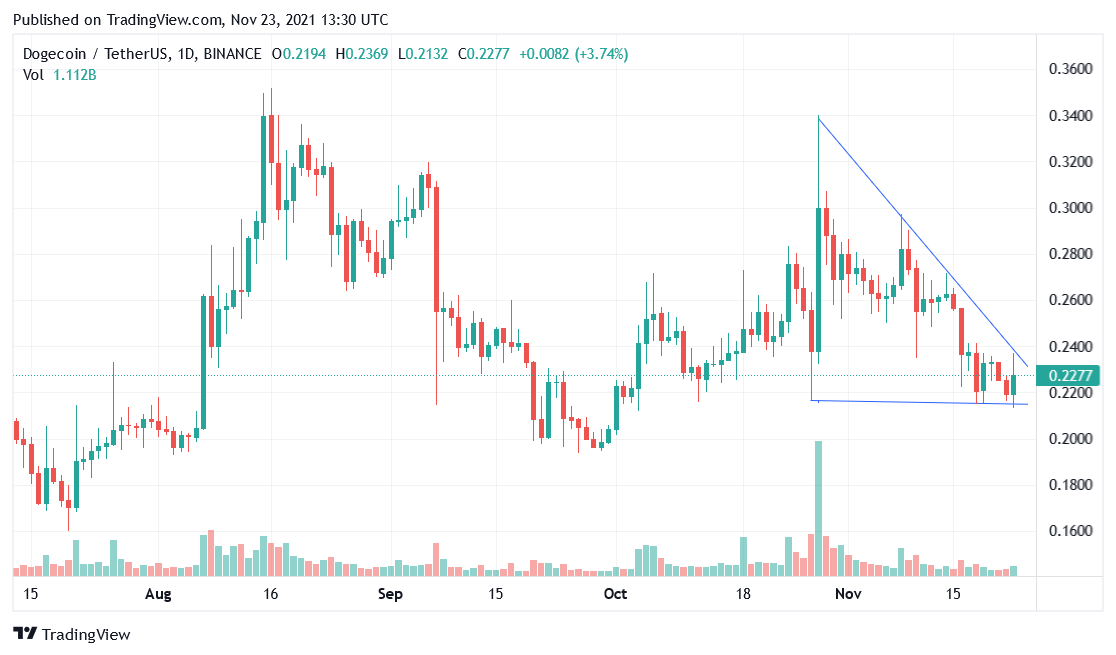 For now, the meme cryptocurrency has fallen below all of the key moving averages including the 50-day, 100-day, and 200-day SMA (simple moving average). Its 14-day RSI (relative strength index) of 39.4 is a neutral indicator.
Article continues below advertisement
Elon Musk continues to support DOGE.
Tesla CEO Musk has been the biggest supporter of Dogecoin. While he didn't start accepting DOGE as payment for Tesla cars, his privately-held SpaceX accepts Dogecoin as a payment. While Musk ignored the results of the Twitter poll where his followers overwhelmingly voted for Tesla to accept Dogecoin, he followed another Twitter poll and has sold billions of dollars of Tesla shares.
Article continues below advertisement
Meanwhile, as the true dogefather, Musk has expressed concern about the troubles accountholders on Binance are having in withdrawing DOGE. He tagged Binance CEO Changpeng Zhao, who is popularly known as "CZ," for the troubles that Dogecoin holders were facing on the platform. CZ replied that it wasn't "shady" like Musk claimed but said that it was "frustrating."
Binance has said that the root cause for the troubles is a technical issue related to the recent update.
Article continues below advertisement
Can Musk pump Dogecoin again?
In another DOGE-related tweet, Musk tweeted a laughing emoji after an account by the name Trung Phan tweeted a review by one Elon 69420, which rated JPMorgan Chase as one star on Yelp. Apart from what the reviewer termed degraded service, they also said that the bank doesn't accept DOGE.
Article continues below advertisement
In true Musk fashion, he's shooting two birds with one arrow. JPMorgan has sued Tesla over Musk's infamous tweet in 2018 where he claimed that he's taking the company private. After the tweet, Musk had to give up the post of Tesla's chairman in an SEC settlement and also had to pay a massive fine.
However, despite the settlement, Musk's Twitter magic remains. The most recent example was the selling of Tesla shares, which came just around the Rivian IPO.
Coming back to DOGE, the meme cryptocurrency is at a crucial technical juncture. If it manages to bounce from the current price levels, as it has done in the past, we could see it move towards the $0.30 price level. A bit of support from Musk wouldn't hurt at this point.