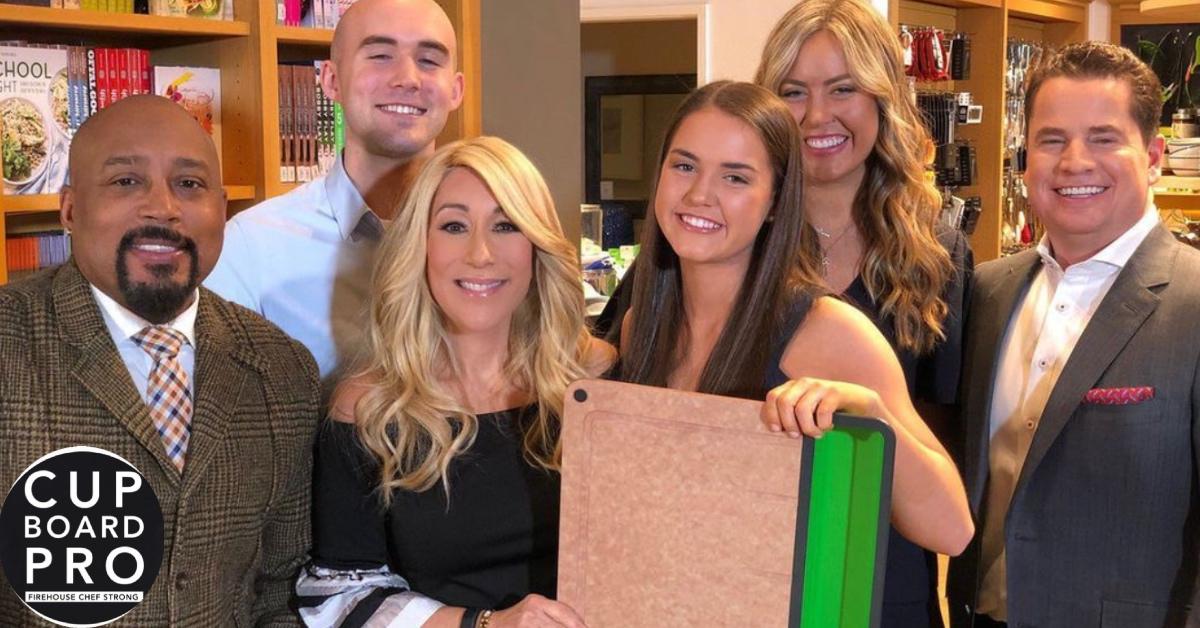 'Shark Tank' Cup Board Pro Became a Top Seller for Williams Sonoma
Kaley, Christian, and Keira Young got all the Shark Tank investors to invest in their product, Cup Board Pro, a cutting board with a removable container attached. But that TV appearance was just the start of their success story.
Cup Board Pro's net worth isn't publicly available, but the cutting board product seems like a smash hit by any other metric, especially because it sold out the night of that Season 10 episode.
Article continues below advertisement
Article continues below advertisement
"All of our inventory was sold out as our episode was still airing on the East Coast," Kaley told ABC News in February 2020. "By the time our episode aired in California, we were already sold out. We had over 130,000 people try to order the Cup Board Pro."
The Cup Board Pro was a hit on 'Shark Tank.' What is it worth today?
On the show, Kaley, Christian, and Keira explained to the Sharks that their father, two-time Chopped winner Keith Young, designed Cup Board Pro before his death. Keith, a New York City firefighter who helped the cleanup efforts at Ground Zero, died of a synovial sarcoma in March 2018, six years after his wife died of breast cancer.
Article continues below advertisement
The siblings taped their Shark Tank appearance on the three-month anniversary of Keith's death, but the family patriarch's presence was deeply felt, especially when the siblings heard his voice "booming" through the soundstage as they played a video during their pitch.
"It felt like he was… talking from heaven. It was hard not to burst out crying," Christian said. "When all five sharks wanted to go in on the deal, it felt like we almost won the show."
Article continues below advertisement
Article continues below advertisement
The five Sharks — Kevin O'Leary, Matt Higgins, Daymond John, Lori Greiner, and Mark Cuban — gave the siblings $100,000 in exchange for a 20-percent stake in the company. But those investors aren't profiting from their Cup Board Pro investment. They donate their proceeds to a charity that supports firefighters who worked at Ground Zero. "We're really grateful that we can give back to families just like us," Kaley said.
Article continues below advertisement
While it isn't clear just how much the Cup Board Pro has made, some sources have attempted to estimate the company's net worth, which is believed to be somewhere around $15 million (unconfirmed).
Article continues below advertisement
Cup Board Pro launched at Williams Sonoma in 2019 and still sells there.
Cookware retailer Williams Sonoma announced in May 2019 that it had licensed an improved version of Cup Board Pro for sale on its website and at its retail locations. In a press release, the company said that the Young family partnered with cutting board manufacturer Epicurean to upgrade Cup Board Pro. They made it heat-resistant up to 350 °F and anti-bacterial with dishwasher-safe and sustainably sourced composite material.
Article continues below advertisement
"Our dad loved shopping in Williams Sonoma, so we are very happy that Cup Board Pro will be on the shelves of one of his favorite stores," Kaley said at the time. "When our Shark Tank episode aired we heard from so many viewers who wanted to buy our product right away. We are so proud to offer everyone the latest version of Cup Board Pro. We know that all of the new features of the cutting board would make our dad proud, too."
Keira told ABC News just nine months later that Cup Board Pro was the "fast-selling and most popular cutting board" in Williams Sonoma history. "Our dad's dream was to have the Cup Board Pro in every kitchen in America," she added. "And it's so exciting to see that it's actually coming true."