Corsair Stock: Why Investors Should Look Beyond the Reddit Frenzy
By Mohit Oberoi, CFA

Sep. 2 2021, Published 8:10 a.m. ET
Corsair (CRSR) stock is among the most popular names on Reddit group WallStreetBets. While the stock rose on the initial chatter of a Reddit-driven short squeeze, it has since come down. What's the long-term forecast for CRSR stock and what can investors expect by 2025?
Article continues below advertisement
Short squeezes can't influence an asset's price action beyond a certain point and ultimately, things revert back to normalcy. For stocks, earnings are the biggest long-term earnings driver.
CRSR stock forecast
Analysts have a bullish forecast for CRSR and its median target price of $40 is a 41.3 percent premium over the current prices. The highest target price of $49 is a premium of 73.1 percent, while the street low target price of $28 is a discount of 1.1 percent over the current prices.
Article continues below advertisement
Among the nine analysts covering Corsair stock, six rate it as a buy, while three rate it as a hold or some equivalent. Meanwhile, the stock's price action in 2021 is at odds with analysts' optimism. The stock is down over 18 percent YTD, while the S&P 500 is up 20 percent. The drawdown from 52-week highs is even steep and CRSR trades at a discount of 45 percent from the peak.
Article continues below advertisement
Why CRSR stock has fallen
The price action of CRSR stock mimics that of several other growth names. It peaked in the first quarter of 2021 and has since fallen amid the sell-off in growth names. The company's recent earnings were also lower than what analysts were expecting, which led to a further sell-off in the stock.
Article continues below advertisement
Corsair stock forecast 2025
Corsair manufactures components and peripherals for gamers. It also produces PC (personal computer) components. Its subsidiary Elgato provides premium studio equipment for content creators.
The company is growing fast and at the mid-point, it expects to post revenues of $2 billion in 2021 compared to $1.1 billion in 2019. However, analysts expect the revenue growth to fall to 7.6 percent in 2022.
Article continues below advertisement
Corsair has been expanding its margins and could continue to report margin expansion. Also, given the strong demand for gaming, the long-term revenue outlook looks positive. The company's TAM (total addressable) market is also increasing amid behavioral change and digital transformation.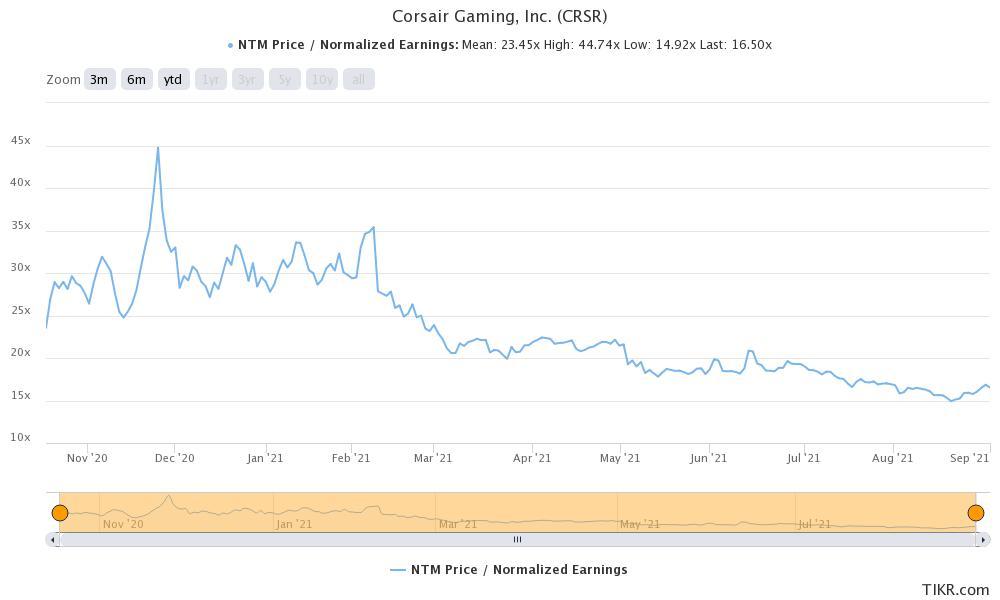 Article continues below advertisement
CRSR stock valuation
CRSR has an EV (enterprise value) of $2.85 billion. Based on the 2021 revenue estimates, we get a 2021 EV-to-sales multiple of 1.42x. The stock's NTM PE is 16.5x, which also looks reasonable. The business has good cash generation capacity and the stock trades at 10x its expected cash flows over the next 12 months.
There are concerns that the demand for gaming could come down from the COVID-19 pandemic highs. However, while the growth will come down, it should still settle at a higher level than what we saw pre-pandemic. The company's CEO Andy Paul has pointed that the demand for gaming gear is growing faster than the gaming market.
Article continues below advertisement
Jim Cramer on CRSR stock
CNBC Mad Money host Jim Cramer is among those who are bullish on CRSR stock. Speaking with Cramer, Paul said that "we are still in the very early stages of our long-term generational shift." The company is expanding its product offering and launched a camera earlier in 2021.
CRSR is a good long-term investment.
CRSR stock has been out of favor with investors. However, the pumping from Reddit traders has helped bring markets' attention to this beaten-down name. The stock's valuation multiples look attractive at these levels. If you're willing to hold the stock until 2025, it should deliver good returns considering the secular growth story in the end markets that the company serves.