Coinbase (COIN) Stock Forecast: Will It Go Up or Fall More?
Coinbase (COIN) went public in April through a direct listing at a reference price of $250. The stock went on to hit a high of $429.54. However, last week it fell to almost $250 before rebounding. What's the forecast for COIN stock in 2021, will it fall more from these levels or go up after the crash?
Article continues below advertisement
Most of the companies that went public over the last year have performed poorly this year. The Renaissance IPO ETF (IPO), which was red hot in 2020 amid the booming U.S. IPO market, is now down almost 13 percent for the year. It's underperforming the S&P 500 by a wide margin.
Why COIN stock has been falling
Coming back to COIN stock, the stock has been falling because of the sell-off in growth names. Also, Coinbase went public at very aggressive valuations, which left little on the table for investors who bought the stock in the direct listing.
Article continues below advertisement
While markets were ready to accept almost any multiple for growth stocks in 2020, as is visible with names like Snowflake, things have changed in 2021. Amid the pivot towards value stocks, investors have been questioning the high valuations of many growth stocks. Even Snowflake, which counts Warren Buffett's Berkshire Hathaway as an investor, is trading at half of its 52-week highs.
Article continues below advertisement
COIN's stock forecast is bullish.
Meanwhile, analysts have a bullish forecast for COIN stock. Among the 10 analysts covering the stock, seven have a buy or equivalent rating, while the remaining three rate the company as a hold. So far, none of the analysts have given it a sell rating.
Article continues below advertisement
Coinbase target price
Coinbase has a median target price of $450, which is a premium of 54 percent over the current prices. Its highest target price of $650 is 121 percent above current prices, while the lowest target price of $250 is a potential downside of 14.7 percent. Going by analysts' target prices, COIN stock looks like a good buying opportunity. However, that should never be the sole yardstick to make an investment decision.
Will Coinbase stock fall more or go up?
Currently, Coinbase stock might have hit a near-term bottom. Markets' attention might shift to the company's quarterly earnings, which are scheduled for this week. The earnings report would offer insights into the company's growth momentum given the euphoria towards digital currencies.
Article continues below advertisement
The growth rates and margins for Coinbase are expected to taper down. The commissions on crypto assets are widely believed to fall gradually. Commissions have already cratered in the equity markets with discount brokerages like Robinhood taking away retail business from full-service brokerages.
Article continues below advertisement
Meanwhile, Coinbase charges up to 4 percent commission for transactions on its platform. The fees are currently very lucrative and sooner or later a "Robinhood" might start a price war in the industry.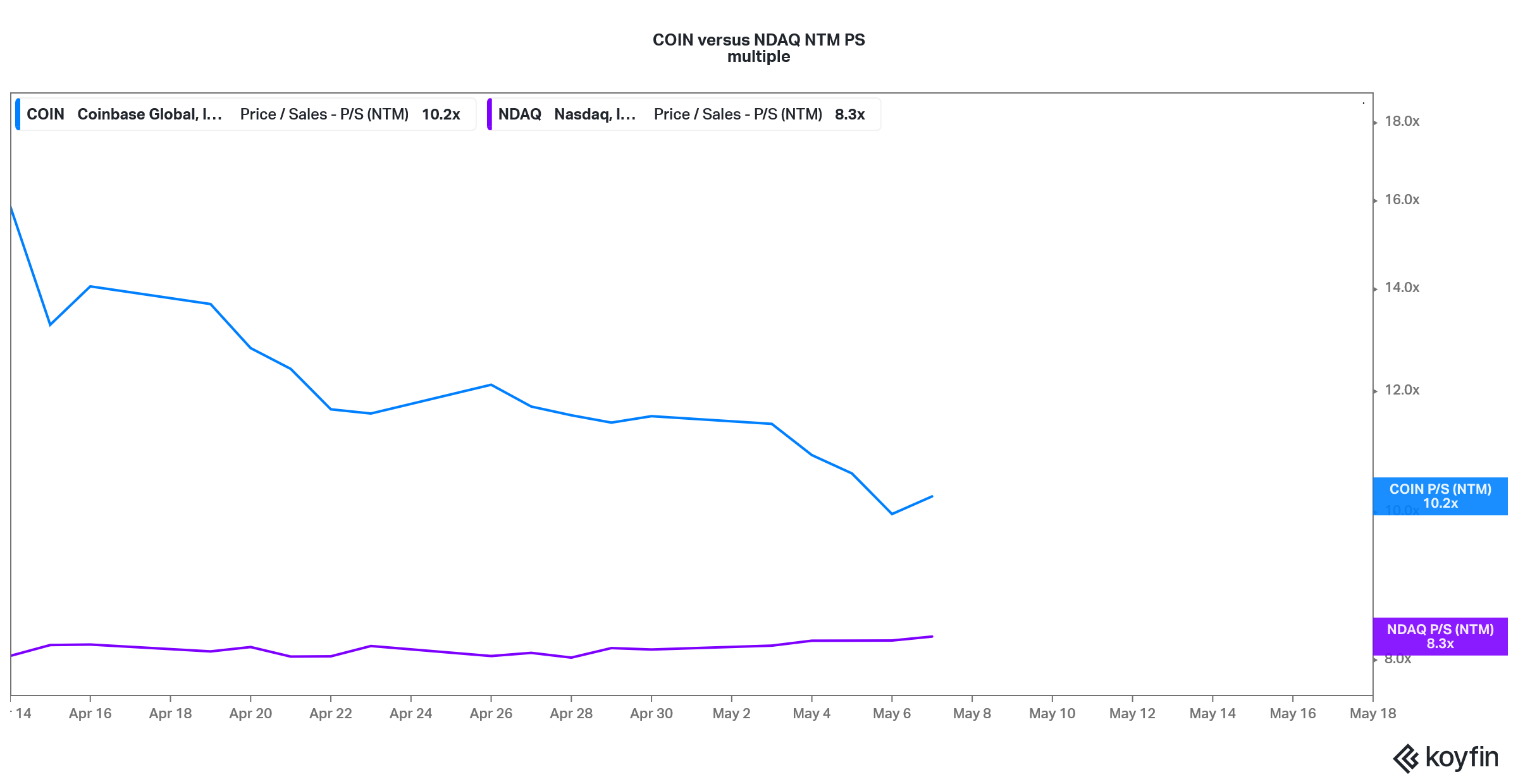 Article continues below advertisement
Coinbase stock valuation
COIN stock is richly valued. Based on the 2022 consensus revenue estimates of $4.82 billion, it's valued at around 12x of the expected 2022 sales. The multiples are way above what other "mainstream" exchanges like Nasdaq trade at.
Markets have lost love with almost everything with a "traditional" tag. Whether it's banks, mainstream automakers, or exchanges, investors have showered love (and high valuations) to their new-age peers namely fintech companies, electric vehicle companies, and crypto exchanges.
Article continues below advertisement
Should you buy or sell Coin stock now?
As for COIN stock, it's somewhat surprising that the stock has fallen despite the crypto mania in the last few weeks. A high valuation and fears of higher competition and falling margins are catching up with COIN stock.
COIN stock could see some upside from here, especially as its earnings approach. However, given the long-term headwinds, I would be selling any rise in the stock. I would wait to buy COIN stock until it falls to around $250.