CLOV or OPEN: Which Chamath Palihapitiya SPAC Stock to Buy Now
Both Opendoor (OPEN) and Clover Health (CLOV) went public through a reverse merger with SPACs sponsored by Chamath Palihapitiya. While many touted Palihapitiya as the "king of SPACs," there has been a sharp fall in the SPACs that he sponsored. OPEN and CLOV stocks have bounced back from their lows. Which of the two stocks should you buy now?
Article continues below advertisement
First, it's important to understand that while there was a broad-based sell-off in all SPACs, the ones sponsored by Palihipitya fell more than what other SPACs fell on average.
Why Palihapitiya's SPACs fell in 2021
The SPACs sponsored by Palihapitiya were among the best performing names in 2020 amid the euphoria over blank-check companies. However, as the SPAC bubble burst in 2021, SPACs associated with him came under severe pressure.
Article continues below advertisement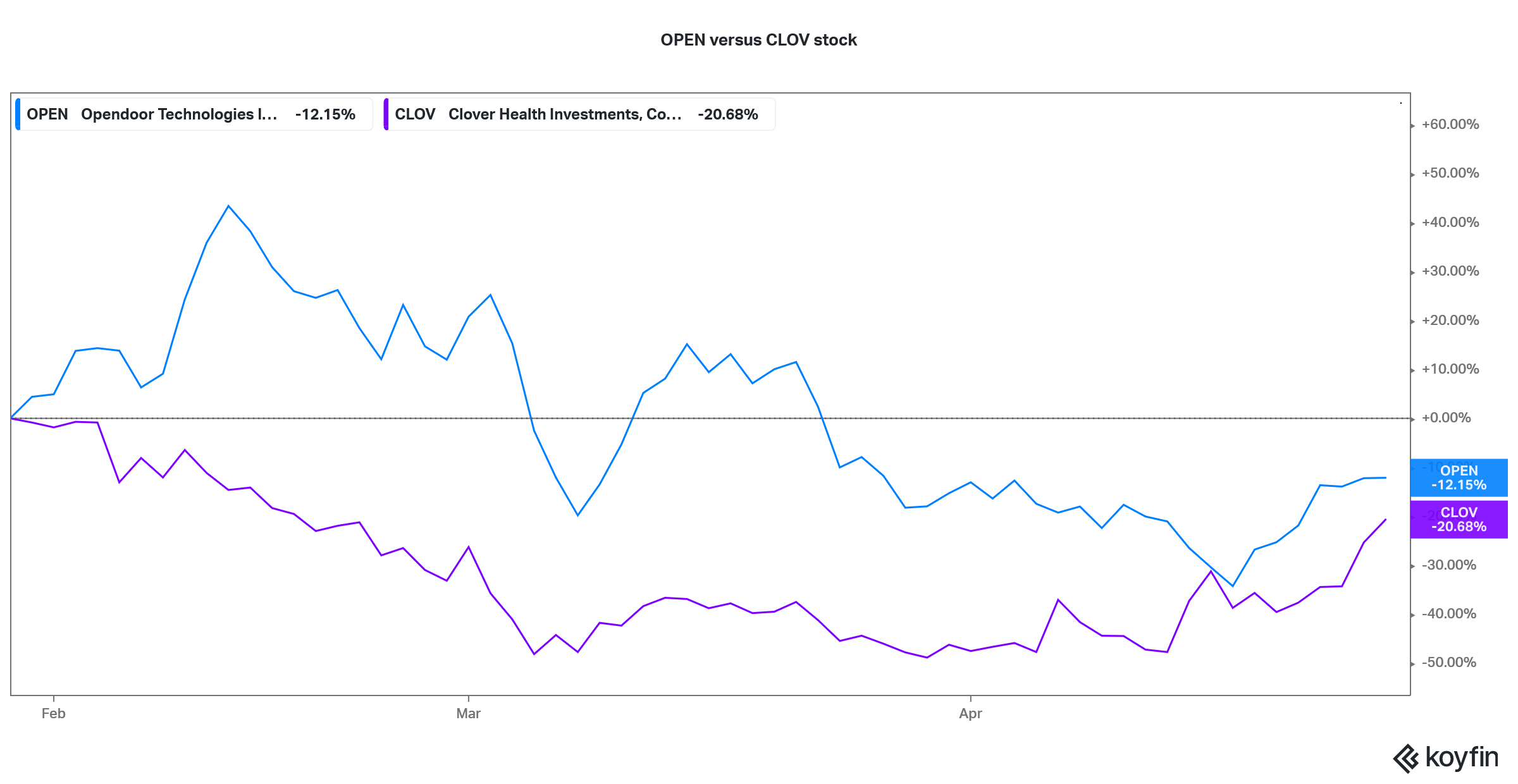 Palihapitiya selling of Virgin Galactic shares also didn't sit well with many investors. The company went public through a merger with his first SPAC, Social Capital Hedosophia Holdings I (IPOA).
Article continues below advertisement
Finally, Hindenburg Research's allegations against Clover Health and Palihapitiya also dampened the sentiments even though CLOV issued a clarification on the allegations.
Why OPEN and CLOV stocks have bounced back
OPEN and CLOV stock looked attractive and undervalued at their bottoms. However, while there was certainly bottom fishing and value buying in these stocks, other factors were also at play.
Article continues below advertisement
CLOV stock rose amid speculation that it could be the next short squeeze target for WallStreetBets. The group was instrumental in triggering massive short squeezes in names like AMC Entertainment and GameStop. Markets expected them to trigger something similar with CLOV stock also.
Article continues below advertisement
As for OPEN, the stock rose after Cathie Wood's ARK Invest disclosed that it bought shares in the company. Many retail investors followed Wood into OPEN stock given her track record in identifying companies like Square and Tesla.
OPEN or CLOV: Which is a better Palihapitiya SPAC stock to buy now?
OPEN and CLOV are in different industries. While OPEN is a home-flipping platform, CLOV is a health insurance company. However, both of these companies use technology as a key part of their service offering.
Article continues below advertisement
As I noted previously, OPEN stock looks like a good buy at these prices. The stock looks undervalued compared to peers like Zillow. Also, the stock was in the penalty box for the wrong reasons. The U.S. housing market looks strong despite the spike in mortgage rates.
Article continues below advertisement
Talking of CLOV, rising Medicare penetration is an opportunity for the company. Medicare Advantage spending in the U.S. was $270 billion in 2019, which is forecasted to grow to $590 billion by 2025. The stock trades at a 2023 EV-to-sales multiple of around 2.2x, which looks reasonable given the fact that CLOV is nearly doubling its revenues every two years.
To sum it up, both CLOV and OPEN stocks look like good buys at the current prices. If you want to play the U.S. real estate market through a tech company, you can consider buying OPEN stock. If you want to bet on the Medicare market, you can do so with CLOV stock.