Opendoor Ticks Four Penalty Boxes — Is It a Buy Anyway?
There has been a bloodbath in growth stocks over the last two months and Opendoor (OPEN) stock is no exception. It fell over 5.5 percent on Apr. 20 and is now down 58 percent from its 52-week highs. What's the prediction for OPEN stock in 2021 — will it recover or fall more?
Article continues below advertisement
Opendoor is an online homes marketplace based on the iBuying model. It buys homes from sellers, flips them and then sells them to buyers. OPEN stock went public in Dec. 2020 through a reverse merger with Social Capital Hedosophia Holdings Corp. II (IPOB), a SPAC (special purpose acquisition company) sponsored by Chamath Palihapitiya.
Why is Opendoor stock falling?
There are multiple reasons why Opendoor stock is falling. Firstly, there has been a sell-off in all the SPACs, including those that have merged with their targets. Secondly, growth stocks have fallen hard amid the rise in bond yields and the shift from growth to value stocks. Both these macro factors aooky to OPEN stock.
Article continues below advertisement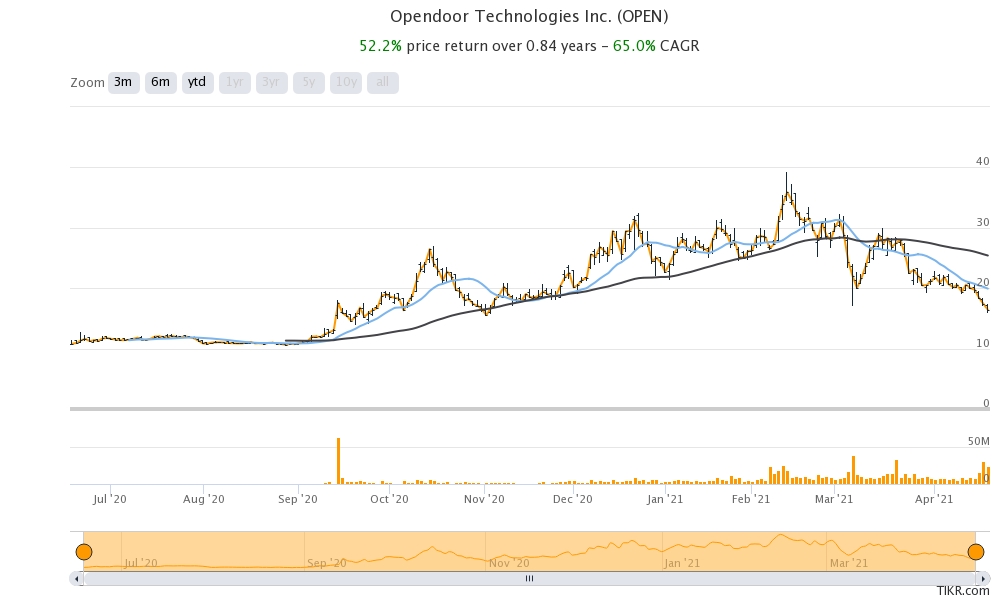 Looking at the company-specific factors, investors seem to be getting apprehensive about everything related to Palihapitiya. All the SPACs sponsored by him have fallen hard and IPOD and IPOF are getting near their IPO price. This basically means that the "sponsor premium" for Palihapitiya has crashed.
Article continues below advertisement
The fourth penalty relates to investor apprehension. The outlook for the U.S. housing market suggests growing fears of a bubble. The rise in bond yields has not helped matters either. These four factors make OPEN stock seem risky, so it's no wonder that the stock has tumbled badly from its peaks.
Article continues below advertisement
What's OPEN stock's prediction and price target?
Wall Street analysts seem overtly bullish on OPEN stock. According to the estimates compiled by CNN Business, the stock's median price target of $34 is a premium of over 106 percent. Its lowest and highest price targets of $30 and $42 are also respectively 82 percent and 155 percent above current prices.
Of the six analysts covering the stock, five rate it as a "buy" or equivalent while one rates it as a "hold."
Article continues below advertisement
Will Opendoor stock recover or fall more?
Though Opendoor looks risky now, I would expect the stock to recover sooner than later given its tepid valuations. Opendoor stock now trades at an NTM EV (enterprise value)-to-EBITDA multiple of 2.2x as compared to 5.45x for Zillow.
Article continues below advertisement
That said, currently, sentiments are very bearish for loss-making growth stocks like OPEN which have all their profits skewed to the future. Another aspect to consider would be that while home flipping sounds like a massive opportunity and adding a twist of "tech" makes it an even better proposition, home flipping is a tough business and all incumbents are struggling with losses.
Should you buy OPEN stock now?
On the other hand, with the increasing pace of digitization, online home buying and selling would also receive an impetus. The U.S. real estate market is worth $1.6 trillion annually and is very fragmented. Currently, less than 1 percent of real estate buying and selling happens online.
Article continues below advertisement
Buying and selling homes through platforms like Opendoor is both cost and time-efficient. Also, as the business scales up, economies of scale would kick in and help the company reach breakeven. In the medium to long term, Opendoor can look at several value-added businesses to complement its core home flipping business.
Overall, I see Opendoor stock as a good buy now after the massive crash. Short-term volatility notwithstanding, it looks like a good way to play the U.S. housing market.