Cathie Wood Is Buying These Under the Radar Stocks— But Should You?
By Mohit Oberoi, CFA

Apr. 23 2021, Published 11:35 a.m. ET
Cathie Wood is among the best-known ETF fund managers. Many retail investors follow her and she was quite successful in identifying stocks like Tesla and Square early. Her ARK ETFs delivered splendid returns in 2020 but have come under pressure in Q1 of 2021 amid a sell-off in growth stocks. Here are some of the under-the-radar stocks that Cathie Wood is buying.
Article continues below advertisement
Last week, ARK Investment announced that it has sold some Tesla stock and bought Coinbase. Coinbase listed earlier this month only. It ditched the intermediaries and opted for a direct listing, the second major company to do so in 2021 after Roblox.
What is Cathie Wood buying?
Last month, ARK Invest launched the ARK Space Exploration ETF (ARKX). Trimble was the ETFs largest holding. Meanwhile, many were critical of the ETF because it had names like Deere, Amazon, and Netflix, which are not exactly space plays.
Article continues below advertisement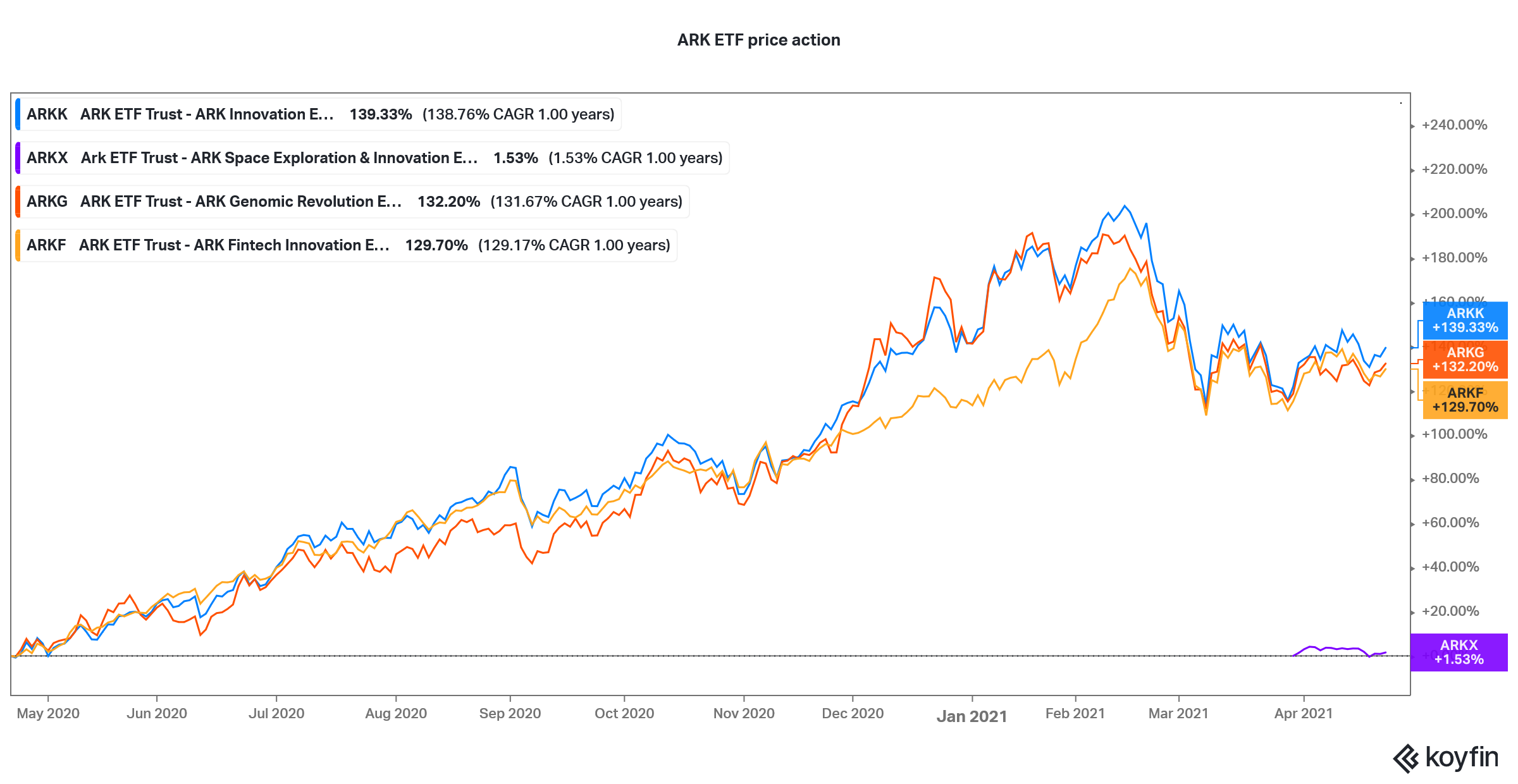 Consider these under-the-radar stocks Cathie Wood likes:
Meanwhile, Wood has been buying some under-the-radar stocks. These include Opendoor, TuSimple, and Jaws Spitfire Acquisition Company (SPFR). Opendoor stock has been on a freefall this year and is down sharply from its peaks. However, despite having several parks against it, Opendoor looks like a good buy after the fall.
Article continues below advertisement
TuSimple makes autonomous trucks and listed through the traditional IPO route earlier this month. The stock is trading near its IPO price of $40. SPFR has announced a merger with 3D printing company Velo3D.
Article continues below advertisement
ARK portfolios managed by Cathie Wood:
The portfolio of ARK ETFs is tilted towards growth names and many of these are disruptive technologies. The fund house runs eight ETFs that have different holdings. However, Tesla forms part of several ARK ETFs.
Tesla is the biggest holding of ARK Autonomous Technology & Robotics ETF (ARKQ), ARK Next Generation Internet ETF (ARKW), and ARK Innovation ETF (ARKK), which is the flagship fund of the company. In March, ARK Invest issued a bullish note on Tesla and forecast that the stock will hit $3,000 by 2025.
Article continues below advertisement
Square, Baidu, Roku, Alphabet, and Teladoc Health are other stocks that feature in more than one ARK ETF. Wood is known to have conviction in her stocks and ends up buying them in more than one ETF.
Article continues below advertisement
What does Cathie Wood Invest in?
Cathie Wood is known to invest in growth stocks in disruptive technologies. She has been very bullish on electric vehicle stocks like Tesla in the past. Recently, Wood identified genomics and digital wallets as two interesting investing themes.
ARK Invest has ARK Genomic Revolution ETF (ARKG) that invests in the genomics sector. Teladoc, Exact Sciences, and Regeneron Pharmaceuticals are the top three holdings of the ETF.
Article continues below advertisement
While ARK does not have a digital wallet ETF, a close proxy could be ARK Fintech Innovation ETF (ARKF). Square, Sea Limited, and Zillow are the fund's top three holdings.
Article continues below advertisement
Does Cathie Wood own bitcoin or Dogecoin?
ARK Invest held 7.31 million shares of Grayscale Bitcoin Trust at the end of 2020. The fund added 2.14 million additional shares in the fourth quarter of 2020. Grayscale is the world's largest bitcoin fund and holds over 3 percent of the bitcoin supply.
Indirectly, ARK holds bitcoin through its investment in Tesla and Square, both of which have invested some of their assets in bitcoin. The ETFs bet on Coinbase is also a proxy for investing in digital currencies.
Meanwhile, there are no publicly available records on whether Wood has invested in dogecoin. The digital currency has, however, been red hot and its market capitalization recently crossed above $50 billion.