Carley Shimkus Pursued TV Journalism After a Brief Stint as a Model
Charley Shimkus's salary as 'Fox & Friends First' co-host has to be more than what she earned as a Halloween costume model. What does she earn?
There's no solid intel on Carley Shimkus's salary, though Glassdoor reports FOX News anchors and reporters make a median salary of $68,263. That said, it's a good bet Shimkus is earning more now as a Fox & Friends First co-host than she did when she modeled as a teenager.
Article continues below advertisement
Article continues below advertisement
"I'm 5'10'' but heels, of course, elevate me a few more inches," Shimkus said in a 2018 post on Fox News Insider. "Because of my height, I figured I'd give modeling a try when I was in high school. It was a fun experience but not in the cards for me." She also shared a photo of herself modeling a goth-style get-up for a costume store. "My family still gets a kick out of this picture and likes to pass it around from time to time," she wrote.
Carley Shimkus joined Fox News Media in 2009
As her Fox News bio reveals, Shimkus earned a degree in broadcast journalism from Quinnipiac University and joined FOX News in 2009 as a production assistant on Fox Business Network, eventually becoming an associate producer at the network. She later became a reporter for Fox News Headlines 24/7 and contributed reports about social media and entertainment on Fox & Friends and Mediabuzz.
Article continues below advertisement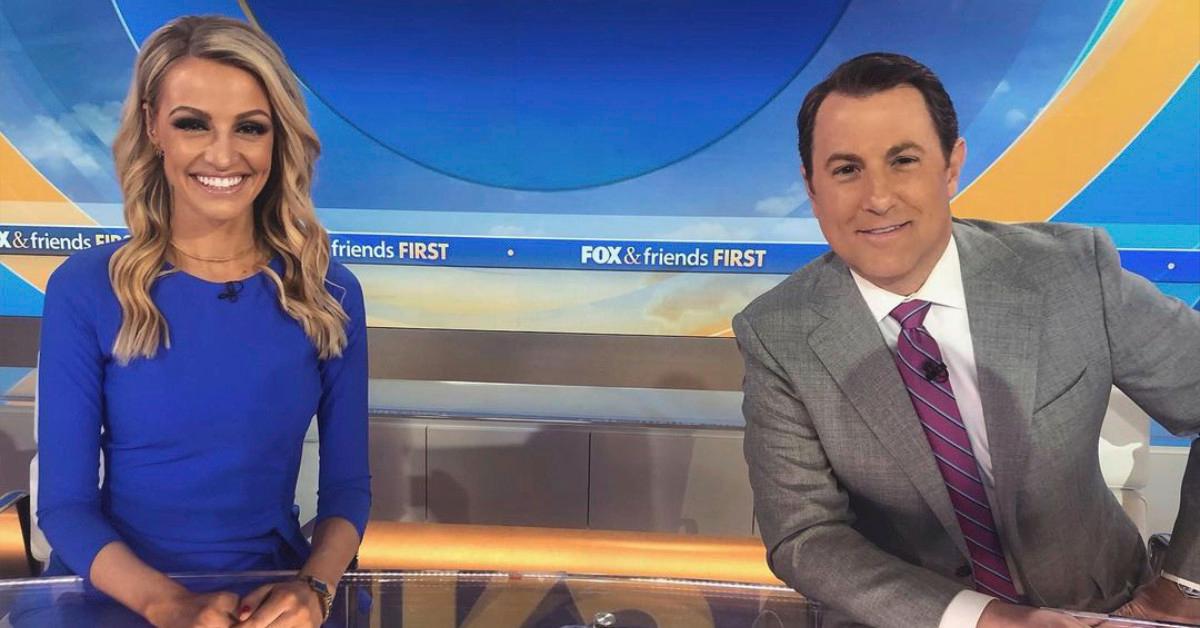 These days, she co-hosts Fox & Friends First, joining co-host Todd Piro on the weekday morning show, which airs at 4 a.m. ET. According to The Hollywood Reporter, Shimkus joined the program in Nov. 2021, succeeding former host Jillian Mele, who left FOX News to join an MBA program at La Salle University in Philadelphia.
Article continues below advertisement
Article continues below advertisement
"Carley brings great experience to this role developed over nearly a decade at FOX News, and we are excited to have her join Fox & Friends First," Gavin Hadden, vice president of morning programming of FOX News, said in a statement at the time.
Shimkus explained in her Fox News Insider post that she actually worked for FOX News before she graduated from college, interning at the cable news network's D.C. bureau in 2008. "I had such a good experience that I decided to apply for a job after graduation," she wrote.
Article continues below advertisement
Her husband is Peter Buchignani
Shimkus has been in relationship with Peter Buchignani since 2013, according to Heavy. Buchignani, a native of Bloomington, Ill., earned a bachelor's degree in political science and played as a defense end for the Princeton Tigers football team. After a gig as a sales analyst at Barclays Capital and a job in MBS sales at Deutsche Bank, he joined Amherst Pierpont Securities in 2015 with a job in securitized product sales, his LinkedIn profile reveals.
Article continues below advertisement
Shimkus and Buchignani tied the knot in 2015 in her native New Jersey. "We are both diehard Michigan football fans and even walked out to the Michigan fight song on our wedding day," she wrote. "Go Blue!"
And speaking of family, another of Shimkus's fun facts in the Fox News Insider piece is that her parents met in 1982 aboard a United Airlines flight: Shimkus's mom was a flight attendant, and her dad was a passenger. "She jokes it would have been love at first sight if not for his polyester shirt," Shimkus added.