ViacomCBS Stock Forecast: Should You Buy or Sell VIAC Stock?
ViacomCBS (VIAC) stock was very volatile last week. The stock tumbled over 27 percent on March 26 and lost over 50 percent in the week. However, the stock is still up 29 percent for the year. What's the forecast for ViacomCBS stock? Should buy the stock after the sell-off or stay away?
Article continues below advertisement
There was a broad-based sell-off in media stocks last week. Discovery (DISCA) stock also fell 45 percent in the week. Both of these stocks were sitting on massive YTD gains before last week. The recent sell-off took away most of their 2021 gains.
Archegos Capital Management and ViacomCBS
Stocks like ViacomCBS and Discovery are hurting from the forced selling of stocks by Bill Hwang's Archegos Capital Management. The stock sale happened through a block sale and triggered a sell-off in the stock. As for ViacomCBS, other news hit the stock last week.
Article continues below advertisement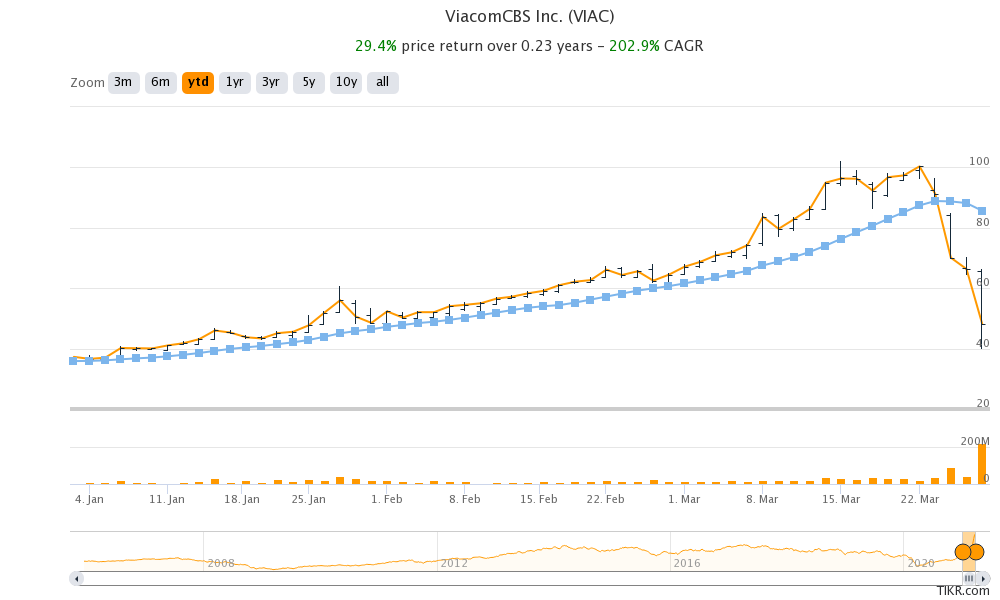 ViacomCBS news
The company announced a stock sale to raise $3 billion. ViacomCBS intends to use the funds to grow its streaming business. ViacomCBS followed the strategy that many other companies have deployed over the last year and capitalized on the spike in its stock to raise capital. The sudden announcement of the stock sale is a signal that even the company sees its stock price as high.
Article continues below advertisement
Finally, Wall Street is getting apprehensive about the valuations. Wells Fargo downgraded both ViacomCBS and Discovery last week by one notch and lowered the target prices. MoffettNathanson analyst Michael Nathanson also downgraded ViacomCBS stock to sell from neutral.
Earlier this month, Macquarie Research downgraded Discovery and ViacomCBS from neutral to sell citing valuation concerns.
Article continues below advertisement
VIAC's stock forecast
According to the data compiled by TipRanks, ViacomCBS has an average target price of $59.94, which is a premium of more than 24 percent over the current prices. Its highest target price is $120, while its lowest target price is $29. VIAC stock was trading over 1.5 percent lower at $47.40 in pre-market trading on March 29.
Article continues below advertisement
Among the 20 analysts covering VIAC stock, four recommend a buy, while seven recommend a sell. Nine analysts have a hold or equivalent rating on VIAC stock.
VIAC stock on WallStreetBets and Reddit
The Reddit group WallStreetBets has made waves in 2021 by triggering a short squeeze in stocks like GameStop and AMC Theatres. While many might attribute the volatility in VIAC stock to WallStreetBets, it isn't among the most popular stocks in the community.
Article continues below advertisement
A post on ViacomCBS, which was upvoted more than 3,700 times, talked about the leveraged bets that Archegos Capital made on stocks and didn't cover up the positions despite the sell-off in these names. As the sell-off took a toll on the fund's portfolio, it found itself in a hard place and had to liquidate the stock to pay off the margin calls.
Article continues below advertisement
Should I buy or sell VIAC stock?
While forced selling that's necessary due to margin calls can be a short-term price driver, we need to look at the long-term picture. VIAC stock trades at an NTM PE multiple of 11.9x, which is more or less in line with its multiples over the last 10 years.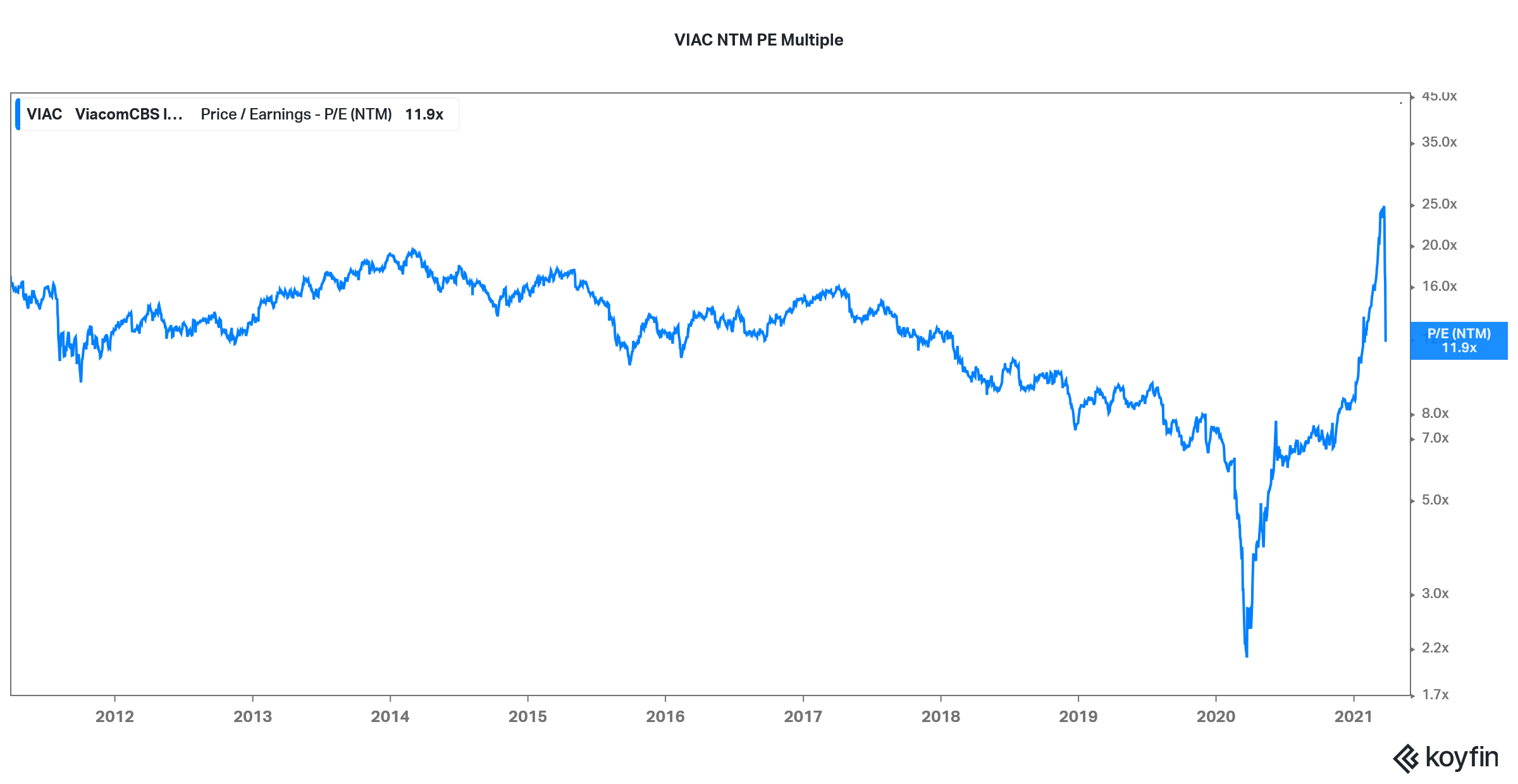 Article continues below advertisement
VIAC stock has been rising amid the shift from growth to value stocks as well as optimism about its streaming business. Streaming can be a key value driver for the company in the medium to long term even though there are concerns about the market getting saturated with an increasing number of companies focusing on the sector.
VIAC stock looks like a decent buy at these prices. However, there could be volatility in the short term. Reportedly, Archegos Capital Management hasn't fully exited its positions yet, but the dip in VIAC stock looks like a buying opportunity.