With a Vaccine Available, Will the Show Go On at AMC?
AMC Theatres (AMC) stock rose almost 24 percent yesterday and was trading higher in premarket trading today, Jan. 26. The stock is up 65 percent this year. The global vaccination drive has propelled beaten-down outdoor stocks like AMC. Should you buy or sell AMC stock at these prices?
Article continues below advertisement
While AMC stock is up from last year's lows, it's fallen 51 percent over the last year. The stock has been volatile and seen wild price swings. The same holds true for other stocks in the entertainment and leisure industry, the worst hit by the COVID-19 pandemic.
Why is AMC stock rising?
Many of the sectors hit by the COVID-19 pandemic have rallied. Markets expect consumers to resume their pre-pandemic behavior as vaccination gains traction, with vacationing, moviegoing, and travel picking up again.
Article continues below advertisement
Movie theaters were closed for a large part of last year due to COVID-19 restrictions. And even after theaters reopened, their occupancy levels have stayed low due to health concerns. There's also been a lack of new and compelling releases that could draw people to theaters.
Article continues below advertisement
AMC stock news
On Jan. 25, AMC announced that it had raised or signed commitments to raise $917 million through debt and equity since mid-December. Before this, it had raised $1 billion in 2020 to shore up its balance sheet. In this recent round, AMC has raised $506 million through share issuances at an average price of $3.07. AMC stock was trading at $4.87 in premarket trading today, Jan. 26, which means the share issuance is at a discount of almost 37 percent from its current price.
Article continues below advertisement
Is AMC going bankrupt?
Many investors have been worried whether AMC will survive the pandemic given its high cash burn rate. While announcing the recent capital raise, AMC CEO Adam Aron said, "any talk of an imminent bankruptcy for AMC is completely off the table." However, he did caution investors of the unpredictability of the company's future cash needs given the uncertainty over the COVID-19 pandemic.
What issues do theater chains face?
Theater chains like AMC are facing three headwinds:
The pandemic has hit their revenue and earnings over the last year.
A shift in the industry, with movie production houses releasing their movies directly onto their streaming platforms. Disney has restructured its business to focus on streaming and released widely awaited Mulan on its streaming platform in 2020. In Dec. 2020, HBO also announced that it would simultaneously release movies in theaters and on its streaming service, HBO Max, over the next year.
The long-term impact of debt and equity issuances. The issuances have increased the number of outstanding shares, which could dilute the issuing company's earnings whenever it turns profitable again. As for debt, it has to be serviced back with interest payments whenever they are due.
Article continues below advertisement
Should I buy or sell AMC stock?
It's difficult to value AMC stock given the uncertain economic environment. The stock's next-12-month EV-to-sales multiple is 4.7x. Analysts expect AMC's sales to rise to $3.54 billion in 2021 from $1.26 billion in 2020, and the company posted revenue of $5.47 billion in 2019. AMC has a market capitalization of about $710 million.
Article continues below advertisement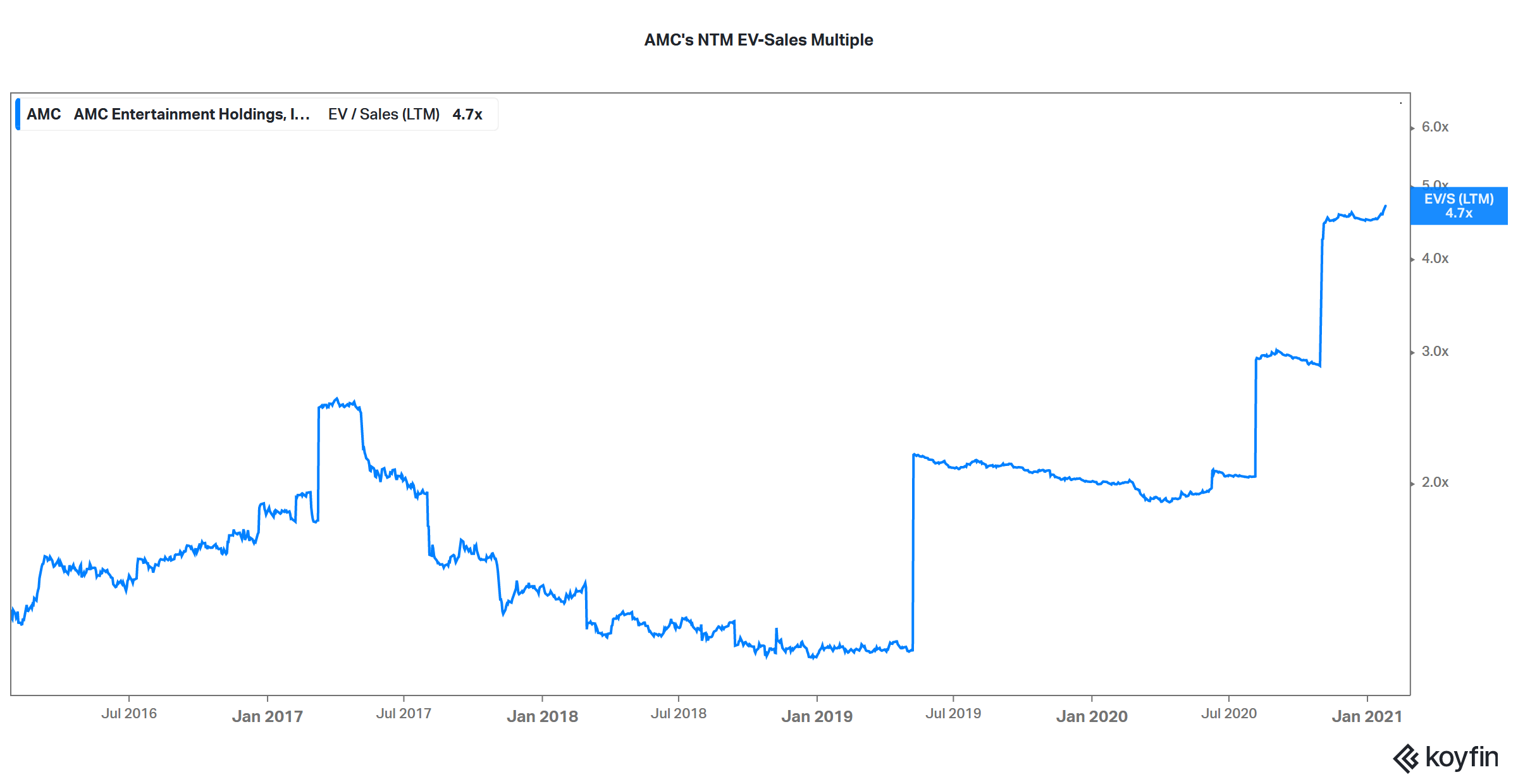 Is it risky to invest in AMC stock?
Last year, there was a similar rally in bankrupt Hertz's stock, which eventually faded. This year, we've seen a sharp rise in GameStop (GME) stock despite bearishness from many, including Citron Research. AMC is neither bankrupt like Hertz nor a turnaround story like GME.
Article continues below advertisement
AMC stock is a play on the vaccination story and expectations that moviegoing will recover to pre-pandemic levels. In my view, the current momentum looks strong for AMC stock. Vaccination could allay fears and draw people from their homes to theaters. Although theater chains have new competition from the companies that create content, streaming can't really replace the moviegoing experience.
It's certainly risky to invest in AMC stock at these levels, but investors who can take the risk could bet on vaccination turning things around. Like theater companies, cruise line and aviation companies may be good plays under the circumstances.