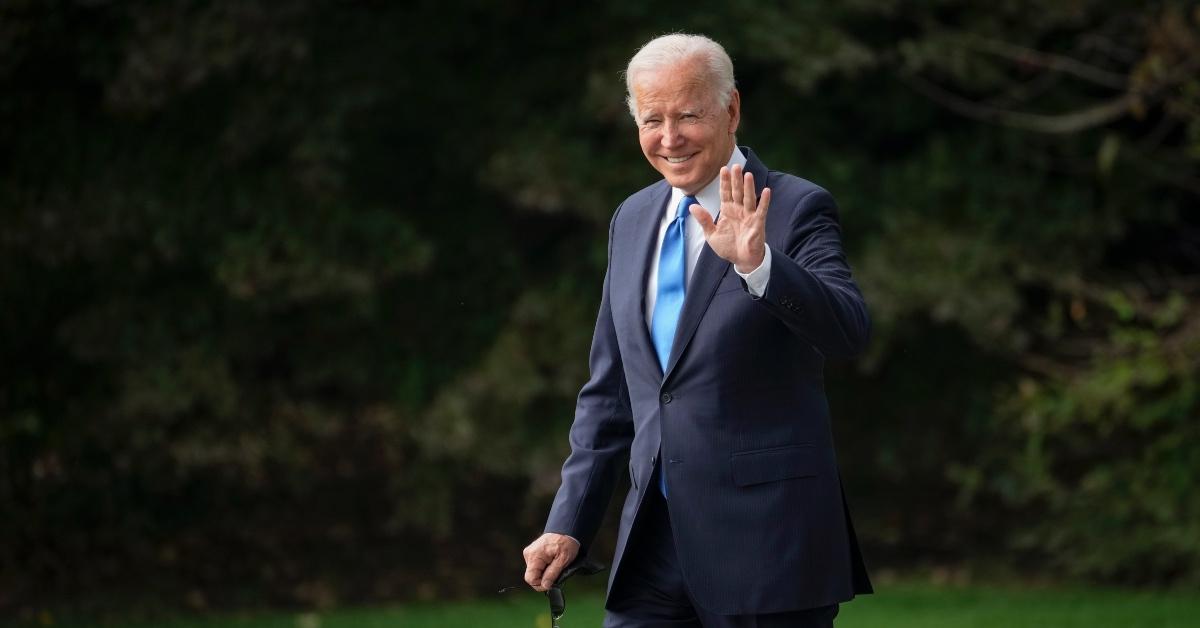 Biden "I Did That!" Stickers Are Showing Up on Gas Pumps Nationwide
The spike in gas prices has become a growing concern for people across the U.S., and according to Joe Biden, you probably won't see them coming down until sometime in 2022. As of Nov. 16, 2021, the nation's average price per gallon of regular gas was $3.41, according to AARP, reflecting an increase of $0.10 from a month prior.
Article continues below advertisement
Though $3.41 sounds pretty steep, drivers in California are currently paying around $4.68 or more per gallon of regular gas, while those in Nevada are spending somewhere around $3.97 per gallon. Many are attributing the rise in gas prices to Biden's lack of action, and they're taking their frustrations out at the pump.
Biden "I did that!" stickers appear on gas pumps
Most drivers can't avoid the gas pump—that is, unless they use an alternative form of transportation or trade their gas-powered vehicle for an electric vehicle. Many are choosing to display their frustrations over the hike in gas prices differently than they've done in the past—with stickers.
Article continues below advertisement
Biden "I did that!" stickers have gained media attention after reportedly appearing in states such as New Hampshire. The sticker is a picture of Biden pointing his finger, either to the left or right, saying "I did that!" People are positioning the stickers next to gas prices at the pump, essentially allowing Biden to "take credit" for the expensive gas prices drivers no longer want to pay.
Biden "I did that!" stickers are being sold on Etsy, Amazon, and eBay for $7 to $13 for a pack of 100. Sellers stepped up their creativity by also creating stickers of Donald Trump, vice president Kamala Harris, and speaker of the House Nancy Pelosi. On the Trump sticker, the former president of the U.S. is saying "Biden did that!" and Pelosi's sticker reads "I helped!"
Article continues below advertisement
The Biden "I did that sticker!" has been featured in dozens of TikTok videos, including some by user hetrick_adison, who claims he has been putting the stickers on gas pumps in Ohio.
Article continues below advertisement
"Let's go, Brandon" phrase gains popularity among social media users
Putting Biden "I did that!" stickers on gas pumps with alarmingly high gas prices isn't the only way Americans are ridiculing Biden. The "Let's go, Brandon" phrase is one people are using to "say the f-word about Biden without actually using it." The term reportedly originated from an interview with NASCAR driver Brandon Brown after he'd won a race, where the crowd was thought to be chanting "F--k Joe Biden."
The person interviewing Brown suggested that the crowd was saying "Let's go, Brandon," and that's how the phrase was born. A pilot working for Southwest Airlines was placed under an internal investigation after he signed off using the phrase "Let's go, Brandon." The phrase has become widespread and carries a negative connotation toward Biden.
Biden has been taking much of the blame for the significant increase in gas prices, which are expected to remain high in the coming months.