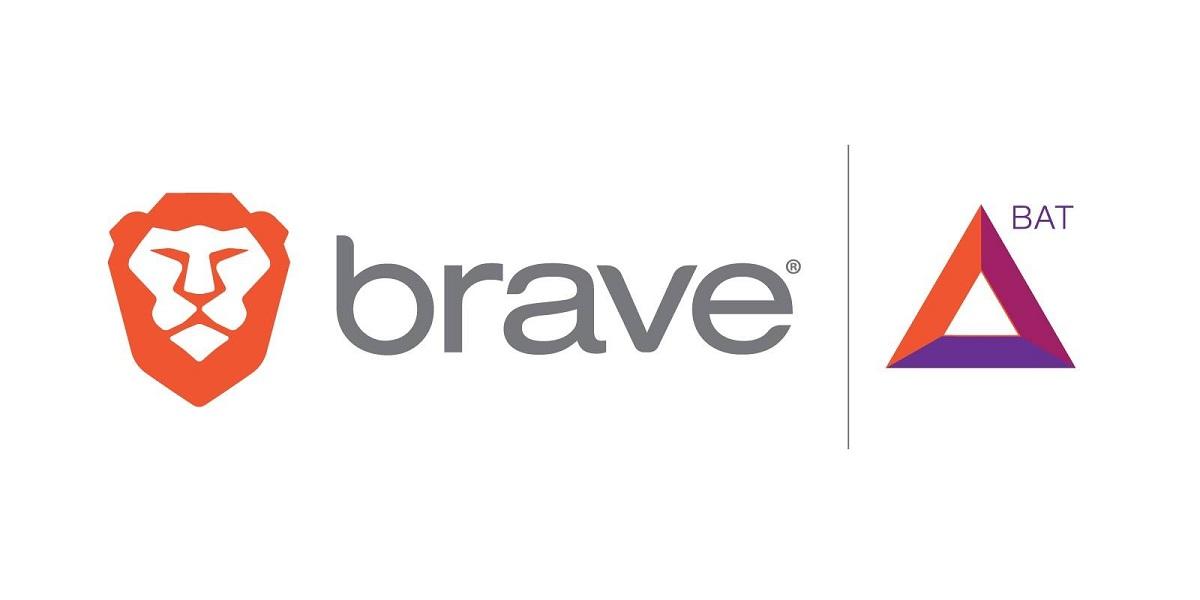 Is It Too Late To Buy Basic Attention Token (BAT)?
Basic Attention Token (BAT) has surged about 50 percent in the past week and 700 percent year-to-date, delivering impressive returns for investors who identified BAT as the next crypto to explode. BAT has come down after hitting a record high of $1.85, and investors now want to know if they should buy the dip. What's BAT crypto price prediction, and can the token reach $10?
Article continues below advertisement
Basic Attention Token is an advertising-focused project run by Brave Software, the startup behind the Brave browser. Brave has an advertising program that lets brands reward people for taking their time to get their marketing message. To participate in the advertising program, brands need to commit to spending at least $2,500 per month, which is paid in BAT. Brave takes a small commission and distributes the rest to publishers that show the ads on their websites and people who view the ads.
Why is Basic Attention Token going up?
BAT's spike to $1.85 followed an announcement that AMC Entertainment rival Regal Cinemas will accept the token for ticket and snack purchases at its locations. Regal operates a chain with more than 500 theaters that draw hundreds of millions of guests annually. Regal will accept BAT alongside Bitcoin, Ethereum, Dogecoin, and other cryptocurrencies. Investors are betting that Regal's move into crypto payments will boost BAT's demand and value.
Article continues below advertisement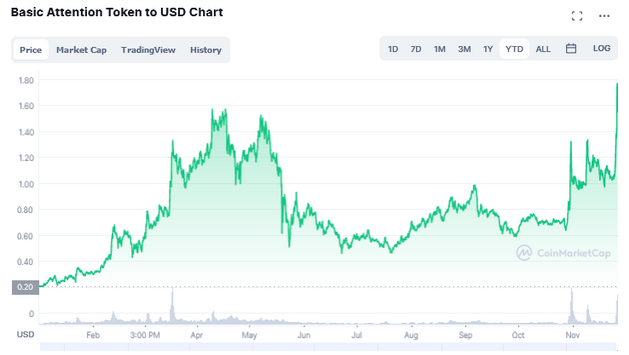 How high can BAT go?
As was the case with Bitcoin, Ethereum, and Shiba Inu, investors will likely rush to take profit from BAT following its surge. While that may cause the token to retreat a bit, it would also open an opportunity for bargain hunters. BAT could break above $2 at any moment.
Article continues below advertisement
BAT's supply is fixed at about 1.5 billion tokens. The capped supply helps avoid inflation. Another positive for the crypto is that the digital advertising industry continues to expand, and Brave has more room to grow as it challenges Google. BAT demand is driven by advertisers and investors.
Article continues below advertisement
"Fortune favors the brave"
Brave's reward-based advertising program is expanding, with more brands joining. The selling point is that marketers can better target their messages and run more efficient campaigns by avoiding the middleman and ad fraud. Among the major brands using Brave's advertising program are Verizon, online broker eToro, and Crypto.com, which operates a namesake cryptocurrency exchange and payment platform.
Article continues below advertisement
It also aims to grow its customer base from 10 million users to 1 billion in 2022. That would require massive spending on advertising and Brave's BAT advertising program is positioned to benefit. Crypto.com has been running a marketing campaign ("fortune favors the brave") featuring Hollywood star Matt Damon.
Article continues below advertisement
Brave partners with Gala Games and Solana to benefit BAT
In addition to attracting more advertisers, Brave is signing up more strategic partners with arrangements that have the potential to grow BAT's value. For example, it has partnered with Gala Games to accept BAT for purchases, and Solana, where Solana DeFi developers will promote BAT in their projects. The Solana arrangement is expected to lower BAT transaction costs.
Brave is also introducing more features that complement BAT, such as a digital wallet built into its browser product. The wallet makes it easy for users to pay with BAT and participate in DeFi and NFT trades.
Article continues below advertisement
What's BAT's price prediction, and can the token reach $10?
Bitcoin first hit $1 in 2011, and now, a decade later, it's at almost $70,000 and predictions point to it breaking above $100,000 in 2022. Is BAT the next Bitcoin? BAT first reached $1 in March 2021. Over the past year, the crypto's monthly gains have averaged 50 percent. If it maintains that momentum, BAT could hit $10 in three years.