Why Aphria Looks Well Placed Ahead of the Tilray Merger
Aphria stock has rallied since Biden's election. However, analysts are forecasting a downside for APHA stock in 2021 after the gains.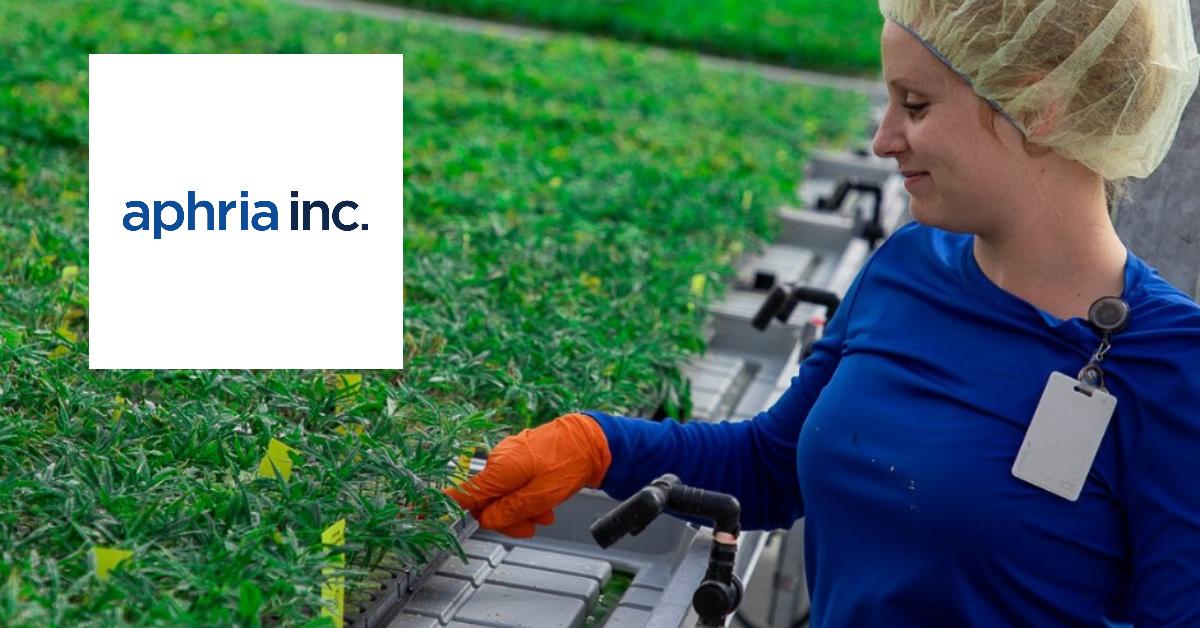 Cannabis stocks have been a hot commodity since Joe Biden won the election. The rally picked up this week. Aphria (APHA), which is set to merge with Tilray (TLRY), gained over 25 percent in regular trading on Feb. 9, and was up in premarket trading on Feb. 10 as well. What's the forecast for Aphria stock in 2021?
Article continues below advertisement
Article continues below advertisement
On Feb. 9, all marijuana stocks rallied. Tilray, Aurora Cannabis (ACB), Sundial Growers (SNDL), and Canopy Growth (CGC) gained 40.7, 5.0, 28.5, and 11.9 percent, respectively.
Why are marijuana stocks rising?
While marijuana stocks have maintained a positive momentum since the U.S. presidential election, there were two events on Feb. 9 that sparked a rally. The first was Canopy Growth's strong forecast—it expects its revenue to rise 40 to 50 percent between fiscal 2022 and 2024. It also expects its EBITDA margins to be positive by the second half of 2022.
Article continues below advertisement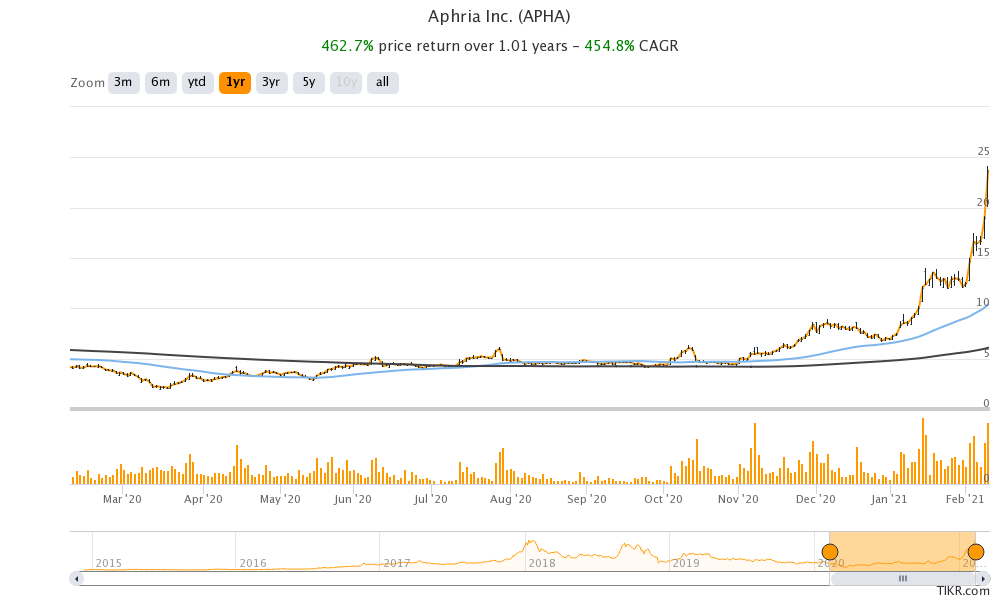 Currently, most cannabis companies are posting losses as they invest in growth. The industry is still in its nascent stages, and much of its fate depends on federal legalization in the U.S. and other countries.
Article continues below advertisement
Article continues below advertisement
Tilray enters the U.K. market with Grow Pharma deal
News of Tilray entering the U.K. market was the second factor to boost marijuana stocks. Tilray has entered into an agreement with Grow Pharma to import and distribute its medical marijuana products in the U.K.
Article continues below advertisement
As we've seen with green energy companies over the last year, positive news about one company tends to trigger a sector-wide rally. One example was fuel cell stocks rallying after South Korea's SK Group announced an investment in fuel cell company Plug Power. We see the same with Chinese electric vehicle stocks, in that they tend to rise when one of them reports strong delivery numbers.
Article continues below advertisement
The Aphria-Tilray merger
While the rise in most cannabis stocks on Feb. 9 looks like it's related to sentiment rather than fundamentals, Aphria's is based on its merger. When two companies are set to merge, their stocks tend to move in tandem, as we're seeing in Tilray and Aphria. Their merger is expected to close in the second half of 2021, subject to regulatory approval.
Article continues below advertisement
After the merger, the new entity will trade under the ticker symbol "TLRY." Aphria shareholders will own a 62% stake in the combined entity, while Tilray shareholders will hold the rest.
Article continues below advertisement
Article continues below advertisement
What analysts forecast for Aphria stock in 2021
Wall Street analysts are bearish on Aphria stock in 2021. According to data compiled by TipRanks, their average one-year price target for Aphria is $12.46, which is almost 48 percent below its current price. The stock is also trading 16 percent above analysts' highest price target of $20.42. While markets have rerated marijuana companies, analysts have been behind the curve.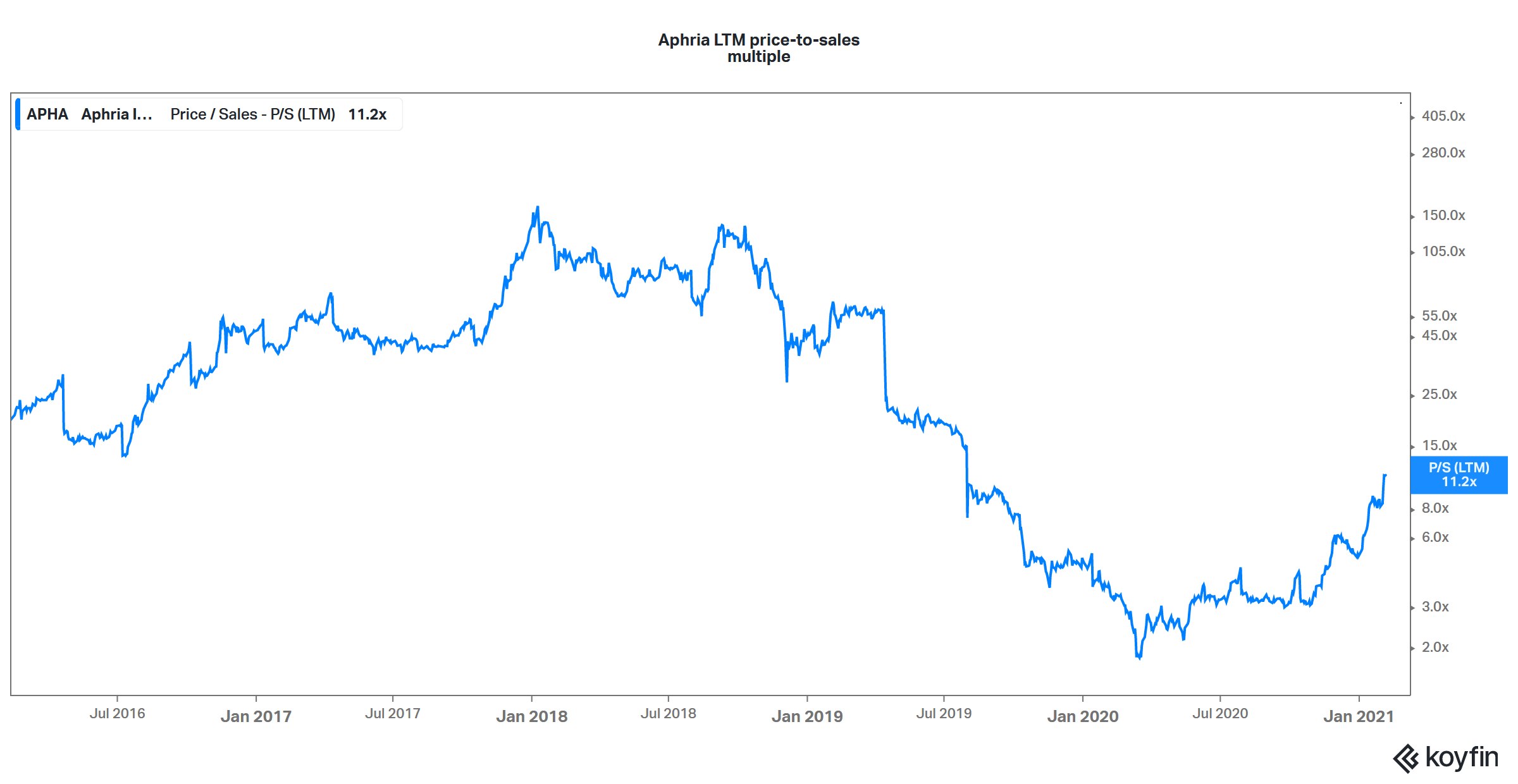 Should you buy Aphria stock?
Aphria's merger with Tilray will create the world's largest cannabis company, which is bound to have better economies of scale and other synergies. Whereas Aphria's valuation has spiked over the last year and its next-12-month EV-to-sales multiple is 10x (almost five times higher than it was before the 2020 rally), it's still a fraction of what it was in 2017 and 2018. As cannabis stocks are rerated, analysts may adjust their forecasts for Aphria upward.