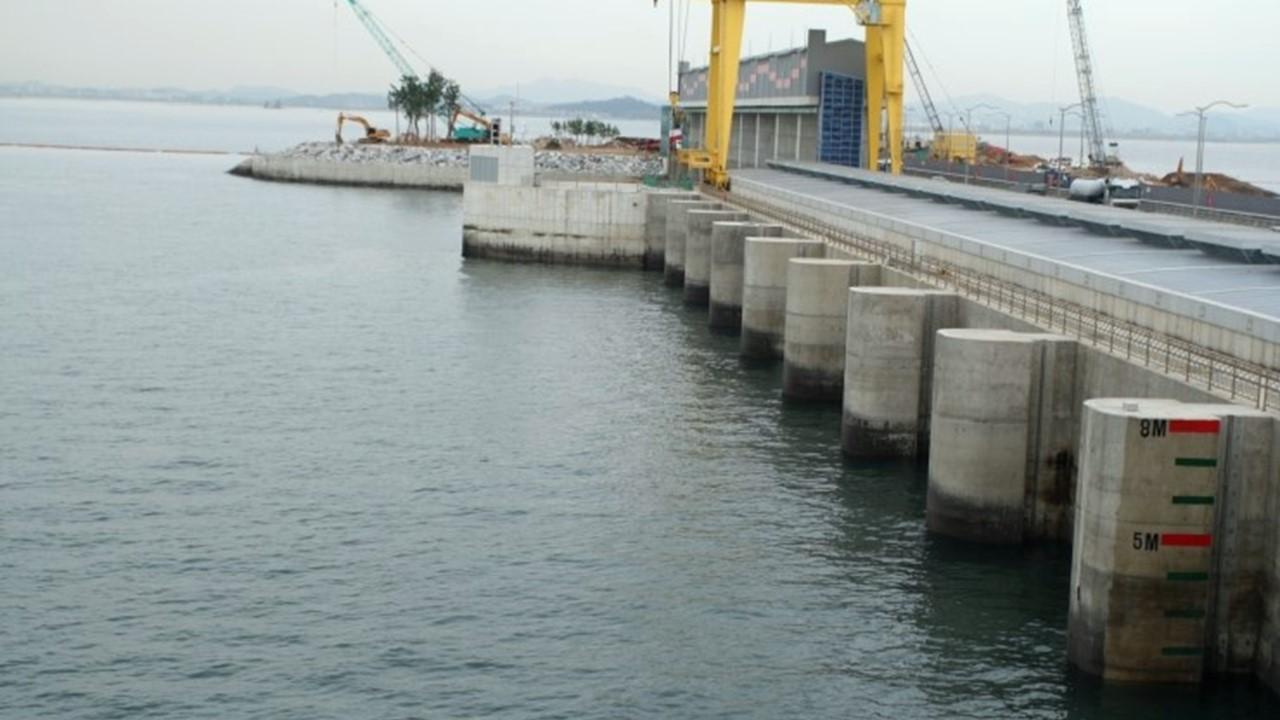 Tidal Power Stocks to Know About as Investments Ramp Up
Since Northern Ireland created the first tidal power station in 2007, progress in the sector has been evolving. Now, investments are ramping up, most recently from a Japanese corporate behemoth investing in Singapore renewables.
Article continues below advertisement
Here are tidal power stocks to know about while the renewable energy source is still young — and as the need for renewable energy only grows.
Singapore's tidal power project shows progress in the sector.
Singapore's Bluenergy Solutions is facilitating a tidal power project for the city to determine its efficacy in potentially replacing diesel energy generation. Japan's Nippon Yusen Kaisha (or NYK, for short) has invested in the project, which will focus on "energy storage, the cost of power generation and the efficiency of power generation," according to NYK.
Article continues below advertisement
What is tidal energy? Source, explained.
According to National Geographic, tidal power is a renewable energy source "produced by the surge of ocean waters during the rise and fall of tides." The process uses generators to take advantage of significant tidal swings (or big differences in high tide and low tide).
In tidal streams, barrages, and tidal lagoons, turbines go underwater to generate energy. This method can produce stronger energy compared to wind energy (which is less dense than water). Also, tides are more predictable than wind.
Article continues below advertisement
However, energy generation from tidal power is still on the low side and the evolution of this particular renewable energy source is early.
Article continues below advertisement
Investors can consider these tidal power stocks.
NYK is a public company on the Tokyo Stock Exchange. NYK isn't a pure marine energy play (its primary business lies in bulk shipping, air cargo transportation and logistics, and more). However, its move to get involved in a major tidal power project in Singapore for the second time means this investment could be more of a renewables play than it first seems.
U.S. investors can buy NYK stock by purchasing American depositary receipts on the OTC markets under the ticker symbol "NPNYY." NYK stock is up 19.97 percent in the month ending Aug. 9 and 4.92 percent YTD.
Pure play tidal power stocks are going to be riskier by nature. Ocean Power Technologies Inc. (OPTT) is a highly volatile stock that hasn't shown much promise in the approximate decade and a half since its public market debut. Despite jumping 98.31 percent in the month ending on Aug. 9, its five-year returns are 95.36 percent in the red.
Article continues below advertisement
Carnegie Clean Energy Ltd. is an OTC stock trading under the ticker symbol "CWGYF." This is a less-than-penny stock trading at just $0.0016 per share on Aug. 8. On the London Stock Exchange, we have Gore Street Energy Storage Fund PLC (GBX), up 3.59 percent YTD and 18.52 percent since going public in 2018.
GBX and NYK appear to be the most promising individual stocks targeting tidal power. For climate-minded investors seeking to implement a risk management strategy, renewable funds may be a better option. Exchange-traded funds (ETFs) in this space include:
the Direxion Daily Global Clean Energy Bull 2x Shares (KLNE)

the First Trust Nasdaq Clean Edge Green Energy Index Fund (QCLN)

the SPDR S&P Kensho Clean Power ETF (CNRG)
Investors need to do their due diligence and review the company's historical performance, fundamentals, fund details, and detailed analyst forecasts before investing in tidal power.