Thanksgiving Dinner Will Cost You More This Year as the Price of Turkey Surges
Turkey prices have increased to $1.99 per pound, a 73 percent increase from last year. Will turkey prices continue to rise through the end of 2022?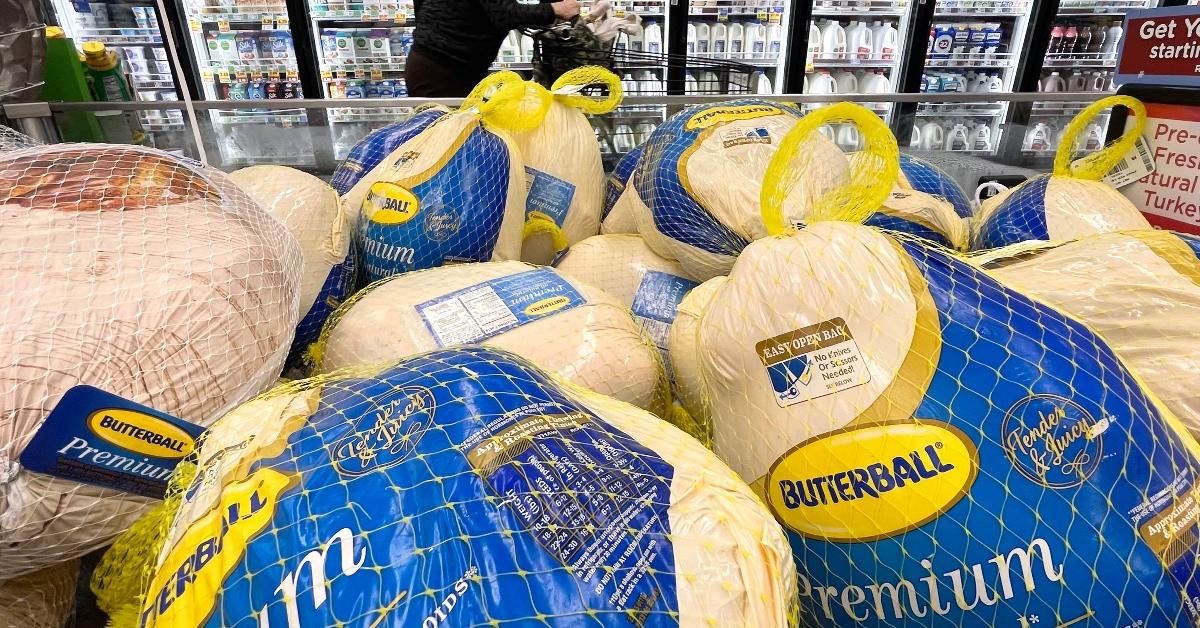 The one thing that makes a Thanksgiving dinner complete (for most families) is the turkey. Packed tightly with stuffing, the turkey often serves as the main dish that compliments the entire meal. If you plan on serving turkey this Thanksgiving, there's a good chance you'll pay much more than you did last year, and there are a few factors at play that are driving turkey prices up.
Article continues below advertisement
Article continues below advertisement
Here's a look at why turkey is so expensive right now and how much you will likely pay when it comes time to select the lucky bird you'll serve at Thanksgiving.
The price of turkey has increased by 73 percent compared to last year. What's driving the price up?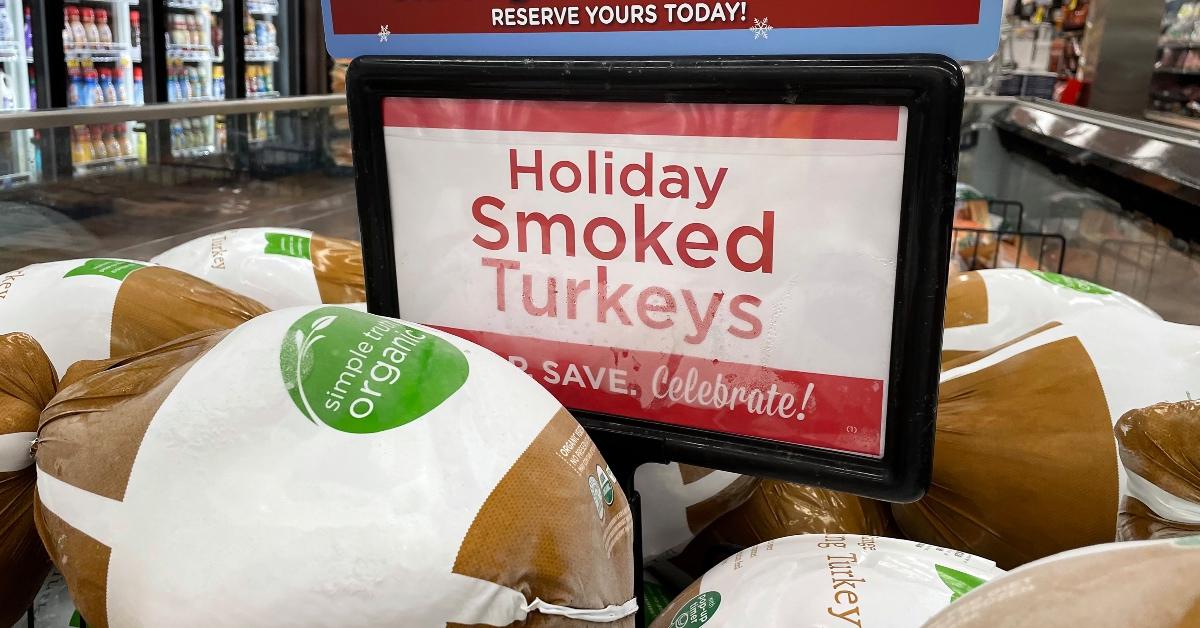 Last year, consumers paid around $1.15 per pound for an 8-pound to 16-pound turkey, reports CNBC. But, according to a USDA National Retail Report issued on Oct. 14, 2022, it appears the price per pound has reached $1.99. And it could go higher.
Between the limited supply of turkeys and inflation, turkeys may become a hot commodity come November 2022.
Article continues below advertisement
Bird flu is one factor affecting the turkey supply and price.
In July 2022, cases of bird flu, or avian influenza, began surfacing, interfering with farmers' ability to raise flocks needed to meet the demand for the holiday season.
The illness, which still poses a threat, resulted in 5.4 million birds being killed between January and July alone, CNBC reported.
Article continues below advertisement
Article continues below advertisement
In fact, the news outlet shared that Jennie-O, one of the U.S.'s largest turkey suppliers, "had to slaughter thousands of infected birds" and its supply will remain "constrained" for the remainder of the year.
Not only are there fewer turkeys, which is one factor that is known to drive the price of a product up, but it's also costlier to raise a flock.
According to USDA data, the price of turkey feed jumped by more than 10 percent from August 2021 to August 2022. There is also the rise in labor costs that are making the bird more expensive for consumers.
Article continues below advertisement
Will there be a shortage of turkeys for Thanksgiving 2022?
There's a chance turkeys might be in limited supply come Thanksgiving time as many farmers are still reporting cases of bird flu. Unfortunately, bird flu does tend to spread during the colder months which means the illness may continue infecting flocks.
And in the event an avian influenza outbreak does occur, the CDC says the entire infected flock usually must be killed.
Article continues below advertisement
Article continues below advertisement
Aside from seeing fewer turkeys on store shelves, consumers can expect to pay upward of $1.99 per pound as some speculate the price will only continue to rise.
Turkey won't be the only thing you're spending a lot of money on this Thanksgiving.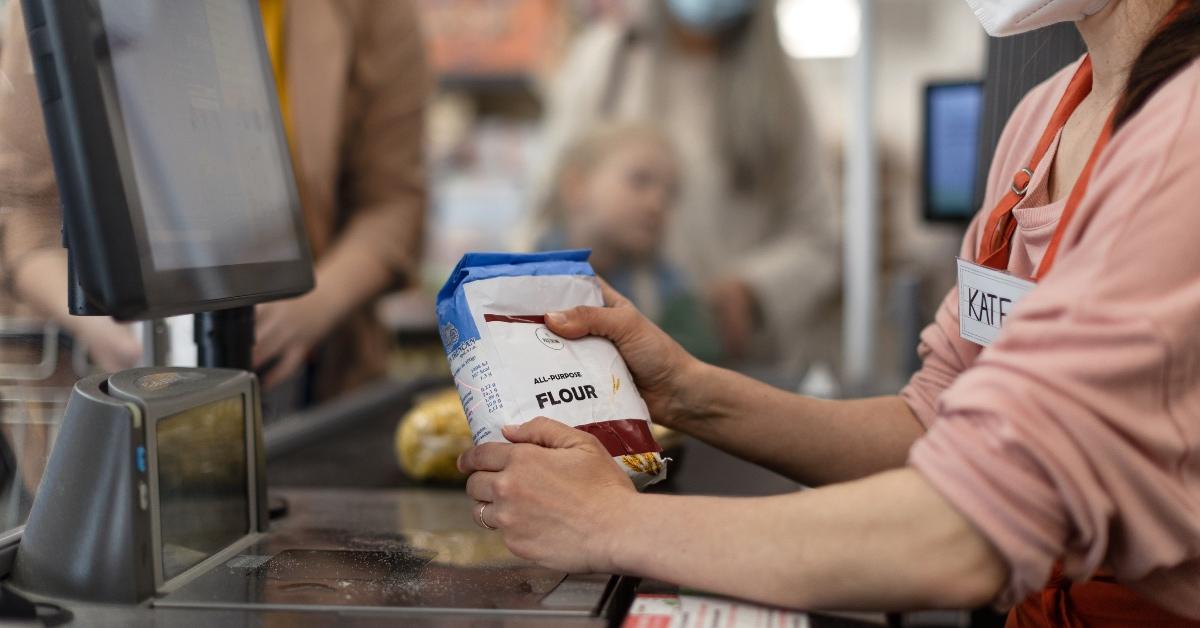 If you've been asked to host Thanksgiving this year, be prepared to dish out some extra dollars. In addition to paying more for turkey, you'll also be paying higher prices for those sought after items everyone seems to need around the same time: flour, margarine, and baked goods.
Article continues below advertisement
Article continues below advertisement
NBC News pointed out that over the past 12 months, the price of margarine has gone up by 44 percent, while flour and other prepared flour mixes rose by 24.2 percent.
To ensure you don't break the bank on your Thanksgiving dinner, now would be a good time to explore ways to save at the grocery store and when shopping online.
Where can you buy cheap turkeys?
Thankfully, some grocery stores have free turkey promotions for shoppers before Thanksgiving. They're usually for shopping members and based on points accumulated during the latter part of the year.
Shop Rite offers its Price Plus club members a chance to earn enough points to get a free price-reduced butterball for the holidays. It varies by location, but you can also snag a free ham, turkey breast, kosher chicken, lasagna, or tofurkey. Safeway is another national grocer that helps cut costs by offering a free turkey with at least a $100 grocery purchase.
Buying your bird a little earlier in the month is also a cost-effective way to avoid inflated prices as long you store it properly.