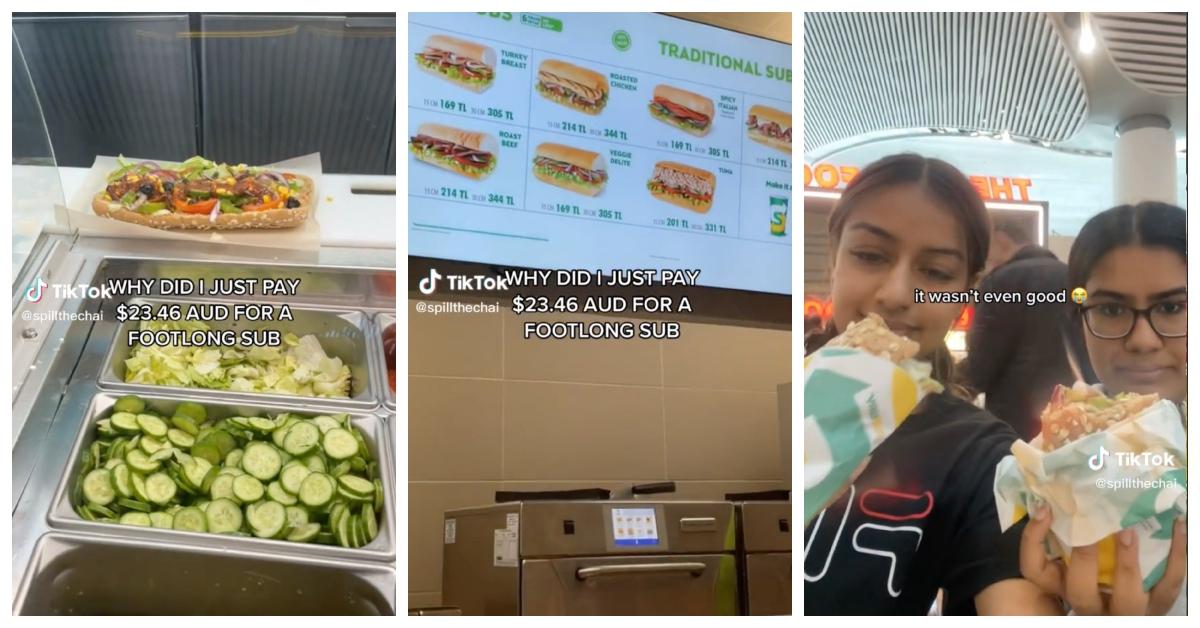 Subway Prices Have Gotten Outrageous — Woman Complains About $23 Footlong
Remember the good ol' days when you could walk into a Subway restaurant and only spend $5 (plus tax) on a footlong? Well, those days are long behind us. Now, you might wind up spending $23 or more on a Subway footlong sandwich depending on where you live.
Article continues below advertisement
Article continues below advertisement
A viral TikTok of a customer dishing out $23.46 on a single Subway Veggie Delite 12-incher reveals just how expensive things have gotten. Keep reading for more details on this and a look at how Subway's menu prices compare to competitors.
"Why did I just pay $23.46 for a footlong sub?" Customer complains about Subway's prices.
Tikoker @spillthechai may have loaded up her Veggie Delite whole grain footlong sub with a few add-ons but that doesn't justify the $23.46 she paid for it. Or does it? While some were shocked by just how much Subway is charging for its footlongs, others actually said the price was "fair" given the number of ingredients she had added to it.
Naturally, others began questioning the existence of Subway's infamous $5 footlongs.
Article continues below advertisement
After showing the completed sandwich and the price she paid for it, the TikToker ended the video by saying "it wasn't even good." Although she did "create" the sandwich in a sense, she claimed that "the quality of the sandwich was lacking."
Article continues below advertisement
Article continues below advertisement
Now, although it isn't clear where the TikToker was at the time she purchased the sub — she may have been at the mall or airport — her other videos lead us to believe she lives in Turkey.
Despite this, $23.46 for a Subway footlong is quite outlandish.
How do Subway's prices compare to its competitors?
Over the last year or so, we've watched fast food prices steadily climb, making eating out more of a burden and less of a treat. Nearly every fast food establishment has upped their prices, with KFC, Chipotle, and Dunkin Donuts serving as those with the highest price hikes, according to Pricelisto.
Article continues below advertisement
Although Subway's price increases appear to be subtle compared to others, @spillthechai's video sheds light on just how high sub prices have gotten for some customers. So, how does Subway's pricing compare to other sub restaurants in the U.S.?
Article continues below advertisement
Looking at Subway's website, we found that the same veggie footlong sub @spillthechai purchased sells for $6.99 without any add-ons. For a regular-sized veggie sub from Jersey Mike's Subs, you're looking at spending $9.60. And if you order a 12-inch veggie sub from Firehouse Subs, you'll pay around $12.50.
All in all, it looks as though Subway might be offering the better deal (in the U.S. at least), though prices do vary based on your location.