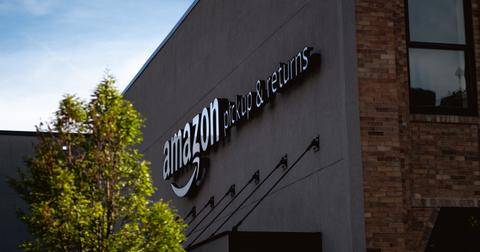 Amazon Stock: Price Target, Valuation Compared to Peers
By Maitali Ramkumar

Updated
Amazon (AMZN) stock has recovered 2.6% in September amid market recovery and hope surrounding upcoming trade talks. In August, the equity market crashed due to rising trade tensions, the lack of a rate cut hint from the Fed, and the bond yield curve's inversion. To add to Amazon's woes, politicians criticized the company about various issues.
However, in the current month, with geopolitical tensions easing, Amazon stock has risen. With Amazon stock recovering, perhaps it's time to review its upside potential and valuation compared to its peers'. Jim Cramer recently said he sees over 20% upside potential in the stock.
Article continues below advertisement
Amazon's price target compared to its peers'
A total of 49 Wall Street analysts cover Amazon, 47 of whom call it a "buy" or "strong buy." AMZN's mean price target stands at $2,295, which implies 26% upside potential.
Amazon's peer Apple (AAPL) is rated a "buy" or "strong buy" by 22 out of 43 analysts. Apple's mean price target of $225 implies 1% upside potential. Facebook (FB) and Alphabet (GOOGL) (GOOG) are rated as "buys" or "strong buys" by 45 (out of 50) and 40 (out of 45) analysts, respectively. Facebook and Alphabet's price targets of $236 and $1,408 imply 25% and 15% gains, respectively. Further, Netflix (NFLX) is rated positively by 30 out of 44 analysts. Its mean price target of $387 implies a 34% gain from its current level.
AMZN's valuation
AMZN is trading at a forward PE of 60.2x. Amazon has robust earnings growth prospects over the next two years. Analysts expect AMZN's earnings to rise 17% and 41%, respectively, in 2019 and 2020. It's growing fast and is on the right trajectory. The company is investing today to fuel its future growth. Though it's currently facing operating losses in its international segment, Amazon is all set to turn its fortunes around. In North America, the company continues to strengthen its position.
Article continues below advertisement
Amazon is fiercely developing its logistics network to deliver products faster. Plus, the company's innovative products and technologies, such as the launch of its new Fire TV editions and Fire TV Cube, are all set to drive growth. Amazon Web Services is also putting up a robust performance. Analysts expect the segment to propel the company's future growth.
Peers' valuations
Amazon's valuation is higher than most of its peers'. However, with a 58.5x forward PE, NFLX is trading near AMZN. Netflix is facing heated competition in the online streaming market. Still, analysts are confident in the company's earnings growth outlook. They expect its earnings to rise 22% in 2019 and 74% in 2020.
Recently, Apple announced the launch of Apple TV+, which will directly compete with Amazon and Netflix in the online entertainment industry. To learn more, read Netflix-Disney-Apple Streaming War: Really about Price?
Facebook, Apple, and Alphabet are trading at forward PEs of 22.1x, 17.6x, and 22.8x, respectively. Analysts expect Facebook's and Apple's earnings to fall 17% and 2%, respectively, in 2019. However, in 2020, they expect FB's and AAPL's earnings to rise 51% and 9%, respectively. Analysts expect Google's earnings to rise 12% in 2019 and 14% in 2020.
Tech stocks' valuations are high despite the various probes they're facing. Given their growing size and influence, tech companies have come under intense regulatory scrutiny lately. As per media reports, Google is facing antitrust investigations by several state attorneys general and the US Department of Justice, and Amazon is facing an antitrust probe by the FTC (Federal Trade Commission). Facebook is also on the FTC's radar. To learn more, read Amazon Stock Is Down on FTC Probe.