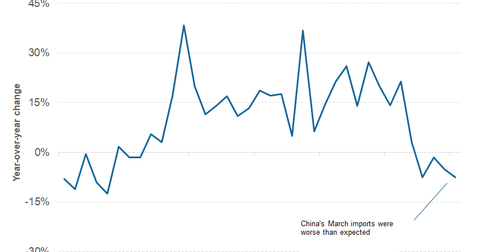 Europe Looks to Be a Worry as China Shows Signs of Bottoming Out
By Mohit Oberoi, CFA

Updated
Europe
The Eurozone manufacturing PMI (purchasing managers' index), which was released earlier today, painted a grim picture of the region's economy. While Germany's manufacturing PMI improved slightly to 44.5 in April from 44.1 in March, it still showed a contraction in manufacturing activity. German PMI data have shown contractions for four consecutive months.
Article continues below advertisement
According to IHS Markit, "Despite improving slightly, growth of Germany's private sector economy remained subdued at the start of the second quarter of the year, weighed down by an export-led contraction in goods production." On April 17, Germany slashed its 2019 growth forecast to a mere 0.5% from its previous forecast of 1.0% growth.
China
Chinese imports have been subdued and have contracted year-over-year for four months. Fewer Chinese imports could be weighing on the German export sector. While China's import data disappointed earlier this month, its exports, PMI, GDP, and retail sales data surprised on the upside.
As China has shown signs of bottoming out, Europe still looks to be a major worry for the global economy. While the rest of the world has recovered from the 2008 financial crisis, Europe has been engulfed in one crisis or another. Immediately after the global financial crisis, the sovereign debt crisis hit Europe, followed by Grexit concerns in 2015. Britain voted to leave the European Union in 2016. Last year, there was a crisis over Italy's budget deficit.
The S&P 500 Index (SPY) is down 0.20% as of 10:30 AM EDT today. The iShares China Large-Cap ETF (FXI) and the Vanguard FTSE Europe ETF (VGK) are down 0.27% and 0.39%, respectively, as of the same time.