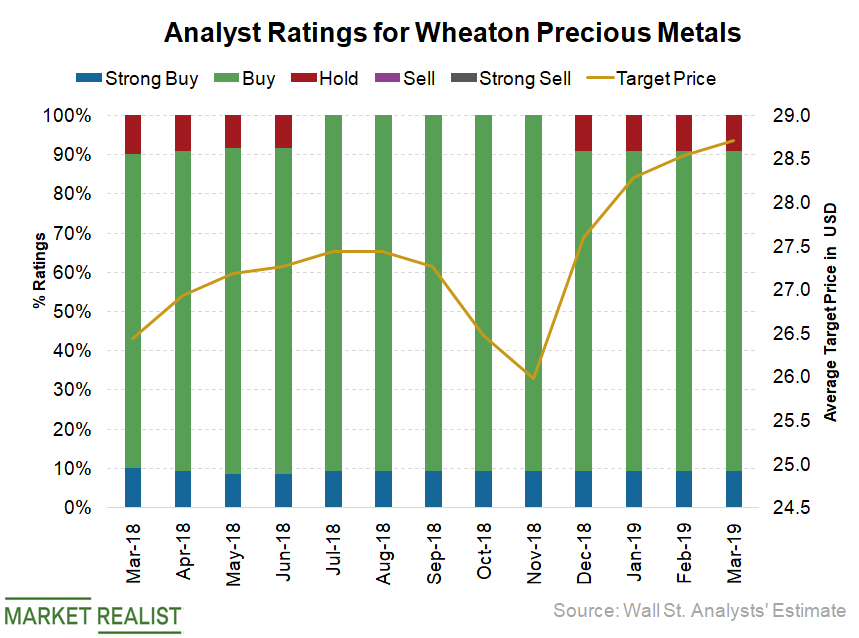 Why Wheaton Precious Metals Is Still Analysts' Top Gold Bet
Analysts' ratings for WPM
At the end of November, the stock had "buy" ratings from 100% of the analysts covering it. Credit Suisse (CS) downgraded it from "outperform" to "neutral" in December.
Article continues below advertisement
Distinct business model
Wheaton Precious Metals is a royalty and streaming company with a different business model than its mining peers (NUGT). Streaming companies don't own the mines but just provide up-front finance to miners in exchange for the right to buy their product streams at lower prices in the future.
Future development potential
After falling 11.7% in 2018, WPM's stock has gained 27% year-to-date as of March 25. It has significantly outperformed the VanEck Vectors Gold Miners ETF (GDX), which has gained 10.3%. The most recent boost to its share price was from the favorable settlement of its long-standing tax dispute with the Canada Revenue Agency. Moreover, its growth profile seems to be balanced with a large part of its production tied to the geographically stable Americas region.
Analysts expect Wheaton's revenue to rise 7.6% in 2019 and 7.1% in 2020 after a fall of 5.8% in 2018. Its EBITDA is also expected to rise 12% and 7.8%, respectively, in 2019 and 2020, implying margins of 65.8% and 66.2%, respectively, compared to 62.9% in 2018.