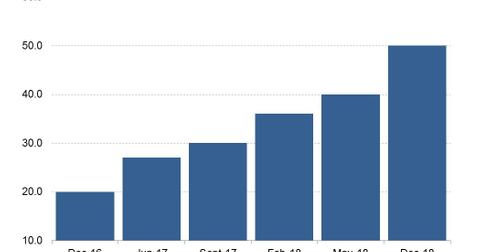 Is Spotify Bringing Apple Down the Path that Hurt Google?
By Ruchi Gupta

Updated
Spotify bringing Apple down the path that hurt Google
On March 13, Spotify (SPOT) CEO Daniel Ek revealed that the company had filed a complaint against Apple (AAPL) with the European Union's antitrust regulators. According to Spotify, Apple has in recent years taken to running its App Store in ways that are harmful to competition. For example, Spotify says that Apple takes a 30% cut of sales it makes through the App Store.
In its defense, Apple stated that it is in fact Spotify that is not being fair. According to Apple, Spotify wants to enjoy the benefits of using the App Store to reach customers without contributing to the platform. The step that Spotify has taken to complain to EU regulators could put Apple in a tight spot. EU's regulators take antitrust complaints against American technology giants very seriously. For two years in a row, 2017 and 2018, the EU's antitrust regulator hit Google (GOOGL) with record fines on charges of anti-competition practices.
Article continues below advertisement
Tight race for digital music dollars
Apple and Spotify are fierce competitors in the business of selling digital music subscriptions. Spotify is currently leading with 96 million paying subscribers to Apple's 50 million at the end of 2018. But Apple is steadily closing the gap, posing a big threat to Spotify.
Apple and Spotify have been playing tit-for-tat with each other. Last year, for instance, Spotify secured a spot as the default music app on Samsung (SSNLF) devices. It also has a distribution arrangement with AT&T (T). Apple last year struck a music distribution agreement with Verizon (VZ) and also brought its music service to Amazon (AMZN) devices.