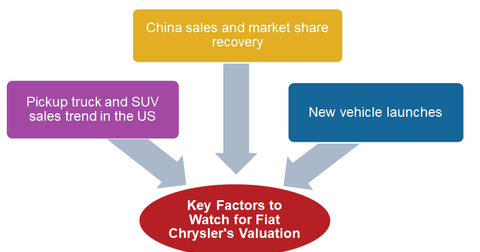 How Fiat Chrysler's Valuation Multiples Look in March 2019
By Jitendra Parashar

Updated
Fiat Chrysler's valuation
On March 27, 2019, Fiat Chrysler Automobiles' (FCAU) forward EV-to-EBITDA (enterprise value-to-EBITDA) multiple was 1.8x, much lower than General Motors' (GM) 8.4x and Ford Motor Company's (F) 12.9x. These multiples were calculated based on the respective companies' estimated EBITDAs for the next 12 months. About a year ago, FCAU had a much higher EV-to-EBITDA multiple of 2.4x.
Key factors to watch
During its fourth-quarter earnings report, FCAU gave mixed guidance for 2019. In 2019, the company expects its adjusted EBIT to be higher than its 2018 adjusted EBIT of 6.7 billion euros. Similarly, the company expects its 2019 EBIT margin to be slightly higher than its level of 6.1% in 2018.
In the last couple of years, Fiat Chrysler's US truck and utility vehicle sales have increased significantly with the help of strength in its Jeep and Ram brands. Overall, though, its weak sales in China have continued to be a reason for worry and could hurt its market profitability share in the country. China is the largest auto market in the world, so it's important for FCAU to focus on Chinese market expansion going forward.
In the near term, investors will likely continue to pay close attention to the trend in Fiat Chrysler's Chinese and US market sales. A decline in the company's pickup truck sales could also negatively affect its future earnings growth estimates and drive its valuation multiples lower.