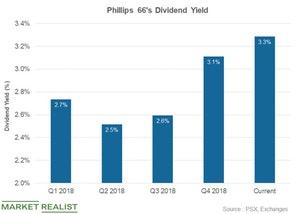 How Has Phillips 66's Dividend Yield Trended?
Phillips 66's dividend per share
Phillips 66's (PSX) dividend payments have risen in the past few years. In the first quarter, the company will pay a dividend of $0.8 per share on March 1. The dividend was announced on February 6. Phillips 66's first-quarter dividend payment has risen 14% compared to the first quarter of 2018.
Article continues below advertisement
Phillips 66's dividend yield
Phillips 66's current dividend yield is 3.3%. The dividend yield has risen from 2.7% in the first quarter of 2018. The rise in the yield is due to a steeper increase in Phillips 66's dividends compared to its stock price in the stated period.
Phillips 66 has consistently provided returns to shareholders through dividends and share buybacks. In 2018, Phillips 66's cash outflows for dividend and share repurchases were ~$1.4 billion and ~$4.6 billion, respectively. In the past five years, Phillips 66's dividends have grown at a compound annual growth rate of 30%. The company has reduced 30% of its outstanding shares through repurchases since 2012.
Phillips 66 expects its shareholders' returns to continue in 2019. In the company's fourth-quarter earnings call, Greg Garland, Phillips 66's chairman and CEO, said, "As we look to 2019, we expect to deliver another double-digit dividend increase. Through our ongoing share repurchase program, we continue to buy shares when they trade below intrinsic value, as demonstrated by our fourth quarter pace of repurchases."