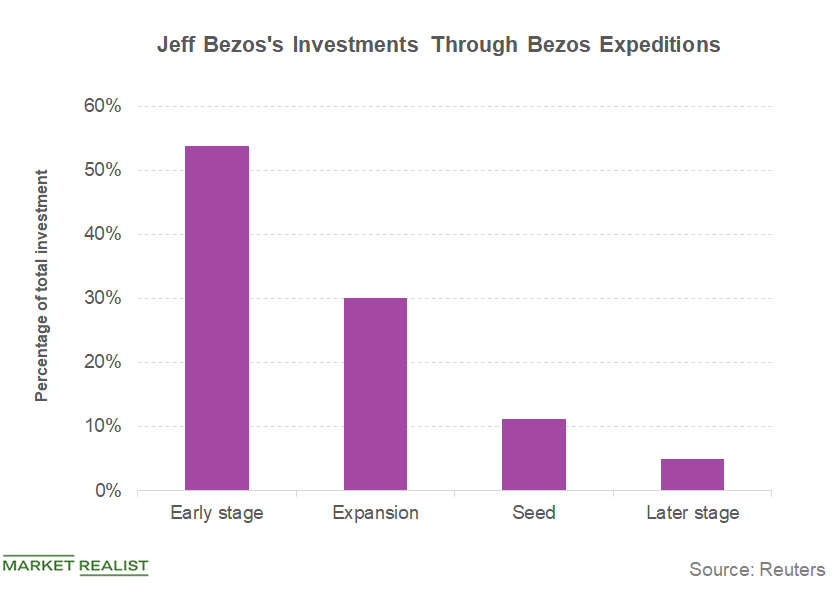 Why Jeff Bezos Loves Startups
Key startup investments
In the previous article, we looked at Amazon (AMZN) founder and CEO Jeff Bezos's key investments in the technology sector. While Twitter (TWTR), Domo (DOMO), and Workday (WDAY) have gone public (SPY) since his initial investments, many other companies in which he has invested are still private.
Some of these companies include Nextdoor, Mindstrong, Mark43, and Pulse Labs. Let's look at Bezos's investments in startup companies.
Article continues below advertisement
Bezos's love for startups
According to the data compiled by Thomson Reuters, early-stage companies make up ~53.8% of Bezos Expeditions' total investments. Bezos has invested nearly $129.4 million in 22 early-stage companies so far.
Other categories of companies based on their business stages, such as expansion, seed, and later stages, make up ~30.0%, 11.1%, and 4.9%, respectively, of Bezos's investment company's portfolio.
The majority of Bezos's startup investments are in the technology sector (FXL), which reflects his confidence in small tech companies (VGT) (IGV). In general, innovative early-stage technology companies tend to have high future growth potential, which could be one of the reasons why the Amazon boss prefers to invest the majority of his portfolio in new technology companies.
Interestingly, Bezos's Amazon and other tech giants, including Apple (AAPL) and Microsoft (MSFT), also continue to acquire small tech companies from time to time.
In the next and final article, we'll talk about Jeff Bezos's investments in two notable tech companies: Uber and Airbnb.